In the wake of the smash hit 1978 revue Ain't Misbehavin', one of the strongest ideas for a successor was to build a show around the songs of Johnny Mercer. Mercer, a fancifully sprightly lyricist from Savannah, Georgia, rarely wrote his own music; one of his many talents, though, was as a tune picker. That is, he would sit patiently beside one of his many composer-collaborators while they were noodling around on the keyboard and suddenly pounce. "Wait... Play that one again." His words caught the public fancy -- such phrases as "my huckleberry friend," "one for my baby and one more for the road," "hooray for Hollywood," and the immortal "my mamma done tol' me" are prime Mercer.
The obstacle to a Mercer revue, though, was that the rights were closely held by '40s band-singer Margaret Whiting. (Her father Richard -- Mercer's composer on "Hooray for Hollywood" and "Too Marvelous for Words" -- died of a heart attack at 46, leaving behind 13-year-old Margaret. Johnny took her under his wing; as cofounder of Capitol Records, launched her singing career; and made her a trustee of his Estate.) Whiting insisted that she was going to do her own Mercer revue on Broadway, and finally -- in 1997 -- she did. Dream it was called, and it was so ill-conceived and misguided that it made Mercer look dull. One of the most egregious problems was that the show -- which rather obviously should have concentrated on Mercer's words -- was overloaded with choreography, which is to say music purposely without words.
Word from Dream's nightmare of a tryout was that Whiting's co-star -- Lesley Ann Warren -- was poaching the best songs (except for those sung by Whiting). This turned out to be the case; Warren was spotlighted throughout the show, although she wore out her welcome within the first twenty minutes. Slogging through this mishap at the Royale, it was impossible not to note that there were brief glimmers of what could and should have been whenever one of the featured girl singers -- the tall, striking one with the great voice -- got a song of her own. (During Warren's costume changes, as I recall.) She sang "Skylark" and "Too Marvelous for Words" so well that I circled the name "Jessica Molaskey" on the program. There was also a slight musician with big ears who occasionally wandered on with guitar, offered perfect Mercerian renditions of songs like "Jeepers, Creepers" and "Jamboree Jones," and left us forlorn upon his quick exit.
A year and a half later, I was sitting through an earnest but sleepy musical called Parade at Lincoln Center. An hour or so in, an actress -- playing the role of the mother of a murdered teenager -- sang a song called "My Child Will Forgive Me." As soon as she stopped singing, I struggled to find her name in the Playbill in the dark, and there she was: Molaskey again. When I next caught her, thrilling the house as an adulteress with one big song in the 2002 Ahrens & Flaherty musical A Man of No Importance, I didn't need to look up her name.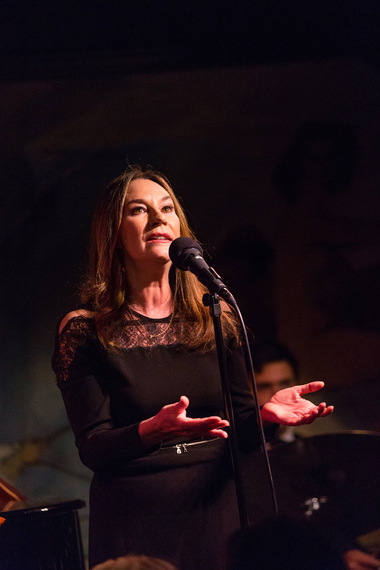 Jessica Molaskey. Photo: David Andrako
About ten years ago, I started covering cabaret for Variety. Several months in, I took my table for the opening of John Pizzarelli & Jessica Molaskey at the Carlyle. Pizzarelli came on -- I immediately recognized him as the guitar man from Dream -- and sang a great Rodgers and Hart ballad, "With a Song in My Heart." Except in his hands, this was not quite the same anthemic ballad that was sung in some sappy '20s musical; it was jazzy and swinging, but nevertheless soared in the precise way Rodgers intended. (The composer, for many years, referred to this song as his favorite, and Pizzarelli helped illustrate why.) Molaskey matched him with the 1939 R&H stunner "I Didn't Know What Time It Was." The pair were very different in temperament--John playful, Jessica smoldering -- but equally excellent in jazz. This was a match made in musical heaven; in Johnny Mercer heaven, literally, as they wed four weeks after Dream flopped.
Pizzarelli is a modern-day jazz man with Big Band roots. His dad was and is legendary sideman Bucky Pizzarelli, who played with all the greats and -- when last heard a couple of years ago -- was still a guitar wizard. Bucky, it seems, was a favorite among musicians, and when they wrapped up work for the night, most everybody headed to Bucky's place for a home-cooked Italian meal. Thus, John grew up in the kitchen with people like Benny Goodman and Les Paul. When he developed into a master guitarist -- after an unsuccessful foray into college, and into rock -- he started to join his father on gigs. John quickly found himself backing up, and eventually serving as opening act for, Frank Sinatra.
As the old legends died, John kept the music going. Unlike Bucky, young Pizzarelli crooned while he played, which allowed him to step out in front of the band. As he developed his own act, he also developed into something of a comedian; by the time I first caught him, his patter -- built on a self-effacing personality, far-reaching anecdotes, and jokes that are often groaners -- was almost good enough to get by even were he not an exceptional musician.
An evening with John and Jess -- they are currently playing their annual November gig at the Carlyle -- is unparalleled. The music is, as always, magnificent; the singing is, as always, exceptional; the patter is, as always, haphazardly charming. On my very first visit with them, I commented that while you were surrounded by the Carlyle's candy-box elegant murals by Marcel Vertès, the Pizzarellis made you feel like you were cozily sitting in their living room in New Jersey and begging them to sing "just one more."
Over the years I've seen Pizzarelli more than a dozen times, half of them with Molaskey. (He plays a spring stint at the Carlyle without Jess -- the last two years, he's been joined for Bossa Nova evenings by Daniel Jobim, grandson of The Man from Ipanema -- and can also be found at Birdland. In clubs across the world, too.) His song choices, which used to range from jazz to songbook, now branch out to relatively "new" songs. While he occasionally strays from my favored genres, I've come to realize that whatever Pizzarelli wants to play is plenty okay by me.
He is also, to borrow a phrase from the Italian, a mensch. A few years back I took my then 13-year-old -- a budding jazz guitarist -- to see him. You don't see many teenagers at Café Carlyle, so I explained to John and Jess that my son was about to go into the hospital. Pizzarelli dug into his tuxedo pocket and pulled out a guitar pick. "Here, take this. There're still a few good notes in it."
The current John and Jess act is titled "My Generation" -- which is to say, songs written since John was born in 1960. (Jessica came along a few years later). Paul McCartney, Paul Simon, Billy Joel, Joni Mitchell; they also mix things up, throwing in three Sondheims. (Their duet version of "Buddy's Blues" is revelatory, while John's guitar-only version of "Send in the Clowns" borders on the astounding.) The set includes three songs from Pizzarelli's newly released album, "Midnight McCartney" [Concord]. This is not merely a collection of post-Beatles songs by Sir Paul; the latter--a Pizzarelli fan, as are we all -- suggested that Pizzarelli do it; offered songs he thought John should sing; and even conjured up the cover photo.
He is not only a musician's musician; he's a listener's one, too. There are a few jazz greats in his league nowadays, I suppose; but Pizzarelli is the one I want to go back to listen to, always. Especially when Jess is by his side, as she keeps him honest.
.
John Pizzarelli and Jessica Molaskey continue through November 28, 2015 at the Café Carlyle
Calling all HuffPost superfans!
Sign up for membership to become a founding member and help shape HuffPost's next chapter