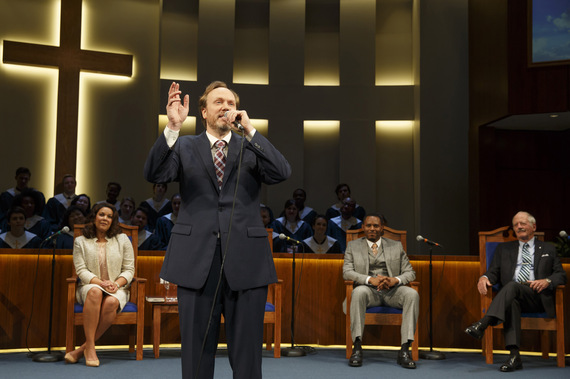 Andrew Garman in The Christians. Photo: Joan Marcus
Plays about religious philosophy can be mighty dry and uninvolving, not only to outsiders but to people of the faith in question as well. Playwrights Horizons' newest offering--The Christians, which is about, well, Christians--is anything but uninvolving. Playwright Lucas Hnath has come up with a provocative, engrossing argument and put it into a well-constructed and arresting frame. What seems to be a visit to a typical fundamentalist megachurch--one of those places with "a baptismal the size of a swimming pool"--eventually turns into a religious tug-of-war. Thanks to Mr. Hnath and director Les Waters, it's a highly theatrical one.
The play begins with five minutes-worth of hymn-singing from a choir of twenty-one--and where on Broadway, nowadays, do you get twenty-one singers? They are accompanied by an organist on an electric Yamaha, bouncing along as if she was playing in a hockey arena.
In comes Paul (Andrew Garman), one of those mid-America pastors who start in a storefront church with ten congregants and wind up with a flock of thousands; their houses of worship transform into mighty corporations, and that's one of the problems here. (Hnath can be applauded for resisting the urge to pull his plot from real-world headlines, where sexual and/or financial corruption often show their evil heads.)
Paul is well spoken and reasonable-sounding. He launches into a sermon in four chapters: "Where Are We Today?" "A Powerful Urge," "The Fires of Hell" and "A Radical Change." (His speech, along with the other in-church sequences, are accompanied by squeakily real-to-life photographs of majestic woods, streams, birds and religiously-correct images on large screens.) It isn't until Paul gets to the third stage--after Hnath has purposely lulled us a half hour--that the ice breaks. Contemplating a teen in a wartorn Middle Eastern country who rushes into a burning store and sacrifices his life to save another, Paul questions how this non-Christian hero can rightfully be sent to Hell (as non-Christians automatically are). Paul's "radical change" is the revelation he has received from God that there is, in fact, no Hell.
This pronouncement brings disagreement, initially from associate pastor Joshua (Larry Powell). It doesn't take long before this causes a rift in the congregation; if there is no Hell, asks congregant Jenny (Emily Donahoe), are you saying that Hitler is in Heaven?
Matters, needless to say, do not end well for Paul. Hnath closes his play with a provocative question, which is more or less: when you hear the voice of God, how do you know it's the voice of God and not just your own wishful self?
Hnath and Waters have placed their play in a megachurch set which spills out into the side aisles of the auditorium. The dialogue is delivered into hand mics, as in those vastly amplified megachurches. The playwright calls for these electronically booming voices throughout, even in scenes during which the characters are clearly not in church. While this initially might seem synthetic and unreal, it turns out to be a canny decision. To enhance the point, two lines of dialogue--at different places--are delivered off mic, to strong effect.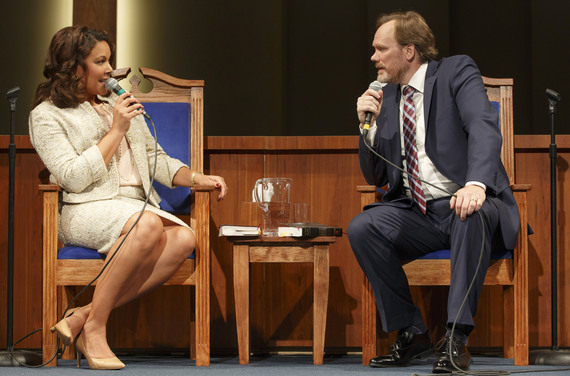 Linda Powell and Andrew Garman in The Christians. Photo: Joan Marcus
Garman and Powell, as the two pastors, acquit themselves well in heightened-preacher style. Philip Kerr, as a church elder, doesn't say much but--in his final scene--makes his (and the congregation's) disapproval all too clear. Donahue artfully steps out of the singing choir to question the pastor's premise, with her initially tentative hesitation turning steely as she brings Hitler into the discussion. Most impressive is Linda Powell as Paul's wife, who is silently supportive until the final scene when she emerges to forcefully speak for the playwright.
Mr. Hnath, who grew up immersed in the church, clearly knows the territory. Combine this with a provocative thesis and even-sided handling, and what you get is a thought-provoking intellectual exercise with his Christians.
.
The Christians opened September 17, 2015 and continues through October 11, at Playwrights Horizons