While the fall season has been relatively strong on drama -- with King Charles III, A View from the Bridge and such off-Broadway plays as The Humans and Eclipsed -- matters have not been so cheery in the comedy department. Enter Mark Gerrard's Steve, which is bright, original, oddly sweet and very funny.
Here we have a new American play about gay, upper class New Yorkers with small children; make that the second such play in a week, following Peter Parnell's Dada Woof Papa Hot at the Mitzi Newhouse. Parnell takes a sociological approach, kind of; Gerrard gives us what we might call a show tune approach, which is at once less realistic and more rambunctiously funny.
Part of the rambunctiousness comes from the show-biz nature of the piece. Imagine a world in which conversation is peppered with patches of musical comedy lyrics, song cues and the like. That's what's on offer here, and it works effectively; for the right type of audience, at least. (You might miss quite a bit if you don't know your Sondheim, especially the wit and wisdom of Into the Woods.) This becomes apparent during the pre-show; while the audience streams into their seats at Signature Center, director Cynthia Nixon offers a twenty-minute pre-show with her cast standing around a piano, singing show tunes. If you want a chance to hear "One Hundred Easy Ways to Lose a Man," here 'tis. If you don't know "One Hundred Easy Ways," you can Google it.

Steve is not the main character, exactly. Gerard's central couple -- the pair with a young, offstage child -- consists of lawyer Stephen (Malcolm Gets) and ex-chorus dancer Steven (Matt McGrath). At play's center are Steven's closest friends from his days as a singing waiter in a theatre-district tourist trap: Carrie (Ashlie Atkinson), a lesbian blogger whose lover has just left her, whose blog has been optioned by Kate Capshaw for a film, and who is dying of cancer; and ex-actor Matt (Mario Cantone), who tells us -- in Spanish, with English surtitles on the back wall -- that he was "a muleteer in a production of Man of La Mancha for a year on a cruise ship based in Barcelona." (Hearing this extended exchange with a flirtatious waiter from Argentina, Stephen comments "this is like that terrible West Side Story a couple of years ago.") The final member of the quintet is Matt's banker boyfriend Brian (Jerry Dixon). An outside sex object enters in the guise of Esteban (Francisco Pryor Garat), the aforementioned waiter/dancer; when the others keep singing snatches of Evita at him, he counters that he's more attuned to the artistic philosophy of Twyla Tharp. There is also an unseen trainer at the gym named -- what else? -- Steve.
Paradise and relationships crumble on the day that 8-year-old Zack hides his lawyer-father's iPhone. Stay-at-home father Steven is treated to a parade of pornographic texts to Stephen from Brian, which causes Steven to take up with Esteban while Steve -- from the gym -- moves in with Brian and Matt. (Don't mind the spoilers, here; it's difficult to keep all these Steves straight.) Carrie, meanwhile, is indeed dying; her presence -- following a hospital stay, she moves in with Steven & Stephen and Zack -- helps ground the play while keeping it wickedly funny.
This is Ms. Nixon's second directing stint for The New Group, following last season's similarly skillful Rasheeda Speaking. She has spent a good part of her life in the theatre -- she started on Broadway at 14, as Blythe Danner's droll kid sister in the 1980 revival of The Philadelphia Story -- and she clearly has a strong comedy hand. Her cast here pretty much shines, led by McGrath (The Legend of Georgia McBride) in the central role. Atkinson (Fat Pig) and Cantone (Laugh Whore) are funny and touching as his loyal friends, and Garat -- a young Argentine making his local debut -- fits right in with this group of accomplished New York actors and effortlessly steals laughs.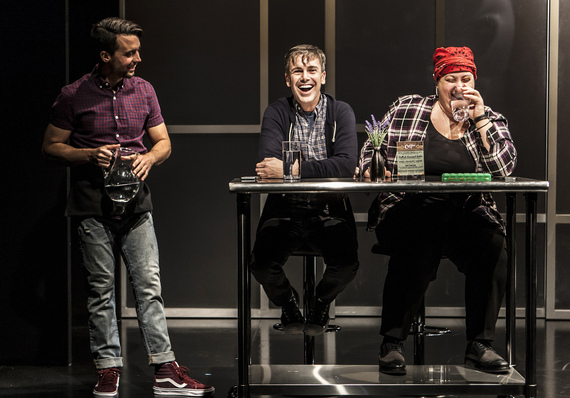 Francisco Pryor Garat, Matt McGrath and Ashlie Atkinson
in Steve. Photo: Monique Carboni
Special mention should be made of a bravura scene in which Gets engages in simultaneous phone conversations with both his (Stephen's) mother and Steven's mother while receiving and responding to three text conversations, on the back wall, including one peppered with lewd emojis. This is wonderfully written, acted and directed.
A musical-comedy-stuffed contemporary comedy might sound as if it's going to be precious or forced, or both. Not Steve, which above all is wickedly funny. The references are not all from musical comedy; the sharpest -- for me, though not likely many others -- is when Cantone tells McGrath, "you've always led your life like 'Act II: Walpurgisnacht.'" That's the kind of reality Gerrard has devised, and if you don't know "Act II: Walpurgisnacht," you can Google it.
.
The New Group production of Steve opened November 18, 2015 and continues through December 27 at the Signature Center