Jesse Eisenberg and Kunal Nayyar in The New Group production of
The Spoils by Jesse Eisenberg. Photo: Monique Carboni
Since achieving stardom in 2010 as Mark Zuckerberg in The Social Network, Jesse Eisenberg has diligently applied himself to writing plays. The Spoils, his third off-Broadway offering in five years, has opened at the Signature Theatre Center under the auspices of the New Group. This suggests that in a town over-flooded with contemporary comedy-dramas, opportunities abound for a playwright who can guarantee the participation of a bona-fide movie star; especially when said star continues to appear in juicy roles, like the villain in the upcoming blockbuster Batman v Superman: Dawn of Justice.
Eisenberg's earlier efforts -- Asuncion (2011) and the Vanessa Redgrave-headed The Revisionist (2013), both from Rattlestick Playwrights Theatre -- were promising if uneven. With The Spoils, Eisenberg seems to be advancing as a playwright. Thanks in large measure to four compellingly-written characters, he holds our attention almost to the end. The play seems slightly hampered by what is a relatively unusual problem: when the leading character goes over the top -- in some stretches of self-degradation, and in an extended finale which leaves him crumpled and broken -- one can't help but wonder whether it's the character speaking or the unrestrained actor/star/playwright indulging his histrionic whims.
That said, The Spoils quickly grabs our interest and sustains it. Ben (Eisenberg) is an aspiring New York filmmaker, living in a stylishly expensive two-bedroom apartment owned by his unseen father. He shares his digs with Kalyan (Kunnal Nayar), an NYU economics student from Nepal. Kalyan lives rent-free, courtesy of Ben's insistent generosity. They are something more than an odd couple; Ben treats his friend like a comfy, old, over-stuffed Teddy bear which he occasionally reaches out to hold close, while Kalyan at times seems like a solicitous caretaker for a wayward, tantrum-prone scamp.
The balance between the two is upset by Kalyan's Indian girlfriend Reshma (Annapurna Sriram), a doctor at Weill Cornell. Complications arrive with the appearance of two of Ben's grade school friends from suburban New Jersey, Ted (Michael Zegen) and Sarah (Erin Darke). Early on, Ben confesses his darkly erotic fantasy of Sarah from back when they were 8-year-olds; Eisenberg-the-playwright, inevitably, takes this to the hilt and then some.
The author acts up a storm as the hero, threatening -- almost from his first entrance -- to explode in front of our eyes. Nayar, a familiar face from his eight seasons as Raj in "The Big Bang Theory," does a fine job as the roommate and makes a perfect companion to the star; he and Eisenberg manage to convey a whole range of unspoken layers to the characters' problematic relationship.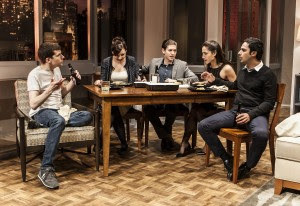 Jesse Eisenberg, Erin Darke, Michael Zegen, Annapurna Sriram and
Kunal Nayyar in The New Group production of The Spoils by Jesse Eisenberg. Photo: Monique Carboni
Sriram is refreshing as the strong-willed resident who can't quite get to the root of the shadow over her relationship with Nayar, while Darke -- after spending much of her stage time as a minor observer -- is impressive in the play's climactic scene. The smarmy banker-friend from Jersey is played by Zegen, from the well-remembered Bad Jews. Scott Elliott, Artistic Director of the New Group, has directed with a firm hand. Included is one of those apartment sets -- from designer Derek McLane, of Beautiful and the recent Living on Love -- for which you would gladly offer above asking price.
The Spoils is one of those plays that walk the line between dramatic believability and "too much"; some viewers might find it convoluted or be repelled by the sex talk. At root, though, Eisenberg has created an intriguing and provocatively emotional group of characters that carry his play. The New Group strives to present theatre that is "adventurous, stimulating and now." Mr. Elliott and his companions sometimes overdo it, at least in this playgoer's view. This time, though, the play fits their creed quite nicely.
The Spoils, by Jesse Eisenberg, opened June 2, 2015 and continues through June 28 at the Signature Center
Calling all HuffPost superfans!
Sign up for membership to become a founding member and help shape HuffPost's next chapter