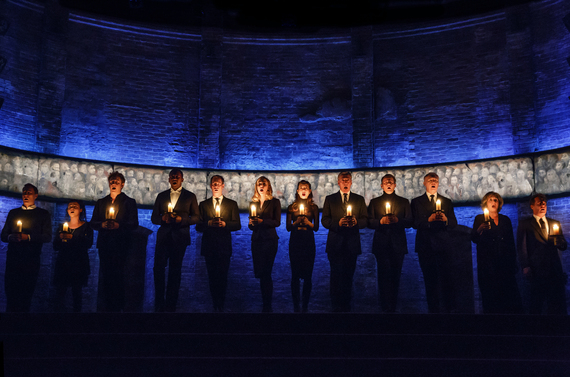 The cast of King Charles III. Photo: Joan Marcus
Church bells peal. A dozen actors in modern dress, carrying candles, enter; the set suggests a medieval chapel, with a band of faded ancestors looking on from peeling frescos. The actors sing a mournful Agnus Dei, accompanied by a busy sound tape and two live musicians in a box at the Music Box. The actors then launch into a Shakespearan tragedy, one of those "King" plays; not King Lear or Richard II, but Charles III. At least, it seems like Shakespeare, to the uninitiated, until the oldest man on stage says, "It's not the same, Camilla." We instantly know that this is not one of Will's kings in one of Will's plays; the King Charles in question is you-know-who.
Yes, mum has died after a 60-year reign, leaving the Prince of Wales suddenly thrust onto the throne for which he has prepared his entire life. All your favorites are there. William, Harry, Kate, even the ghost of Diana, who roams the halls at night like one of the three weird witches of Macbeth. Charles faces his dilemma like Hamlet, but within two hours he has turned into an ineffectual Lear.
Playwright Mike Bartlett's conceit is to give us a fanciful forecast of the next chapter of the House of Windsor, devised and written in the best Shakespearean style. Bartlett--working with visionary director Rupert Goold, who originated this production at the Almeida Theatre--has made a smashingly good job of it, and King Charles III is smashingly good. Here is a new Shakespearean tragedy, and one at which you won't likely be dozing off.
The real-life Charles -- who has lived in the media spotlight, like it or not, for sixty-six-years -- is certainly no stranger, even to playgoers here in the Colonies. He is well-drawn by Bartlett, and impeccably portrayed by Tim Pigott-Smith, who plays Charles with great dis-ease. Bartlett's King is a man trying to convey authority which he knows he doesn't possess, realizing that he is "better thoughtful Prince than King." When he summons up the determination to take a stand on a matter of principle, the entire Empire falls on his stooping shoulders. In the hands of Pigott-Smith --whose two Broadway visits have been notable turns as Doctor Watson in the original cast of the Trevor Nunn-RSC Sherlock Holmes and as Larry Slade in the Kevin Spacey Iceman Cometh -- the disintegration of Charles into a defeated Lear is harrowing.
Bartlett presents Prince William (Oliver Chris, the memorable Stanley Stubbers in One Man, Two Guvnors) as weak and Prince Harry (Richard Goulding) as surprisingly strong; there is especially good work from Goulding and Tafline Steen, as a lower class art student who attempts to rescue the wayward Prince from the palace.
The author's finest conceit -- along with the entire play, that is -- is in his drawing of the royal daughter-in-law Kate (Lydia Wilson). From her first line, you sense that she is an icily lethal Black Widow spider; Bartlett channels Lady Macbeth, here, and Wilson's Kate makes Lady Macbeth look like Poor Little Buttercup. Also standing out are Anthony Calf as Stevens, the Opposition Leader, and Nyasha Hatendi as a straight-talking kebab vendor who would fit right in with Shakespeare's fools. But the entire cast, imported for the occasion, is admirable.
Bartlett has been highly active on the London stage over the past decade, with his credits including a highly successful New York visit in 2012 with the intriguing Cock at the Duke on 42nd Street. He more than exceeds his promise with King Charles III. Goold provides a stunning Shakespearean production, abetted by set/costume designer Tom Scutt (seen here last season with the balloon-strewn Constellations) and lighting designer Jon Clark. The musical score comes from Jocelyn Pook (of Stanley Kubrick's "Eyes Wide Shut"), with the all-important sound design from Paul Arditti.
The former Prince Charles, as King, doesn't reign long and happy -- at least, not in Bartlett's compelling telling. The tragic tale makes first-rate theatre, though, measuring up to its progenitors. A canny conceit, done exceptionally well.
Vivat Charles III!
.
King Charles III opened November 1, 2015 at the Music Box Theatre
Calling all HuffPost superfans!
Sign up for membership to become a founding member and help shape HuffPost's next chapter