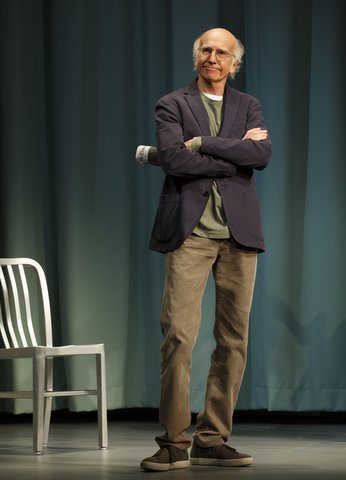 Larry David in his new comedy Fish in the Dark. Photo: Joan Marcus
The nerve of these people, they seem to think that you can take some TV writer--never written a play, never appeared in one unless you want to count Charley's Aunt in eighth grade--and put him on Broadway. At steep premium prices; at present up to an eye-popping $499, which his TV fans happily forked over at an astonishing rate before anyone had even seen a preview of the thing. Who needs an out-of-town tryout, anyway? That's for pikers. So here we have Larry David and Fish in the Dark, at the Cort Theatre. And it turns out the thing is an absurdistly daffy laff fest.

David is the formerly small-time stand-up comic who made it big as co-creator and head writer of the inordinately successful "Seinfeld." He followed this by creating--and starring as a fictional version of himself in--the cable series "Curb Your Enthusiasm." This gives him a built-in audience of sitcom fans, who might not necessarily frequent Broadway plays but have so eagerly shelled out for Fish in the Dark that little is left for the announced run (through June 7) except those pesky premium tickets. These are the same audiences who have stormed The Book of Mormon--the two shows share a lead producer, Scott Rudin--and I expect you'll find that they are thrilled to get in at market price.
Mr. David is once again playing himself in Fish in the Dark. Can he really by as objectionably cantankerous a being as the one he draws for us? Standing on the stage of the Cort, he sneers at his audience like a cartoon caricature of a bespectacled turtle cautiously sticking his head out of his shell only to find a smiley-faced insurance salesman; one suspects that underneath the persona, though, he is just an old teddy bear. David's dramatic opus centers around the death of "his" father; the internecine battle between him and his brother over his mother--not who does she love best, but who gets stuck with her; and related tussles over money and sex. The whole thing is in excessively poor taste, which students of the Mel Brooks school of etiquette know can make for high-grade hilarity.
The venture is not unlike the 1969 Broadway comedy Play It Again, Sam, written by and starring the up-and-coming Woody Allen. Neither play is Ibsen, exactly, but Fish in the Dark is a far tastier dish. While the new play draws the same sort of high-octane laughter as the fabled Neil Simon comedies of yesteryear, it is closer in style to Herb Gardner's A Thousand Clowns or Murray Schisgal's Luv. They don't write plays like these anymore, no; but Fish in the Dark is the modern-day equivalent, and just try to get a ticket.
Now, any modern-day producer faced with a multi-set, 18-character comedy would not-so-gently send the playwright back to his or her laptop with orders to trim and cull. Not Mr. Rudin, at least in this case; you needn't be economical if you know you can reasonably expect to gross north of $1.1 million a week at the 1,100-seat Cort.
Said 18 thesps include more than a handful of jolly performances. Rita Wilson makes a fine foil as the star's wife; Ben Shenkman holds his own as the star's fiercely antagonistic brother, even though he is twenty years younger than David; and Rosie Perez gets her laughs as a long-time housekeeper with a 19-year-old secret. David shares the stage with two inveterate scene stealers, who herein surpass themselves: Jayne Houdyshell as the fierce Jewish mother with a few tricks up her sleeve; and crusty old Lewis J. Stadlen, who has been doing this sort of thing since he played a young Groucho in Minnie's Boys in 1970 and here--in a relatively small role--finds gold-plated tinsel in just about every line.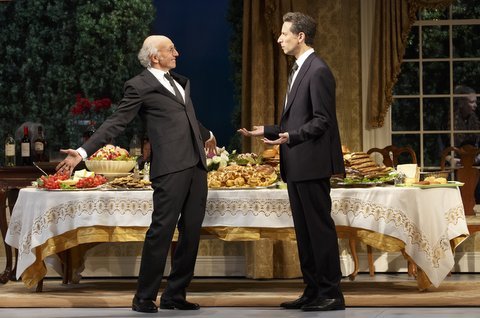 Larry David and Ben Shenkman in David's new comedy Fish in the Dark.
Photo: Joan Marcus
The featured cast is also stocked with droll performances from the likes of Marylouise Burke, as sister of the deceased; Molly Ranson, the child actress from August: Osage County, as the hero's daughter who channels Eliza Doolittle (it's that sort of play, and "Just You Wait" until you see David doing the tango to "You Did It"); Jonny Orsini, of The Nance, as the latter's beau; and Jake Cannavale, the 19-year-old son of Bobby and grandson of Lena Horne, who provides some delightfully droll comedy. David has also seen fit to give a brief role to 86-year-old Jerry Adler, an old-time stagemanager/director who has last seen wandering around the law offices of "The Good Wife" without his trousers. Adler could steal this show--even from David, Houdyshell and Stadlen--if they didn't kill him off after one scene.
In cases like this--with a large cast, an unwieldy play and a novice author--plaudits are due the director. This is Anna D. Shapiro, of August: Osage County, Motherf**ker with the Hat and Of Mice and Men. It turns out she can do farce, too, I guess. Todd Rosenthal, her set designer on those plays, does so here with requisite humor; if anyone decides to give a Tony Award for Best Buffet Spread, here's the front-runner. What's more, the play is punctuated with an incidental score from the estimable David Yazbek (of Dirty Rotten Scoundrels), the music percolating through the play like a heavenly pot of Chock Full o' Nuts.
Art it ain't; Fish in the Dark isn't O'Neill, or even O. Neil Simon. But it's funny, and it's boffo.
.
Fish in the Dark , by Larry David, opened March 5, 2015 at the Cort Theatre
Calling all HuffPost superfans!
Sign up for membership to become a founding member and help shape HuffPost's next chapter