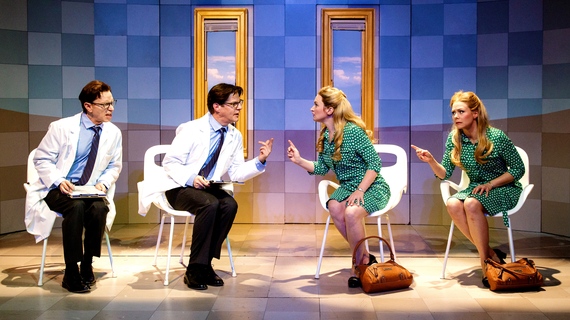 Arnie Burton, Rick Holmes, Kelly Hutchinson and Liv Rooth
in David Ives' Lives of the Saints. Photo: James Leynse
All in the Timing, an evening of six wildly comedic sketch/plays by David Ives (and directed by John Rando) was a major hit when it was produced by Primary Stages in 1993, enjoying a quick off-Broadway transfer and a 600-performance run. The play proved highly popular, again, when revived by Primary Stages in 2013. Ives, Rando and Primary Stages have now joined forces for Lives of the Saints, another evening of six wildly comedic sketch/plays. I enjoyed the new program, at the Duke on 42nd Street, precisely as much as I did the old, and I would suspect that it will be a popular crowd-pleaser.
What I suppose I need add, alas, is that I didn't enjoy All in the Timing at all. It left me surprisingly cold, given that an evening of wildly comedic sketch plays is the sort of thing I'm bound to enjoy. I found it all too slight; while audience members were laughing their heads off around me, I only cracked an occasional smile.
After the fact, I expected that I must have been there on an off night--for the play, or for me. Having in the interim found Ives to be a wonderfully bright and funny writer, I eagerly went to last year's revival and found myself as restless and unsmiling as in 1993. The one-acts were filled with daffy ideas and wise wordplay, yes; but they seemed slight, as if the writer simply took the first six ideas that came to mind and wrote them up. That was obviously not the case, but that's how the plays came across to me.
This Ives, by the way, has spent thirteen intervening years writing adaptations for the City Center Encores! series, displaying the ability to polish and lovingly enhance often weak musical comedy librettos. He demonstrated a delightfully farcical touch in 2007 with the Mark Twain-derived Is He Dead?; established skilled inventiveness in 2010 with Venus in Fur; and totally floored me with both The School for Lies and The Heir Apparent, deliciously anachronistic adaptations of 17th century French comedies. These last two, presented in New York by the Classic Stage Company, were altogether marvelous and worthy of further life, even if they were unable to transfer at the time.
And now we a second program of one-acts. This is not a new evening, precisely; Lives of the Saints was presented in 1999--under the direction of Rando--at the Berkshire Theatre Festival in Stockbridge, MA. Three of the seven plays were replaced with newer ones for the present engagement; a fourth was cut in previews last week, and not replaced. The audience around me was roaring, intermittently at least: the man in love with a washing machine, the dignified old lady character who starts spurting obscenities for four minutes. (The woman seated directly behind me practically exploded during this sequence.) As with All in the Timing, I found the whole thing as slight as the cheese plate and celery sticks passed around during an overlong cocktail hour while you're waiting for the banquet to begin.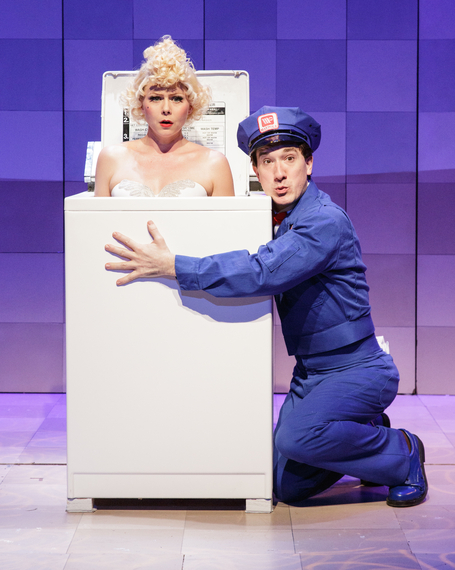 Liv Rooth and Carson Elrod in David Ives' Lives of the Saints. Photo: James Leynse
That said, there are a clutch of fine performances on view. Carson Elrod--who made a drolly obnoxious lost boy in Peter and the Starcatcher, an uproarious blue-toned savage mixologist in The Explorer's Club, and a beleagured hero in Ives' Heir Apparent--is turning into one of our top undiscovered stage comedians. Also on hand is the ever-reliable Arnie Burton, who first caught our attention in The 39 Steps and was the invaluable Mrs. Bumbrake in Starcatcher. Burton--who appeared in the original 1999 production of Lives of the Saints--and Elrod keep firing away with laugh after laugh, even when they are not provided by the author.
The two top-flight comedians are joined by the equally adept Rick Holmes, Kelly Hutchinson and Liv Rooth. Lives of the Saints provides plenty of laughter, and is likely to please patrons who make it over to the Duke on 42nd Street. Those that loved All in the Timing, at least.
.
Lives of the Saints, by David Ives, opened February 24, 2015 and continues through March 27 at the Duke on 42nd Street
REAL LIFE. REAL NEWS. REAL VOICES.
Help us tell more of the stories that matter from voices that too often remain unheard.