Breezy adaptation, canny casting and a handful of delectable performances combine to make Shakespeare's Taming of the Shrew a 425-year-old romp for audiences at the Public Theater's Delacorte. This year's opener of the Shakespeare-in-the-Park series takes Old Will's problematic Shrew--which to 21st century eyes might seem to glorify spousal abuse--and with the help of an all-female cast more or less wrassles it to the ground, with a poke or three at the misogynistic, racist buffoons and politicians of today.
To start with the best, we have the Petruchio of Janet McTeer opposite the Katherina of Cush Jumbo. Keep your Alfred Lunts and Alfred Drakes and Richard Burtons. McTeer strides on as if this Petruchio has just zoomed in on the A4 from Verona on a Harley, with a skull-and-cross-bone jacket and matted hair that looks like it was last washed for Lent. McTeer--whom you might well remember from the 1997 A Doll's House at the Belasco, and who is skedded to star in October at the Booth in Les Liaisons Dangereuses (in a dress, presumably)--is here tall, stringy and grungy; she even strides cross stage and relieves herself/himself against a lamppost. If this is your Petruchio, how misogynistically objectionable can it be?
Jumbo, too, is a bonny Kate to be reckoned with. This is the actress who was so arrestingly good in the 2014 production of Jez Butterworth's The River that she just about overshadowed the play's nominal star. (That Jackman fellow, gutting a fish.) She followed that with her solo show Josephine and Me at the Public, and has since been making sparks as Julianna Margulies' law partner Lucca Quinn on the final season of "The Good Wife." (Jumbo and fellow ham--er, I mean thespian--Christine Baranski have been announced as stars of the upcoming "Good Wife" spinoff.) Dressed in sweet pink gingham with a foul mouth and pigtails, and bushy petticoats, Jumbo is every inch as outrageous as McTeer. At times, she comports herself as if she is auditioning for a production of The Bad Seed and she'd better be chosen or else.
Phyllida Lloyd is best known as director of the goldmine called Mamma Mia!, on stage and screen, but she has nevertheless demonstrated a firm hand with the Bard in acclaimed all-female productions of Shakespeare's Henry IV and Julius Caesar. (Jumbo received an Olivier nomination for her Mark Antony in the latter; both transferred from London's Donmar Warehouse to Brooklyn's St. Ann's Warehouse.) Shrew is a freewheeling affair, presented in the context of the Miss Lombardy Beauty Pageant. The set--more or less representing a third-rate touring circus, with a central ring and two portable carriages (one with a box-office window)--and the costumes come from Mark Thompson, of One Man, Two Guvnors fame.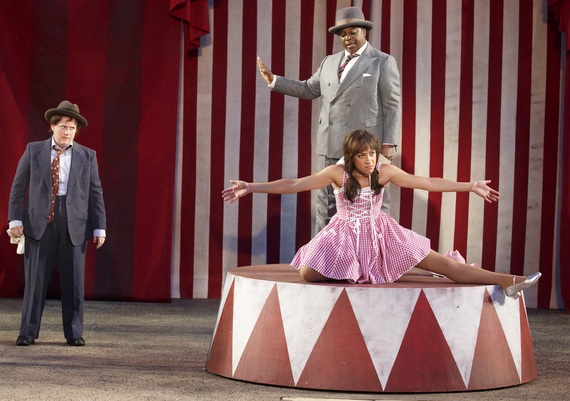 Donna Lynne Champlin, LaTanya Richardson Jackson
and Cush Jumbo in The Taming of the Shrew
Photo: Joan Marcus
Greatly boosting the hilarity is Donna Lynne Champlin as suitor Hortensio (and the disguised music tutor Litio). We've previously seen Champlin, in trousers with an accordion, as a droll Signor Pirrelli in the Patti LuPone Sweeney Todd. Here, though, she takes full control of the stage, looking and acting like Nathan Lane's younger brother. (One imagines that Champlin, as is, could step into Nicely-Nicely's shoes in Guys and Dolls and steal the show thoroughly.) She also does a tip-top tap dance to "Yankee Doodle Dandy," and don't even ask me to explain how that sequined number got into Olde Padua.
There are several additional performances of note, including Gayle Rankin (Tribes) as the pretty sister Bianca; LaTanya Richardson Jackson (a 2014 Best Actress Tony nominee as Lena Younger in A Raisin in the Sun) as the father Baptista; and Anne L. Nathan (Once) as a wandering Pedant. Judy Gold does her own stage-pilfering as Bianca's elderly suitor, Gremio. Lloyd's conceit is to build this wealthy merchant into a personage of Trumpian splendor. So much so that Gremio at one point storms out of the action--and out of character--to complain that the director of the play is a woman. ("Who the hell does she think she is? Telling me where to stand, how to act, what to wear? And all these actors? Chicks!!") The adaptation goes uncredited, so it's unclear where this boffo monologue came from. Lloyd? Gold? Or maybe it's some of Will's original dialogue, cut during the 1591 tryout?
This Taming of the Shrew ends--as it presumably must--with the shrew Katherina tamed, basically starved into submission to the point where she voluntarily places her hand below her husband's foot. In the midst of grand tomfoolery, this leaves a discordant taste; at least one viewer had flashes of Joel Steinberg and Hedda Nussbaum crossing the mind. Shakespeare's Katherina might believe what she's saying, but Ms. Jumbo and the assembled players clearly don't seem to.
But if we're going to have Taming of the Shrew, this is a fine way to have it. Let it be added, parenthetically, that the wisdom of that old adage advising actors not to work with children or animals was amply demonstrated at Thursday's preview. Not one but what looked like five Central Park raccoons wandered back and forth across the upstage left portion of the stage, with a youngster raccoon twice stopping unsurely as if he--or she--was trying to figure out just what was that many-headed throng sitting on the other side of the footlights. Talk about upstaging!
.
The New York Public Theater production of Shakespeare's The Taming of the Shrew opened June 13, 2016 and continues through June 26 at the Delacorte Theater
Related
Popular in the Community