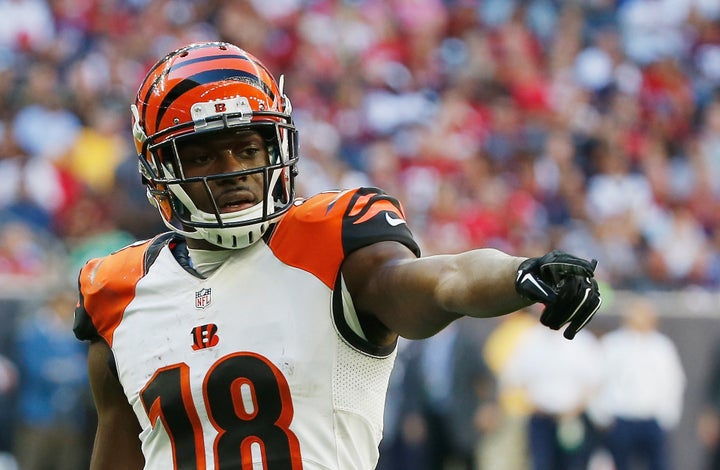 A.J. Green may only be 27 years old, but the Cincinnati Bengals wide receiver is already on pace for one of the great all-time careers at his position. Green, the fourth overall pick in the 2011 NFL draft out of Georgia, has earned Pro Bowl honors every year of his career, with this year soon to be his fifth. He has amassed at least 1,000 yards in each of his first five seasons, the only player in league history besides Randy Moss to do so. 
The Huffington Post caught up with Green earlier this month to talk about the maturation process of quarterback Andy Dalton, Georgia's firing of head coach Mark Richt and why it's Super Bowl or bust for his first-place 10-3 Bengals. (N.B.: This interview took place before Dalton fractured his thumb.)
This interview has been edited and condensed for clarity.
How much value do you put into your nutrition on a daily basis? 
This year I have a personal chef that cooks dinner for me every night. I get three to four massages a week. Cold tub, ice tub -- I think it's very important if you want to play this sport for a long time, and I think this is the recipe for longevity in the league. To be able to take care of your body and recover from week-to-week and still play at a high level.
Past the halfway point in the season, how much harder is it for you to stay fresh, and then how much more important does it make those little things?
You know, my body feels great. I don't think a lot of people look at this aspect of the game. [Being] mentally fresh [is important] -- you know, we've been in this grind for weeks, and at this point of the season, people's bodies tend to break down, but also their minds ... I think if you keep your mind fresh, your mind tells your body what to do. I think that's what I'm trying to do, actually -- keep my mind fresh or change up my routine a little bit more, just to try something new to not get bored with my same routine.
This has a chance to be the best year of your career, and of your quarterback's as well. What have both you and Andy Dalton done differently?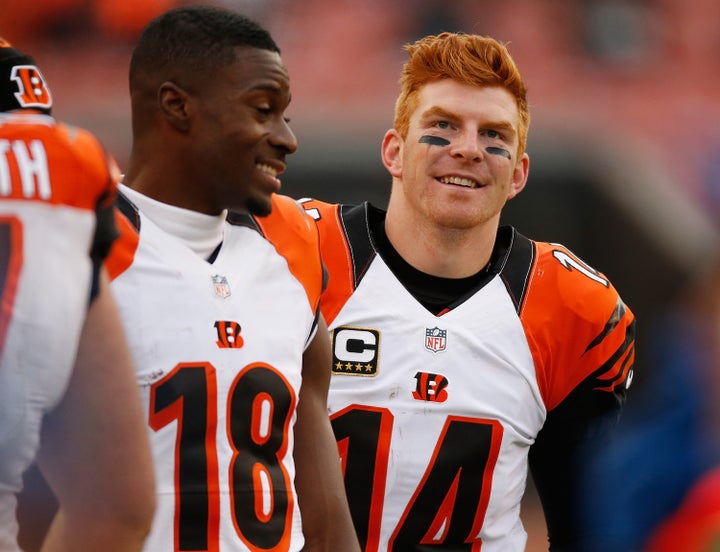 I think the biggest [thing] for Andy and I is our communication -- you know, where we talk on and off the field is the biggest thing, and then the attention to detail. Having to be more critical of the detail -- I think that really helps us, because he knows exactly where I'm going to be on the field.
With every win the Bengals amass, I would imagine it becomes more of an affirmation that you guys are doing the right things, especially with you and Andy. I don't think people realize how athletic he is outside the pocket. So for you, when he's scrambling, what is the process in breaking your route to help him make a play?
Our receiving crew -- we work on that a lot, when Andy gets out of the pocket and he scrambles so we all know our assignment. When Andy was at [Texas Christian University], he ran a lot. He was like the second rusher on the team. So you know he's very athletic outside the pocket. We gotta keep our routes alive and get open somehow.
The common view is that he's winning more games with his mind this year. Is that a fair assessment?
I think so. I think he has matured more. As an offense, you know, we've been together so long now, going on our fifth year, and like I said, we are just playing good around him. You know, the fault can't just go on one person, and these last couple years in the playoffs, we haven't played good as a team at all -- offense, defense, special teams.
You and Andy have lost four consecutive playoff games together. Is that something the team openly discusses?
We take each game at a time, man. I think that's the biggest thing for us this year. Even when we were 8-0, we took it week by week.
And that's the message that the coaching staff -- specifically the offensive coordinator, Hue Jackson, and your head coach, Marvin Lewis -- provide this football team?
Right, right. We have a special team and [given] our background in the playoff games, I'm pretty sure it's in the back of everybody's mind, but we know the task at hand. That's why we got to get these games. That's how we [are going] to have success in the playoffs.
With that in mind, what would you deem a successful year? How much do you have to win in the playoffs?
I think we have to win the Super Bowl [to be] successful. I think we have a team to do it. I think this is the most talented team I've been a part of, the most of these last couple years I've been here. I think anything less than that is a disappointment. I think that is the standard we hold to each other.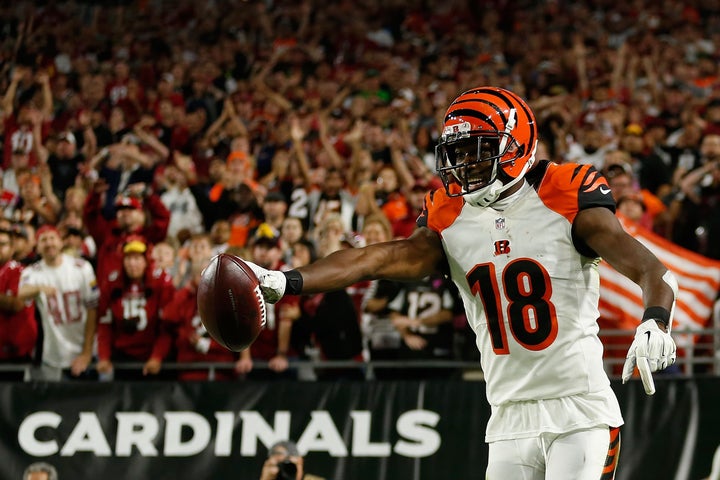 You mentioned that the fans in Cincinnati have embraced you. This is a fan base so desperate for a winner.
Yeah, and I think that's deserving of the city. You know, they see the talent that we have and they see the potential that we have to go all the way, and why not? And it's "why not" for us. "Why not" for the Cincinnati Bengals winning the Super Bowl.
When you mentioned the weapons, a healthy tight end in Tyler Eifert obviously with the 12 touchdown catches has been huge. How has Tyler's play in the seams and inside the 20s helped you personally?
Oh man, it keeps every defense honest. And with Marvin [Jones], Mo [Mohamed Sanu], and Gio [Bernard] and Jeremy [Hill], and the way Andy's playing, it keeps everybody honest. They can't just take away one weapon, because we have Tyler in the middle, Marvin and Mo outside and inside and Gio and Jeremy in the backfield. So you have to keep it honest when you play us.
How much do you judge individual success with the team? I know you're going to say "winning," but I guess I have to hear it from you.
Haha, hey man, it's all about winning. My stats will come as we win -- you know, I had the 98 catches or 1,400 yards last season, 11 TDs, so I had those seasons already. But we still didn't win. So this season I'm still having similar stats and we're winning.
Your college coach, Mark Richt, was fired by Georgia, despite a tremendous amount of success over a 15-year period. By all accounts, he is a very classy guy, in the locker room and outside. Give me a sense of Coach Richt. [Note: Richt has since accepted a head coaching position at his alma mater, the University of Miami.]
Oh yeah, he definitely is, man. It's very shocking that he left. It's hard to see the University of Georgia without Coach Richt, and it's going to be even harder to see him on [different] sidelines if he decides to ever coach again. So it's gonna be weird. But I support him where he goes, and I support the University of Georgia with the decision.
REAL LIFE. REAL NEWS. REAL VOICES.
Help us tell more of the stories that matter from voices that too often remain unheard.