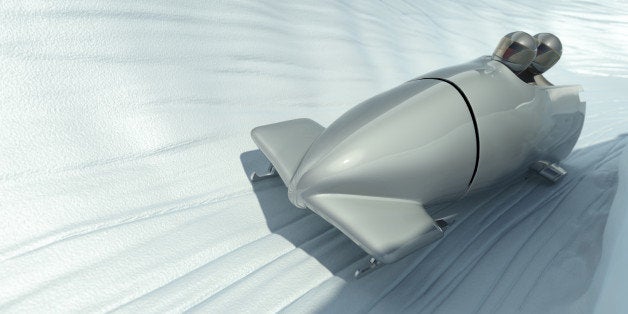 The news came on January 19, 2014. In mere weeks, bags would be packed, flights would be taken and a dream would be fulfilled. The news meant that Aja Evans would head to Sochi to participate in the 2014 Winter Olympic Games as a member of the U.S. women's bobsled team.
Unlike many Olympians, though, Evans' path to the Olympic Games through bobsledding is one that she only recently charted. Most Olympians spend years, decades and most of their lives training in their respective sports to gain an opportunity to compete in the Olympic Games. Evans, though, only began competing in bobsledding in 2012.
A former track and field athlete who competed in the shot put and sprint events at the University of Illinois, it was a college coach who first put the idea of bobsledding in Evans' head. "Around the 2010 Winter Olympic Games, I was a senior in college participating in track and field. Around the time of our indoor season combine, my coach was telling me about how he researched bobsledding. With bobsledding, everyone thinks about the movie 'Cool Runnings,' but few people think of the powerhouse athletes with track and field backgrounds that compete in the sport. My coach told me they hold a combine for you to get your foot into the sport and he thought that if I could just get my foot in the door, I'd be good at it," Evans explained.
Evans' college coach's research was correct: The bobsled combine paves the path for an athlete's entry into bobsledding. Held annually, the women's bobsledding combine consists of the broad jump, shot put, power clean, back squat and sprints. Regardless of the previous success of any U.S. bobsled team athlete, they must compete in the combine. Thus, the combine presented an opportunity for Evans to showcase her athletic talents and possibly begin to be recruited for the team that would represent the United States in the 2014 Winter Olympic Games.
Although Evans and her college track and field coach initially discussed bobsledding in 2010, it wasn't until nearly two years later that Evans began considering taking up the sport. "After college, I took one-and-a-half years off from track and field. It was killing me to not be an athlete at an elite level. At that time, it was too late for me to train for the London Olympic Games and the 2016 Olympic Games in Rio were too far away. I thought, 'I need something now!' Bobsledding popped into my head, so I stayed up all night researching it," Evans noted.
Evans' late-night epiphany came just four-months ahead of the 2012 combine. With a short amount of time remaining to train for the event, Evans sought the help of trainers at EFT Sport Performance, an Illinois training facility that specializes in strength and sport training for elite athletes. There, trainers put her on a two-a-day workout plan aimed at training her body to be as explosive as possible coming off of the training block and run well behind the bobsled. Even with the best laid training plan in front of her, the short amount of time Evans had to prepare for the combine meant that she would have to rely heavily on her natural athletic ability to carry her through the combine's events.
While Evans' bobsledding capability was to be seen, one thing was certain: Evans possessed elite athletic genes. Her brother, Fred, is a 305-pound defensive tackle for the Minnesota Vikings. Her uncle was a hitting coach for the Chicago Cubs, while a cousin is a minor league baseball player. In training, it was not surprising for Evans to work alongside Fred and other NFL players, including Matt Forte and Tim Jennings. What's most impressive about Evans' athletic prowess is not that she trained alongside NFL players, but that she was able to keep up with them.
Evans' natural athletic ability and training not only carried her throughout the 2012 combine, but allowed her to dominate it. With 800 points possible to score throughout the combine's events, Evans managed to score 794 in the 2012 combine. Not only that, but Evans broke the sport's broad jump record, reaching a height of 10'3". She followed up her 2012 combine performance by racking up a perfect score in 2013. As her college track and field coach predicted she could, Evans broke into the sport of bobsledding.
As the brakeman in the two-man bobsled, Evans' task is to get the sled off of the blocks in the most explosive and fast manner possible. For this reason, Evans is quick to note why track and field athletes, like she and teammate Lolo Jones, have found success in bobsledding. "We know how to run. If you ran at the collegiate or professional levels, you developed a good running technique. We already bring to the table the knowledge of the most efficient and fastest ways to run. I'm a very powerful person and also use my legs very well in the shot put, so I was able to transition the power I bring from track and field to start well off the of the block," Evans said.
Even though she possesses power that has been compared to that of NFL players, Evans isn't afraid to admit one thing: She was scared her first time down the track. "It was very scary. My first time down the ice was three days before our team trials last year. They tried to give me a lot of advice, but it's not the same when you get in the sled and go down yourself. When I got to the end, I was like a deer in headlights," Evans recalled. Regardless of being scared, Evans' competitive spirit fueled her early success in the sport. "Three days later, I set the start record and my teammate and I won the team trials," she noted.
As she prepares to travel to Sochi, with her fear of sledding behind her and her power in front of her, Evans is prepared to do the only thing she hasn't done yet in bobsledding: Win gold.