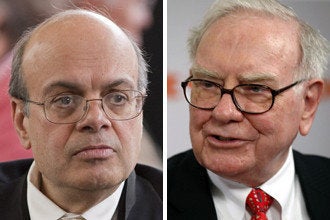 Berkshire-Hathaway hasn't picked their next chief executive, but the current one certainly has good things to say about reinsurance executive Ajit Jain.
Billionaire Warren Buffett, CEO of Berkshire-Hathaway and the world's third-richest man, came out on Tuesday with a gushing review of the 59-year-old Jain, saying the company's board of directors would support his selection as the company's next Chief Executive Officer if he wanted the position, Bloomberg reports.
Buffett says that although Jain, who has been with Berkshire since 1985, isn't hoping to usurp Buffett's position anytime soon, "[i]f he was, the board of directors would probably put him in there in a minute." Buffett also said the Indian-born executive, who he describes as akin to family, had "probably made a lot more money for Berkshire than I have."
Berkshire-Hathaway has been readying for the 80-year-old Buffett's retirement for some time. Last month, the company announced their search for the next CEO had been narrowed to four candidates, stopping short of listing those included. However, as Bloomberg notes, Buffett did praise a number of executives in his annual letter to the company this year, Jain included. The others, in no particular order, were energy executives David Sokol and Greg Abel, Geico CEO Tony Nicely, and Matt Rose, CEO of Burlington Northern Santa Fe railroads.
After his departure, the Berkshire will split Buffett's three roles -- CEO, chairman, head of investments -- into distinct positions.
Popular in the Community