In Florida, the "Pastor Protection Act" (HB 43) is moving through the legislature which, as of now, ensures pastors or other religious leaders aren't forced to perform marriages that violate their religious beliefs and would help protect them from lawsuits. The supporters of the bill, in my view, are using unjust and untrue scare rhetoric to address a problem that doesn't exist.
Pastors and clergy have always had the right to decide who their church will and won't marry; that freedom is guaranteed in the U.S Constitution and Florida's Religious Freedom Restoration Act and that's the way it should be.
Last year the Family Research Council, a leading opponent of gay marriage, told pastors that they didn't have to worry about refusing to marry same-sex couples because churches and religious leaders have solid protection and there is no appreciable risk that clergy would be compelled by a court to host or perform a same-sex ceremony. With that being true it makes you wonder what's the real purpose of the bill and why do we need such a measure in place?

Laws like this are used to set precedent for discriminating in additional ways; that is their real purpose.
Last spring, legislators tried to make it possible for taxpayer-funded foster care agencies to discriminate against any child or family, so long as the discrimination was based on "deeply held moral principles." This is the same language of the "The Pastor Protection Act."
If laws are passed that allow discrimination simply because a group feels strongly about it then we will find ourselves on a very slippery slope. Individual liberty must always be balanced with the liberty of others and the communal good are protected.
Opinion aside, a same-sex couple's 14th Amendment right to equal opportunity and non-discrimination supersedes the religious beliefs and "deeply held moral principles" of anyone.
When I came out to the world as a Black gay minister last year, my life became a whirlwind. I lost friends, was accosted by other people's angry comments and to be totally honest it hurt much more than I anticipated. But in that struggle I came to a better understanding. Advancement for one group is not a loss for another when we accept that we are all on the same team. We don't need any more laws intended to pit one community against the other.

Whether you are black, white, gay or straight the love of God has no boundaries, no limitations, as a matter of fact its unconditional.
I crossed paths with a dynamic group of faith leaders who believe that we as a global community must have respect for all of creation, liberate the oppressed and practice the doctrine of Love.
I've joined in with #AJustFaith movement to make sure that all communities have equal opportunity in the eyes of the law. #AJustFaith is a black-led LGBTQ multi-faith, multi-ethnic, and multi-generational coalition of people who speak, teach and organize to create a just world for all.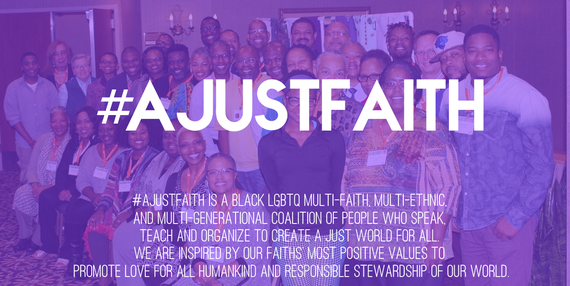 Benjamin C. Evans III, is a minister, motivational speaker and Managing Director of BMe Community where he oversees the execution of a national campaign strategy to build caring and prosperous communities inspired by Black men. Connect with him on social media @ibenevans
Popular in the Community