In an effort to keep arms away from Russian-backed rebels in Ukraine, the United States may have kicked off something of an arms race back home.
The Obama administration last week announced a new round of sanctions against Russia that it says are intended to discourage Russia from continuing to support rebel groups in eastern Ukraine. Companies blacklisted by the U.S. include Russian banks, energy firms and eight weapons manufacturers -- including Kalashnikov Concern, a maker of what is arguably the most popular weapon in the world, the AK-47.
The move sent American gun buyers into a frenzy, seeking to buy the AK-47s that are already for sale in the U.S. While there's no hard data showing an uptick in Russian gun sales, gun sellers around the country say they're seeing big business in AK-47s and other Russian firearms.
Blaine Bunting, president of Maryland gun distributor Atlantic Firearms, said Tuesday that orders for their AK-47-style rifles and shotguns have "tripled, if not quadrupled" since Obama announced the sanctions.
"We have 15 employees here, and yesterday we started at 7:30 in the morning and didn't leave until eight at night," he said. After selling more than 400 Russian guns in just a couple days, Bunting said, Atlantic Firearms is sold out. Its website has a notice to buyers warning that the import ban may cause delayed shipping times: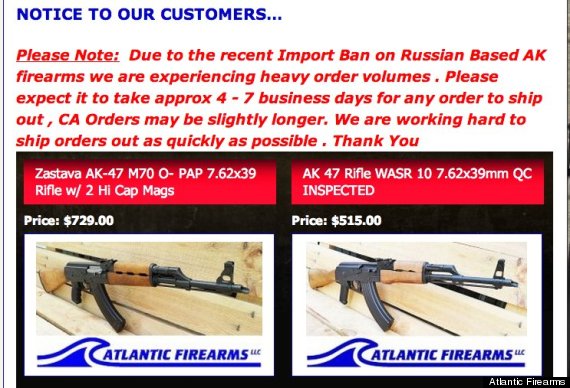 Last week in Nampa, Idaho, the gun store Armageddon Armory bought 60 Saiga semi-automatic shotguns, which are made by Kalashnikov. They were gone in just a few days, according to the shop's manager, David, who refused to give his last name, citing store policy.
"We sold out of them instantly," he said.
Right now, Saiga shotguns cost $800 to $900, David said, estimating they would double in price within six weeks because of Obama's executive action.
The Treasury department says people and businesses who own Kalashnikov guns can still sell them in the U.S. as long as the Kalashnikov company doesn't benefit from the transaction.
Guns manufactured by Kalashnikov and other Russian companies make up only a small part of the U.S. gun market: Only about 200,000 Russian guns were imported to the U.S. in 2012, according to the U.S. Bureau of Alcohol, Tobacco, Firearms and Explosives. That same year, the agency says, U.S. gun makers produced more than 8.5 million guns, not including guns produced for the military. They also imported around 4.8 million more from other countries.
Firing Line in Wyandotte, Oklahoma, has been inundated with callers trying to buy Kalashnikov guns, even though the store currently doesn't sell them. North Raleigh Guns, a small gun retailer in Raleigh, North Carolina, has had a surge in the past few days of customers coming in to ask about Kalashnikovs.
"The simple thing is, people want what they can't have," said Ben, North Raleigh Guns assistant manager, who asked that his last name not be published.
At Carolina Gunrunners, also in Raleigh, sales on all kinds of guns have risen since Obama announced the sanctions, said store owner Jim McComas. McComas said just having guns in the news is enough to get customers knocking down his door. This has certainly proven true in the past: Criminal background checks, one of the most reliable ways to gauge gun sales nationwide, surged after Obama's 2012 re-election and the 2012 Newtown shooting. The increased sales were believed to be driven by people fearing more government regulations and outright weapons bans.
An AK-47 is a gas-operated 7.62 caliber assault rifle. It was invented in 1947 by the Russian general Mikhail Kalashnikov for use in the Soviet Army, but later became popular partly because of its simplicity and reliability. AK-47s have been used throughout the world by national armies, revolutionaries, guerrillas and paramilitary groups, among others. There are believed to be about 100 million in circulation worldwide.
AK-47s and their variants are also manufactured in countries like Poland, Hungary and Bulgaria. A handful of U.S. companies also make AK-47-style firearms. One is Atlantic Arms Manufacturing, a sister company of Atlantic Arms, Bunting says. Another is I.O., Inc., a small firearms manufacturer in Florida that says it sells its 100 percent American-made AK-47-style guns for $400 to $600.
Aside from just wanting what they can't have, people may be snatching up Russian AK-47-style guns as an investment.
"People will buy them like any other commodity because they think the value is gonna go up," McComas said.
But it also may just be that the Russians make a good gun. "The Russian AK-47s are known to be the best of the best," said Firing Line's Terra Burke.
"The Russian AK-47 is one of the highest quality AKs out there," said Ben, from North Raleigh Guns. "It's been around forever. The ammo is affordable. Plus, it's really fun to shoot."