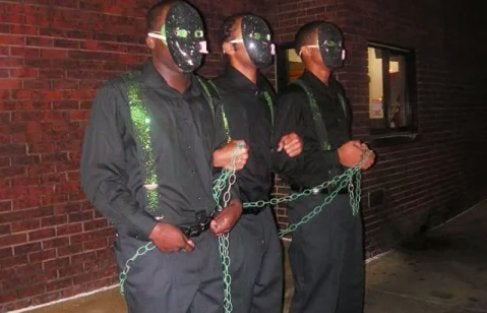 A group of gay men known as the MiAKAs are filing a lawsuit against the Alpha Kappa Alpha Sorority, Incorporated for gender discrimination.
MiAKA, or Men interested in the Alpha Kappa Alpha Sorority, was unofficially founded a few years ago at Texas Southern University and Prairie View A&M University. Members mimic the sorority's signature rituals.
Members of the Greek community were shocked when the Tri Alpha Chapter of MIAKA presented photos of men adorned in pink and green and pearls, while throwing up their "pinkies." People were even more shocked to learn the chapter had even filmed a probate show with sounds of the sorority's famous call "skee wee" being heard in the background.
AKA, the oldest sorority founded by African-American women at Howard University in 1908, has established itself as a well-known international service organization. Famous women who are members of the sorority include Wanda Sykes, Star Jones and Toni Morrison. Though the sorority was created for black women, it does not discriminate against other women. There are over 100 women who have been recognized for their outstanding achievement as honorary members, including Rosa Parks and Eleanor Roosevelt.
The conservative activist website CampusReform.org notes Alpha Kappa Alpha is a legacy of sisterhood. It has barred men -- gay or straight -- to join its sisterhood, just as fraternities bar all women from joining their brotherhood.
The National Pan-Hellenic Council includes nine Black Greek letter organizations known collectively as the "Divine 9", five of which are fraternities. MiAKA has its options of joining these brotherhoods with similar values and principles such as Alpha Phi Alpha founded in 1906, Kappa Alpha Psi founded in 1911, Omega Psi Phi founded in 1911, Phi Beta Sigma founded in 1914, or Iota Phi Theta founded in 1963.