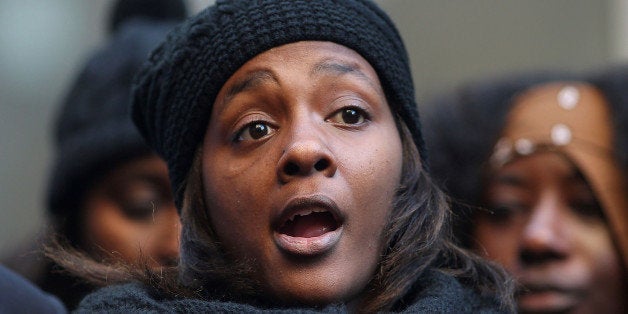 NEW YORK -- When New York City police officer Peter Liang sat down in a Brooklyn court on Wednesday, a companion leaned over and said quietly, "Breathe. Relax."
Liang, who appeared visibly shaken, was in court to plead not guilty to a six-count indictment in the shooting death of 28-year-old Akai Gurley this past November.
Assistant District Attorney Marc Fliedner read out the charges: manslaughter in the second degree, criminally negligent homicide, assault in the second degree, reckless endangerment in the second degree, and two counts of official misconduct.
Liang was released on his own recognizance awaiting trial. As the 27-year-old officer walked out of the courtroom, family and friends of Gurley screamed after him, "Killer! Murderer!"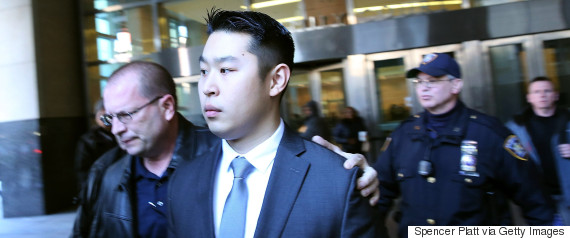 New York City police officer Peter Liang is escorted out of court after pleading not guilty on Feb. 11.
"Indict, convict!" they chanted, as courtroom police officers tried to quiet them. "Send Peter Liang to jail! The whole damn system is guilty as hell!"
Outside the courthouse, Gurley's aunt, Hertencia Petersen, called her nephew's death a "modern-day lynching."
Kimberly Ballinger, Gurley's domestic partner and mother to his 2-year-old daughter, thanked Brooklyn District Attorney Ken Thompson for the rare feat of obtaining an indictment against a police officer. Now, she said, Thompson needs to win a manslaughter conviction against Liang, which could send the officer to prison for up to 15 years.
"As a result of the reckless actions of Police Officer Peter Liang, there is now a 2-year-old girl who goes to sleep every night without her father kissing her good night," Ballinger's lawyer, Steve Ryncecki, told reporters.
"As a result of the reckless actions of Police Officer Peter Liang, Kimberly Ballinger is now a single mother," he continued. "Had they had acted in an appropriate and quick-response manner, would Akai Gurley still be with us today?"
On Nov. 20, Liang and his partner, another rookie cop named Shaun Landau, were patrolling inside the Louis Pink Houses in East New York, Brooklyn. District Attorney Thompson told reporters Wednesday that Liang had a gun in one hand and a flashlight in another when he opened the eighth-floor door to the building's darkened stairwell.
That's when Liang fired one shot, the bullet flying downward. At that moment, Gurley and his girlfriend, 27-year-old Melissa Butler, were entering the stairwell from the seventh floor. The bullet ricocheted off a concrete wall and struck Gurley in the chest, killing him.
"[Liang] put his finger on the trigger ... when there was no threat," District Attorney Thompson told reporters after the arraignment Wednesday.
"We don't believe he intended to kill Mr. Gurley," Thompson said, "but he had his finger on the trigger."
Thompson also noted that it takes "significant pressure" on the trigger to fire the 9 mm Glock issued by the New York Police Department that Liang had that night. When there's no immediate threat, Fliedner said in court, it's NYPD protocol to hold one's trigger finger along the barrel -- not on the trigger itself.
According to Thompson, the state also intends to show that Liang and Landau lingered for four minutes after the shooting, even as they heard Gurley and Butler running down the stairs -- before Gurley eventually collapsed on the fifth floor. "They did not render medical assistance," Thompson said.
Responding to criticism leveled by Liang's attorney, Stephen Worth, that the indictment was part of a political agenda, Thompson said, "It's the easiest thing to attack the prosecutor." He called Worth's accusation "baseless."
"There's no agenda," he said, asserting that the grand jury's decision to indict Liang was in no way a reaction to events late last year in Staten Island and Ferguson, Missouri -- where two grand juries declined to indict two white police officers in the deaths of two unarmed black men, setting off massive protests across the country.
Worth emphasized to reporters after the arraignment that Gurley's death was a terrible and tragic accident.
"When this case was first investigated, it was determined to be an accidental discharge," he said. "It remains an accidental discharge today. Nothing has changed since that time except the regrettable and all-too-brief presentation by the Brooklyn district attorney's office. There is nothing reckless or criminally negligent about the way Officer Liang performed his duties that night."