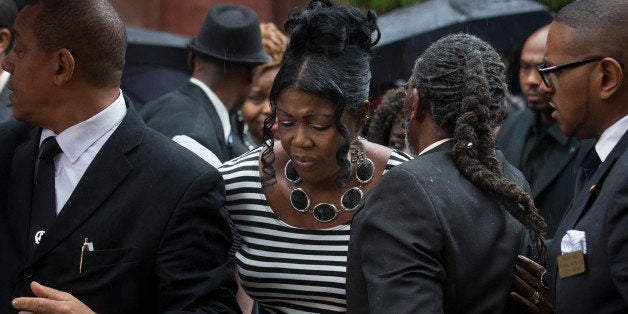 "We're glad justice is on the way," Sylvia Palmer told The Huffington Post in a statement.
Rookie NYPD Officer Peter Liang shot Gurley on Nov. 20 inside the stairwell of the Louis Pink Houses in East New York, Brooklyn.
On Tuesday, according to multiple reports, a grand jury voted to indict Liang on charges of manslaughter, criminally negligent homicide, assault and official misconduct.
"God finally heard and felt the tears and grief of a weeping mother," Palmer said. "It's one step towards justice."
It's rare for a police officer to be indicted in the death of a civilian. In December, a Staten Island grand jury declined to indict the NYPD officer who put 43-year-old Eric Garner into a fatal chokehold. And in November, a grand jury in Ferguson, Missouri, declined to indict the police officer who fatally shot 18-year-old Michael Brown.
Those non-indictments set off massive "Black Lives Matter" protests in New York and across the country. Over the past few months, Gurley's family has held its own vigils and protests, calling for Liang to be charged with homicide.
"Justice will be served through God's grace and mercy," Palmer said Tuesday. "True justice will save the lives of many young men and women in the future. Trust God and he will do it."
On the night of Nov. 20, Gurley went over to his girlfriend's apartment in the Pink Houses on Linden Blvd. His girlfriend, 27-year-old Melissa Butler, was braiding his hair in anticipation of a trip Gurley had planned: He was going to surprise his mom at her home in Florida for Thanksgiving.
After Butler had braided Gurley's hair, the pair left the seventh-floor apartment and walked to the elevator. Upon discovering the elevator was out of order, they entered the building's darkened stairwell.
Meanwhile, two rookie police officers -- Liang and his partner, Shaun Landau -- entered the stairwell from the eighth floor.
The two were conducting what's known as a "vertical patrol" -- when officers walk up and down the stairs inside the city's high-rise housing projects -- even though a commanding officer had ordered them not to do so, according to a Daily News report.
When Liang opened the door to the stairwell, according to multiple reports, he was holding a flashlight in one hand and a gun in the other. That's when he fired the shot in a downward trajectory, striking Gurley in the chest on the floor below.
Gurley staggered down two flights of stairs and collapsed on the fifth floor. A neighbor called 911 while Butler tried to administer first aid.
Both an emergency operator and a commanding officer tried desperately to reach Liang and Landau after the 911 call, but the two officers didn't respond for 6 and 1/2 minutes. The Daily News reported that according to sources, the cops were texting their union representatives.
Gurley was later pronounced dead at the hospital.
NYPD Commissioner William Bratton initially said the shooting appeared to be an "accidental discharge." He added that Gurley was a "total innocent."
At her first press conference after Gurley's death, Palmer said her son was "murdered." She was also crestfallen at her son's plans to surprise her for Thanksgiving.
"Now there will never be another Thanksgiving, another Christmas, another Valentine's, another birthday," she said.
"My son was my heart and now he's been taken away from me," she continued. "He hasn't done nothing wrong. He's a good man. He loves his family. He was gonna bring home my granddaughter to visit me for the first time in two years, and now I never get the opportunity to spend any time with my son and my grandbaby."
Liang is expected to be arraigned in a Brooklyn court on Wednesday. The office of Brooklyn District Attorney Ken Thompson would not confirm the charges against Liang. A spokeswoman said the office was "precluded by grand jury secrecy."
New York City Mayor Bill de Blasio said in a statement Tuesday that "no matter the specific charges, this case is an unspeakable tragedy for the Gurley family."
"We urge everyone to respect the judicial process as it unfolds," the mayor added.
Patrick Lynch, the president of the the Patrolmen's Benevolent Association -- the city's largest police union -- said in a statement that Liang "deserves the same due process afforded to anyone involved in the accidental death of another."
"The fact that he was assigned to patrol one most dangerous housing projects in New York City must be considered among the circumstances of this tragic accident," he said.
Popular in the Community