Go to any action for Akai Gurley, the young man murdered by a housing cop last November, and you'll likely see his young daughter Akaila. Akaila's mother, Kim Ballinger and Akai's aunt, Hertencia Peterson, have been leading demonstrations calling for a conviction of the police officer who fired on an unarmed Akai in the staircases of Brooklyn's Pink Houses.
In a rarity for New York (and in fact, this country), the police officer who killed Akai was indicted by the District Attorney. Akai's family and supporters say that's not enough. They want police officer Peter Liang to serve time. But they've also made connections to other injustices that affect people throughout public housing.
Peterson was inside the Pink Houses this past weekend flyering for the upcoming march to mark a year since Akai was gunned down. It was her first time actually walking through the staircases where Liang, contrary to protocol, un-holstered his weapon, shot Akai and then allegedly argued about what to do -- instead of quickly calling for help. Peterson says she felt "so emotional" to walk down the stairs but she was also struck by the "the conditions people are living with," which she described as "deplorable." The garbage piling up outside, left there for days and the unkempt staircases -- Liang alleges that the staircase lighting was dim when he shot Akai -- are part of the conditions that Peterson says "play a big part of being oppressed."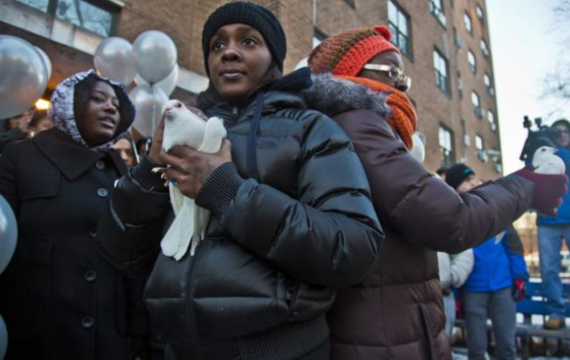 Ballinger and Peterson release doves in memory of Akai Gurley (credit: Daily News)
Peterson herself, who now lives in New Jersey, was raised in Brooklyn and used to live in Unity Plaza, a Brooklyn public housing development that is coincidentally also patrolled by PSA 2, the NYPD housing command that deployed officer like Liang into the Pink Houses. While doing outreach this past weekend, Peterson says she met a man who told her how he'd been recently questioned and detained by cops for leaning against a door. Contrary to a delusional "Ferguson Effect" theory that claims police brutality protests are making police pull back, stories of harassment abound (read about the police intimidation game a UPS driver says he's had to deal with for unwittingly giving directions to a reporter cop-shooter).
A focus on public housing isn't only on Peterson's mind, but also on those of lawmakers. Akai's aunt says she's concerned with recent moves by the city to target public housing residents for eviction and a proposed federal ban on smoking in housing developments, a plan she calls "impossible" (and one that will assuredly feature law enforcement). Peterson says justice means also opposing gentrification and policies designed to "force people to move."
Peterson, Ballinger and other organizers -- the Justice for Akai Gurley Family campaign consists family and organizers from a variety of different groups (ANSWER Coalition, Crystal House and others) -- have banded together and have resisted working with politicians or self-proclaimed leaders. They'll be leading a march this Friday night through East New York.
Let's all stand and march with them.
Calling all HuffPost superfans!
Sign up for membership to become a founding member and help shape HuffPost's next chapter