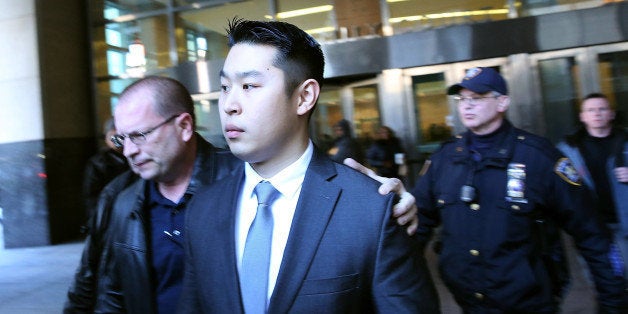 An attorney for the New York City police officer indicted for killing Akai Gurley filed a motion Thursday morning seeking to have the charges against his client dropped.
New York City Police Department Officer Peter Liang, 27, has pleaded not guilty to charges of second-degree manslaughter, criminally negligent homicide, assault and official misconduct after fatally shooting Gurley in November 2014. If convicted, Liang could face up to 15 years in prison.
Liang made a five-minute appearance in the Brooklyn court where his attorney filed the motion on Thursday, a spokeswoman for the Brooklyn district attorney's office told The Huffington Post. The pretrial hearing was the officer's first court appearance since he was arraigned in February.
The case was adjourned until June 23 pending a decision on the motion.
Gurley's family, along with about one hundred protesters, gathered outside the courthouse Thursday.
Kimberly Ballinger, Gurley's domestic partner, told supporters she wished the couple's daughter still had her father.
"It's hard having to deal with this," Ballinger said, according to CBS. "My daughter asks every day when she can see Daddy."
"She's going to be 3 in June, and her dad's not going to be there," Ballinger added.
"A mother lost her son, a daughter lost her father, a partner lost her future, a family lost a loved one," Gurley's aunt, Hertencia Petersen, said in a statement. "Officer Peter Liang must be held accountable. No matter how long they drag the court process out, we will be here."
And Kerbie Joseph, an organizer who is working with Gurley's family, said in a statement that Liang is "one individual within a larger criminal injustice system that permits police officers to kill with impunity and to harass our fathers, sons, daughters, and mothers."
"We will hold Officer Liang accountable to ensure justice for Akai and his family, and we will also call for broader systemic change within the NYPD," Joseph said.
On Nov. 20, 2014, Liang and his partner, Shaun Landau, were in the Louis H. Pink Houses in East New York, Brooklyn, conducting what's known as a "vertical patrol" -- in which officers walk up and down the stairs of the city's high-rise public housing projects.
According to Brooklyn District Attorney Ken Thompson, Liang had a gun in his left hand and a flashlight in his right when he leaned against an eighth-floor door, opening it into the building's darkened stairwell. That's when Liang fired one shot, the bullet flying in a downward trajectory towards the seventh floor.
At that very moment, Gurley, then 28, and his girlfriend Melissa Butler, 27, were entering the stairwell from the seventh floor. The bullet ricocheted off the stairwell wall before fatally striking Gurley in the chest.
"We don't believe [Liang] intended to kill Mr. Gurley," Thompson told reporters in February after Liang was indicted, "but he had his finger on the trigger." Thompson added that the officer faced "no threat" from Gurley.
In court, Thompson's office pointed out that NYPD protocol instructs officers to keep a finger along the barrel, not on the trigger itself.
In addition, The New York Daily News reported in December that Liang and Landau's commanding officer, Miguel Iglesias, had explicitly instructed the pair not to walk the stairs inside the Pink Houses.
After Liang's arraignment in February, his lawyer, Stephen Worth, said Gurley's death was a terrible accident, but the officer hadn't done anything wrong.
"When this case was first investigated, it was determined to be an accidental discharge," Worth said. "It remains an accidental discharge today."
"There is nothing reckless or criminally negligent about the way Officer Liang performed his duties that night," he added.
Liang was stripped of his gun and badge after Gurley's death, and placed on modified desk duty.
His court appearance Thursday comes amid continued outrage over the recent deaths of other unarmed black men at the hands of police across the country. Earlier this month, six officers in Baltimore were charged in the death of Freddie Gray.
REAL LIFE. REAL NEWS. REAL VOICES.
Help us tell more of the stories that matter from voices that too often remain unheard.