NEW YORK -- As rain poured down in New York City on Saturday afternoon, more than 50 protesters gathered at the Louis Pink Houses, the Brooklyn housing project where a police officer shot and killed an unarmed man last month. The New York Police Department has called the shooting of 28-year-old Akai Gurley an accident.
To keep dry, the protesters huddled under a red tent at the entrance to the building where Gurley was killed. Protesters chanted "We are all Akai Gurley" and "From Ferguson to Palestine, occupation is a crime." They held yellow signs that read "Jail Killer Cops" and "Fists Up, Fight Back."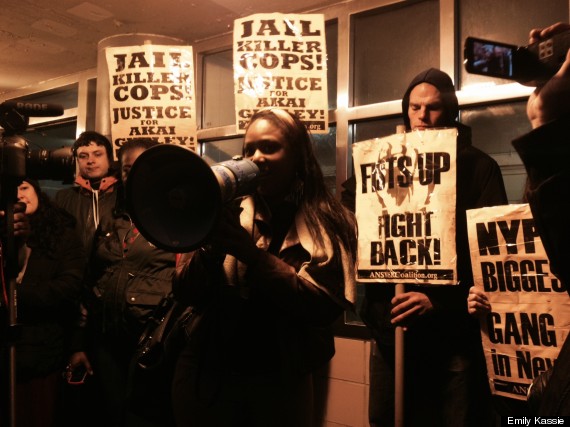 Rosetta Jordan, 65, lives in the neighborhood. She said Gurley's death enraged but didn't surprise her. "That's become the norm here. All you can do is pray for your kids and pray for yourself," she said.
Someone should be punished for killing Gurley, Jordan said. "That was someone's son. You can't just take a life like that."
She doesn't trust the cops, she said, because they harass everyone. "They harass the children. They harass people for sitting in a bench. You can't even sit down on a bench -- it's like a prison. They send cops out here that don't know the community, so they're frightened and the community is frightened," she said. "The cops are supposed to be there to help us, but instead they're killing us."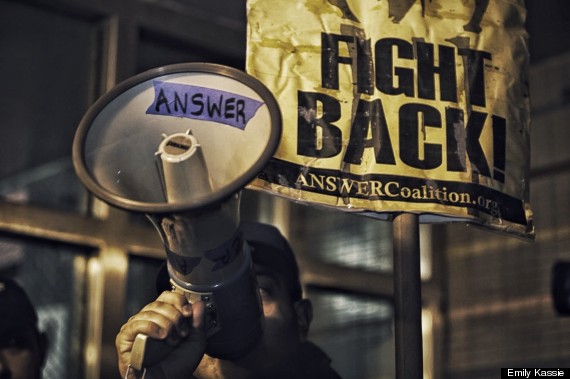 "There's nothing in this world that can heal my pain and my heartache and I pray to God that I get justice for my son because my son didn't deserve to die like that," Gurley's mother Sylvia Palmer said.
Delivering the sermon, activist Kevin Powell called Gurley's killing an "embarrassment to the United States of America," adding, "one young person after another of color is being killed, you know, there's no justice out there," CBS New York reported.
Just days earlier, a grand jury on Staten Island chose not to indict a police officer on charges in the chokehold death of Eric Garner. That decision, along with a similar decision in the Michael Brown case in Missouri, touched off widespread protests in New York and elsewhere. The three men all died at the hands of police officers; the three men were all black.
On Friday, Brooklyn District Attorney Ken Thompson announced that he would impanel a grand jury to consider charges against Officer Peter Liang, the rookie cop who shot Gurley.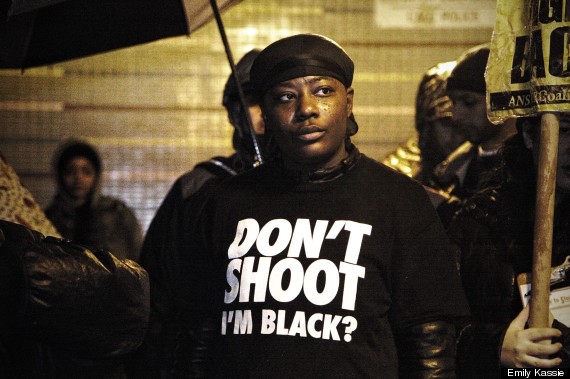 Alex Salazar, a former officer with the Los Angeles Police Department and current private investigator, was one of the protesters at the Pink Houses on Saturday. He said he had come to New York to show solidarity.
"I'm an ex-pig," Salazar told the crowd. "I was in the 1992 riots. I saw the city of Los Angeles almost burn down because people were tired of this."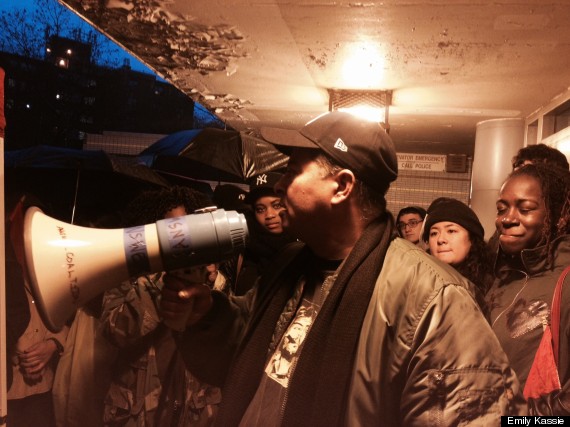 Victoria Phillips, 34, who goes by Miss V., used to live nearby. She said that three days before Gurley was killed, she had blogged about being searched in the area. She spoke to the crowd through a bullhorn.
"That officer had his gun out, hand on the trigger because he's scared of black people," she said, conjuring the scene on the day Gurley died. "They can call it an accident, but I'm going to call it what it was. ... They say he heard some noises and got scared. Well, he was in a residential hall. What the hell did he expect?"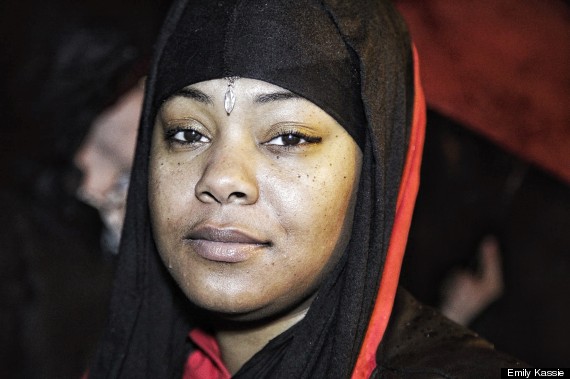 She claimed that police are scared now because they don't know where the next protest will pop up.
"They are scared, they are terrorized," she said, referring to the police. "Why? Because they don't know what the f**k to expect. We gotta keep it up."
Calling all HuffPost superfans!
Sign up for membership to become a founding member and help shape HuffPost's next chapter