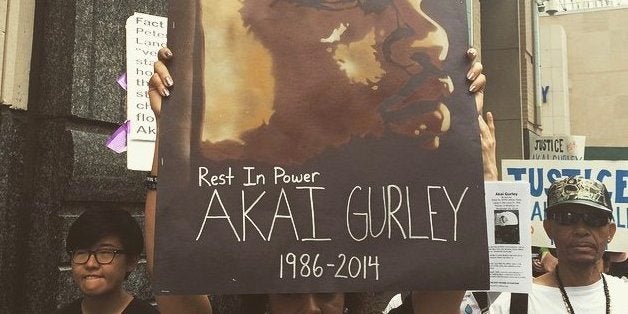 NEW YORK -- A Brooklyn judge on Tuesday turned down a request to dismiss the charges against New York City police Officer Peter Liang in the 2014 death of 28-year-old Akai Gurley.
Judge Danny K. Chun said in court Tuesday that he found the evidence in the case "legally sufficient" to proceed to trial, denying a motion made last month from Liang's attorneys to toss the case from court.
Liang pleaded not guilty earlier this year to charges of second-degree manslaughter, criminally negligent homicide, assault and official misconduct after fatally shooting Gurley this past November. He's due back in court on Sept. 29, at which point Chun will set a trial date.
Members of Liang's family and dozens of supporters packed the courtroom Tuesday for the brief hearing. One activist screamed "Murderer!" as Liang made his exit.
On Nov. 20, 2014, Liang and his partner, Shaun Landau, were in the Louis H. Pink Houses in East New York, Brooklyn, conducting what's known as a "vertical patrol" -- that is, going up and down the stairs of the city's high-rise public housing projects.
According to the indictment, Liang had a gun in his left hand and a flashlight in his right when he leaned against an eighth-floor door, opening it onto the building's darkened stairwell. That's when Liang fired one shot, the bullet flying down toward the seventh floor.
At that very moment, Gurley, who was unarmed, was entering the stairwell from the seventh floor with his girlfriend, Melissa Butler. The bullet ricocheted off the stairwell wall and fatally struck Gurley in the chest.
Talking to reporters earlier this year, Brooklyn Assistant District Attorney Marc Fliedner pointed out that NYPD protocol instructs officers to keep a finger along the barrel of their weapon -- not resting on the trigger itself, as Liang had allegedly been doing when Gurley was killed.
Additionally, the New York Daily News reported in December that Liang and Landau's commanding officer had instructed the pair not to walk the stairs inside the Pink Houses in the first place.
Gurley's death came amid widespread protests over the deaths of other unarmed black men at the hands of police, including Eric Garner in Staten Island and Michael Brown in Ferguson, Missouri.

Liang's indictment in February came as a welcome surprise to activists in the Black Lives Matters movement who'd been disappointed by the lack of charges against the officers involved in Garner's and Brown's deaths.
Gurley's aunt, Hertencia Petersen, said Tuesday that she was relieved Liang's case will be going to trial. Outside the courthouse, she clapped her hands with joy and shouted, "My God is an awesome God!"
"Justice for Sylvia Palmer -- Akai's mom -- and his entire family, knowing that today these charges have been upheld, we will not stop until justice for Akai Gurley has been done!" Petersen told a crowd of supporters. "We will not stop until Peter Liang is in jail. We will not stop until -- for every black, brown life that has been brutalized and murdered by the NYPD -- everyone has to be held accountable."
Gurley's domestic partner, Kimberly Ballinger, with whom Gurley had two young daughters, said she was "very thankful for the judge's decision."
"We're grateful," she said. "Hopefully justice is served. This is the next step. We appreciate it. We will be here every day, as long as we have to, until justice for Akai is actually served."
Neither Liang nor his attorney spoke to reporters Tuesday.

Calling all HuffPost superfans!
Sign up for membership to become a founding member and help shape HuffPost's next chapter