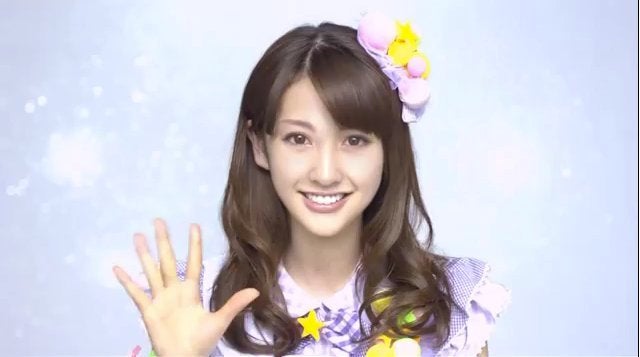 She was the latest addition to a Japanese girl group with millions of superfans, who vote each year on which of the group's 61 members is the most popular, with the winner announced in an internationally televised awards ceremony.
So when Aimi Eguchi appeared in a candy commercial soon after joining AKB48, fans were understandably suspicious. Ordinarily, only the most popular girls get to do commercials, and Eguchi was still a "research student"--bottom of the ladder. That's when fans started to suggest something extraordinary: What if Eguchi didn't exist at all?
Well, it turns out the skeptics were right. Eguchi wasn't conceived in the womb, but rather, inside a computer. Ezaki Glico, the candy company that first aired the commercial, revealed that Eguchi is a digital composite combining the physical characteristics of six other members' faces.
According to the Singularity Hub, Eguchi's unveiling shocked those fans who had been defending her humanity. Eguchi, in addition to the ad appearance, also had a profile on the band page, detailing her age, hometown, and hobbies. She had also appeared in a photoshoot in a weekly magazine.
Japan already has at least one virtual pop star: Hatsune Miku, a hologram, performs across the country to screaming fans in sold-out arenas.
Watch a video showing how they made Aimi (below):
Related
Popular in the Community