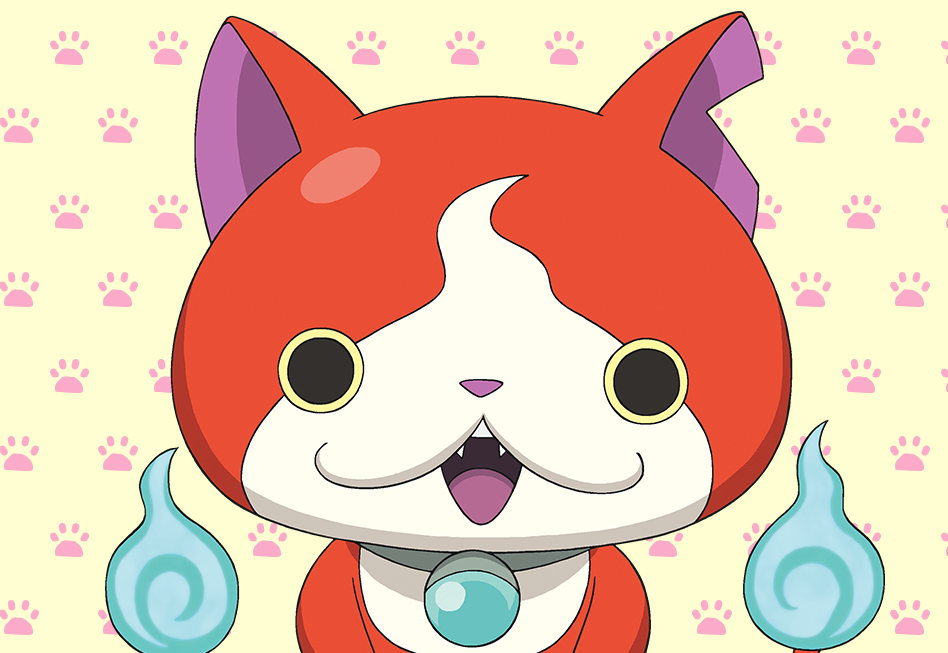 Japan's "Yo-Kai Watch" may just be the biggest phenomenon you've never heard of. Since its release in 2013, the video game franchise has raked in billions of dollars in that country, according to a Wall Street Journal report, and last week it arrived in the United States.
The game revolves around a young child who befriends and battles the titular Yo-Kai monsters, which are quirky spirits that might remind you of Pokémon. But put the obvious comparison aside: "Yo-Kai Watch" has a different flavor, for one thing, but it's also arriving at a wildly different time for the video game industry. It launched on Nintendo's 3DS handheld, a popular gaming system that nonetheless faces choppy waters ahead as smartphones become the de facto home for mobile games. If it catches on and helps sell more 3DS systems, then Nintendo's choice to support traditional hardware will be vindicated. (Nintendo has also released the game in a bundle with its budget-friendly 2DS hardware.)
If it fails, it simply makes the case that smartphones might be the more marketable choice for game-makers moving forward. Indeed, research shows that mobile gaming is already overtaking traditional consoles in terms of revenue, even if growth is slowing. Last year, Peter Moore, chief operating officer of video game giant Electronic Arts, said his company was moving away from handhelds like the 3DS to focus on smartphones.
All this to say: It's an interesting time to launch a franchise on a dedicated handheld video game system. 
To talk about "Yo-Kai Watch," smartphones and more, The Huffington Post sat down with Akihiro Hino. He produced the game and serves as president and CEO of Level-5, the Japanese company behind the franchise.
This interview, which was conducted through an interpreter, has been edited and condensed for clarity.
Everyone's compared "Yo-Kai Watch" to Pokémon. What do you think about the comparison? What makes "Yo-Kai Watch" really stand out as its own product with its own identity?
Being compared with Pokémon, I actually feel honored because it is a great franchise. [In franchises like Pokémon], the characters are like a small animal or a pet, but Yo-Kai are more like humans. They have their own personality and individuality, and they're not just cute things. Some of them are grandfathers, grandmothers, some of them are cute girls, all sorts of different things -- more like a human personality and looks. So that's one of the unique appeals of "Yo-Kai Watch."
Nintendo has recently decided to make its own smartphone games, and I noticed there's a supplemental "Yo-Kai Watch" app for iOS that introduces you to the characters. Why was the Nintendo 3DS system the right place for "Yo-Kai Watch"?
The reason we decided to go with Nintendo 3DS is that that's hardware kids are typically playing with. At least in Japan, kids play on the Nintendo 3DS more than on smartphones. So at this point, I feel that 3DS is the right choice to let more kids enjoy this game. Of course in the future, if the situation changes, I might consider trying to expand the game to smartphones. If the situation changes, it is possible that we might simultaneously develop the smartphone app and also the Nintendo 3DS handheld game as well.
But isn't there a fundamental difference between making a game for a smartphone versus the 3DS? There's the presence of two screens and physical buttons. It's much different. You couldn't have this game, as it is now, on a smartphone.
Personally, I really like gaming platforms. I personally would like to sit in front of a TV to play the game or use a handheld, physical buttons to do the input. Those are the things I really enjoy. But for "Yo-Kai Watch" itself, do we really need a physical button to enter the game? In the future there might be something like a different version of "Yo-Kai Watch" that you can enjoy on your smartphone, but there might be also a "Yo-Kai Watch" only enjoyable on a handheld system like the Nintendo 3DS. In the future, there might be the possibility for different types of "Yo-Kai Watch" for people to enjoy on different systems.
Is "Yo-Kai Watch" just for kids or should adults expect to enjoy it as well?
We are trying to make the game appeal to the family, not just kids.
In Japan, "Yo-Kai Watch 2" sold over 6 million copies. It wasn't just one game per household, but it was more like, kids had one version, mom had one version, dad had one version. In Japan, the franchise itself is recognized as a franchise that appeals to all family members, not just the kids.
Do you have a favorite Yo-Kai?
I'm particularly fond of Jibanyan, the cat. That's the first one I worked on and created, so I have very close feelings for him. He used to be a cat that got run over by a truck, and that's why he became Yo-Kai. I came up with Jibanyan when I actually saw a cat being run over and dead on the side of the street, so it's something very close to my own life and very memorable to me. That's how Jibanyan came up, and the character being so popular with the audience is something that really makes me happy.
REAL LIFE. REAL NEWS. REAL VOICES.
Help us tell more of the stories that matter from voices that too often remain unheard.