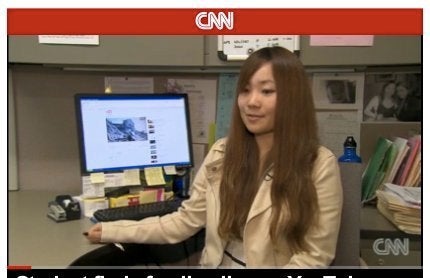 As Japanese exchange student Akiko Kosako watched coverage of the disaster back home from the University of California-Riverside, she feared her family dead. For days, the 20-year-old heard nothing about her grandparents, parents or older sister, who live on the coast in Minami Sanriku, a tiny fishing village pummeled by the earthquake and tsunami.
But then, a chance -- and amazing -- happening. The Daily Mail has more:
It was only when [Kosako] received word on Sunday from a friend that there was a YouTube video showing her family's home as the only one standing in the rubble that she had the first glimmer of hope.

The video highlighted her older sister holding a sign to a TV news crew saying in Japanese 'we are all safe'.

Akiko had the first glimmer of hope since the tsunami struck and stayed up all through the night at her host family's house to look for it.
"I couldn't believe it," Kosako told CNN. "It's just like a miracle."
In the video, Kosako points to her older sister, who is standing on a balcony holding up a sign that says "we are all okay." The Kosako home is the only one standing amid heaps of rubble.
Watch the incredible interview with Kosako via CNN:
Calling all HuffPost superfans!
Sign up for membership to become a founding member and help shape HuffPost's next chapter