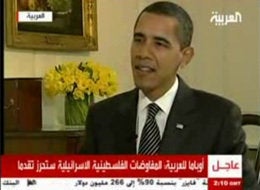 Hisham Melhem, Washington Bureau Chief for Al Arabiya, was trying to chase down an interview with former U.S. Senator and new presidential envoy to the Middle East George Mitchell. Pounding all of his channels, friends, networks, Melhem was informed Sunday that "something" might be in the works -- but keep expectations modest.
By Monday morning (yesterday), Melhem was told that he'd likely get Mitchell, and then later in the morning, he received a call telling him that he'd "either be very happy, or made miserable" by what the White House was planning. And then Melhem was asked if he would like to interview President Barack Obama at 5 pm Monday -- but that the bureau would have to keep the interview secret until it happened.
The Al Arabiya Bureau Chief said that was not a problem and that he'd adjust his schedule -- with enormous grin accompanying his response.
Al Arabiya is part of a major Arabic news network, considered second in global coverage to Al Jazeera, which may yet see a nod from the Obama administration down the road -- but seeing that George W. Bush may have joked and/or been serious about bombing an Al Jazeera office in Baghdad, Al Jazeera may still be too much of a leap for the bounding forward new US President.
Obama's exchange with the Al Arabiya journalist (here is transcript), which was only supposed to last about six or seven minutes got extended a bit as press secretary Robert Gibbs saw how well it was going.
This interview is the initial punctuation point in Obama's global public diplomacy. By most accounts, Obama's decision -- shocking to some, refreshing to others -- to talk to the Muslim world in his first formal, sit down press interview hit the ball out of the park.
While Al Arabiya's Bureau Chief did query Obama on which Muslim capital he would first go to in the world (I think it will be Jakarta), Obama's interview -- which Al Arabiya quickly got up on YouTube and also broadcast all around the world through their own networks -- is consistent with Obama-style Facebook political networking and activism. He is using social networks and a hybrid of new media and old media to change the diplomatic game.
It doesn't matter which Muslim capital Obama goes to now because he just reached out to the hearts and minds of Muslims in every capital and frankly, Muslims everywhere -- including inside the United States.
Obama stood by America's alliance with Israel, but said also that Israel and others would have to make sacrifices to achieve stable peace.
He is telegraphing to the Muslim world that the lives of those who live in the Middle East and who are Muslim, wherever they are, matter -- and can't be discounted. Former Ambassador to the UN John Bolton used to decry any effort at talking about the moral equivalency of a death of an innocent in Palestine or in Lebanon when compared to the death or maiming of an Israeli innocent.
Obama talked about the needs and tragedies that have befallen Palestinians and Israelis. And he offered hope to Arab citizens and talked of health care and education -- a vision of the future, that could challenge more rigid groups that have been resisting engagement with the US and Europe and who have been strident in their opposition to Israel.
Barack Obama's first moves have been utterly brilliant. And in his interview, most of it focused on the importance of ending the conflict between Israel and the Palestinians. He acknowledged the interconnectedness of the problems in the region, but he noted how important the Middle East Peace process and crisis is.
And I think he was responding personally and sincerely to Prince Turki al-Faisal's warning in the Financial Times this week that the Arab Peace Proposal offered by King Abdullah would not remain on the table indefinitely, and that the window could be closing in the wake of the Gaza crisis. Obama was asking Prince Turki, who previously served as head of Saudi intelligence for more than two decades and as Saudi Ambassador to the US, and the King of Saudi Arabia to hang in there a bit more. Obama's messenging was subtle but clear.
Some will argue that this is not much. That this is optics -- not substantive change.
I totally disagree. Ron Suskind was on target when he reported several years ago that Bush administration officials believed that they could "make their own reality."
Presidents -- in the right period of their presidencies -- can make and shape their own reality. They do so at their peril because someone could eventually demonstrate a gap between the fiction the President is creating and the reality everyone else is grounded in.
But Obama gets to make his own reality at the moment -- and is imposing it -- in a respectful, humble, and powerful way.
His style matters -- just like Bush's swagger did -- and it is this act of humility towards the Muslim world which may animate hope in the nations around the world and in the Middle East specifically.
Everyone will have to adjust now. The Saudis will leave the peace deal on the table. The Israelis have to remake themselves -- even if Netanyahu succeeds Olmert. Hamas will have to find a way to become differently postured -- if not on Israel, then at least on some level of international acceptability with American partners. Arab stakeholders are going to have to snap out of positions shaped more by status quo thinking and inertia that things will never change and get with the Obama program.
What Obama did has provided a new punctuation point in American foreign policy, and it is not "continuous" foreign policy at all. This is a new game and a very impressive new leader.
Time will tell if Obama has inculcated his foreign policy and national security team with the same signals and messages that he brought to this important media encounter.
-- Steve Clemons is Director of the American Strategy Program at the New America Foundation and publishes the popular political blog, The Washington Note
Popular in the Community