Franken, who is now the junior Democratic senator from Minnesota, was headlining the event. Tweeden was emceeing.
Tweeden said Thursday that she knew ahead of time that Franken had written a skit where his character tries to kiss her.
"On the day of the show Franken and I were alone backstage going over our lines one last time," Tweeden wrote in a post for 790 KABC, the radio station she works for in Los Angeles. "He said to me, 'We need to rehearse the kiss.' I laughed and ignored him. Then he said it again. I said something like, 'Relax Al, this isn't SNL... we don't need to rehearse the kiss.' He continued to insist, and I was beginning to get uncomfortable."
She finally relented, she said:
We did the line leading up to the kiss and then he came at me, put his hand on the back of my head, mashed his lips against mine and aggressively stuck his tongue in my mouth.

I immediately pushed him away with both of my hands against his chest and told him if he ever did that to me again I wouldn't be so nice about it the next time.

I walked away. All I could think about was getting to a bathroom as fast as possible to rinse the taste of him out of my mouth.

I felt disgusted and violated.
She did end up performing the skit as written, she continued, turning her head away while on stage so Franken couldn't kiss her.
When Tweeden was on her way home to Los Angeles, she said, she fell asleep on the plane. While she slept, Franken grabbed her breasts and had a photo taken.
"I couldn't believe it. He groped me, without my consent, while I was asleep," she wrote. "I felt violated all over again. Embarrassed. Belittled. Humiliated. How dare anyone grab my breasts like this and think it's funny?"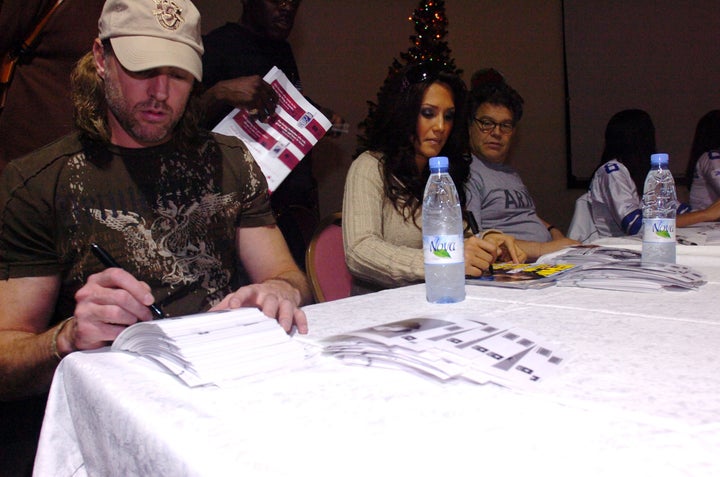 Franken, who was elected to the Senate in 2008, responded to Tweeden's account in a press statement Thursday.
"I certainly don't remember the rehearsal for the skit in the same way, but I send my sincerest apologies to Leeann," he said. "As to the photo, it was clearly intended to be funny but wasn't. I shouldn't have done it."
He later issued a longer statement, apologizing to Tweeden and calling for an ethics investigation of his behavior.
"I respect women. I don't respect men who don't. And the fact that my own actions have given people a good reason to doubt that makes me feel ashamed," Franken said.
USO confirmed to HuffPost that the incident was never reported to them.
"We have no knowledge of it," public relations director Ashley McLellan said in a statement. "The report is deeply disturbing and does not reflect the values of the USO."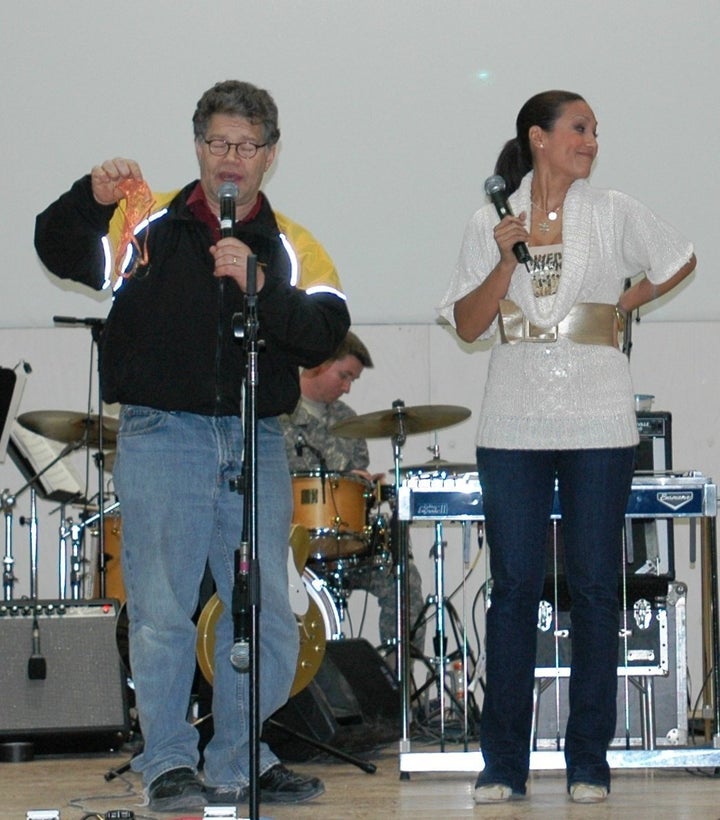 "I wanted to speak out 11 years ago, but people said, 'You will get annihilated and never have a career again,'" Tweeden said. "And I was afraid of that. But I'm not afraid of that anymore."
"This is happening in Middle America... to women who have no power and say to speak up," she added. "I think the tide is turning. But what about all the women who don't have microphones and a voice?"
Tweeden also described the aftermath of the USO performance.
"I had to act my way through the rest of the shows," she said. "I made sure I was never alone with him again. I didn't tell the sergeant of the Army. What was I gonna do, be the troublemaker? I just sucked it up."
Senate Majority Leader Mitch McConnell (R-Ky.) called for an Ethics Committee review of the allegation.
"Regardless of party, harassment and assault are completely unacceptable ― in the workplace or anywhere else," McConnell said.
Democratic senators including Sherrod Brown (Ohio), Richard Blumenthal (Conn.) and Kirsten Gillibrand (N.Y.) reacted to Tweeden's account.
"Sexual harassment and groping are never okay and are never funny," Blumenthal said. Gillibrand reportedly expressed support for an investigation into Tweeden's allegations.
Senate Minority Leader Chuck Schumer (D-N.Y.) echoed the call for an ethics investigation.
"Sexual harassment is never acceptable and must not be tolerated," Schumer said in a statement. "I hope and expect that the Ethics Committee will fully investigate this troubling incident, as they should with any credible allegation of sexual harassment."
Last month, following a whirlwind of accusations against Hollywood producer Harvey Weinstein, Franken wrote in a Facebook post about the "disappointing responses" women often receive after sharing their stories. He also said he was working to pass the Arbitration Fairness Act, which would allow people who have faced workplace harassment to go to court.
Mike Sacks, a political correspondent for Scripps and former producer for HuffPost, noted on Twitter that in Franken's book Giant of the Senate, he says he decided to run for public office after the 2006 USO tour.
Sgt. Thomas Day was stationed at Camp Arifjan in Kuwait in 2006 and took photographs of Franken the day he performed at the base with Tweeden, he told HuffPost. He said he doesn't recall the skit itself, but does distinctly remember a conversation he had with one of Franken's staffers about his plans to run for Senate.
"It was certainly a political move taking that trip. I recall that he was friendly, he was very in character," Day said. "He was never untoward toward any of the troops or any of the women that were accompanying him. I guess I'm as shocked as anybody to see some of the stuff but I didn't follow him around throughout the day."
Day said it was common for celebrities and elected officials to perform acts that included sexual innuendos.
"Folks would kind of say things that [troops] would perceive as allowing them to be one of the guys, meaning that I am quite sure that things would be said that they certainly would not say or do in social circles in Manhattan or Los Angeles that they thought would be acceptable in social situations among the troops," he said. "Perhaps that's because 85 to 90 percent of the folks they would interact with were young men."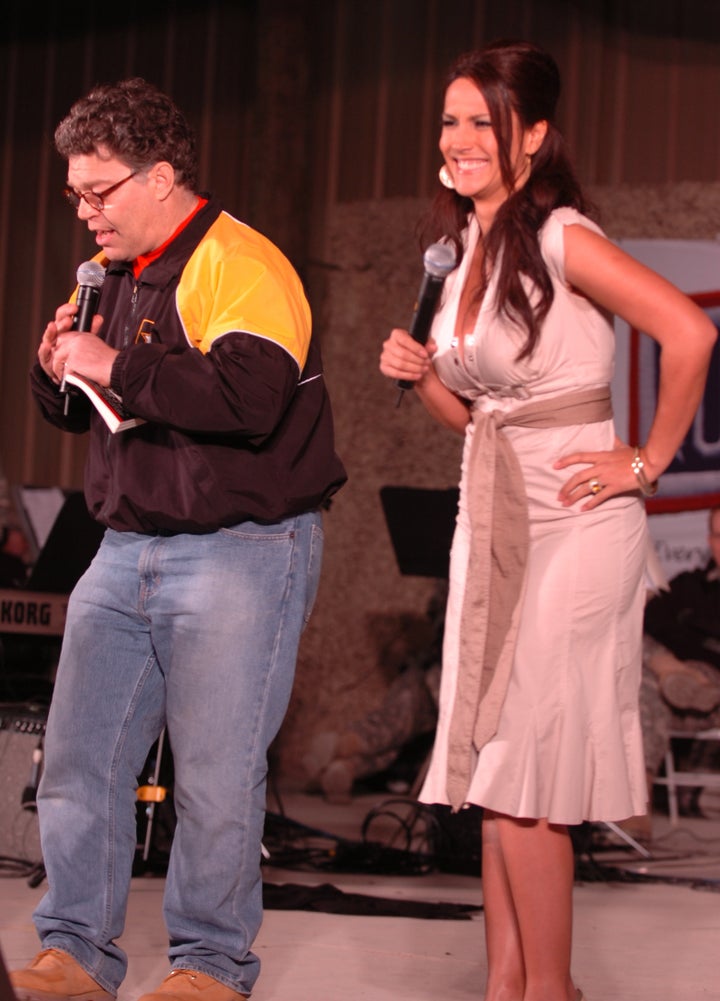 Jennifer Bendery and Sarah Ruiz-Grossman contributed reporting.
CORRECTION: Due to an editing error, a previous version of this story misstated Sacks' professional affiliation. He works for Scripps, not Esquire.
Support HuffPost
The Stakes Have Never Been Higher
Popular in the Community