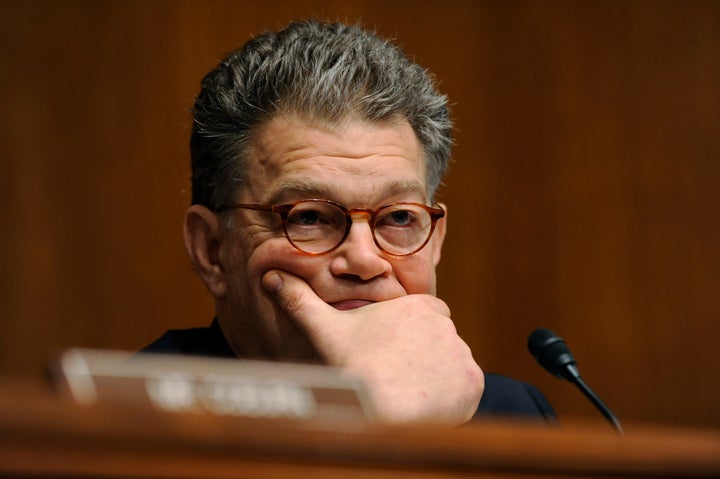 WASHINGTON ― Sen. Al Franken (D-Minn.) tore into Republicans on Thursday for their contradictory positions on blocking President Barack Obama's Supreme Court pick, saying their arguments reminded him of his past life as a comedian on "Saturday Night Live."
"I used to make a living identifying absurdity," Franken said at the top of fiery remarks in a Judiciary Committee hearing. "I'm hearing a lot of it today."
Franken, who played the hapless self-help guru Stuart Smalley on "SNL," called out committee members for making arguments that don't line up. Sen. Mike Lee (R-Utah) had just made the case that the Constitution doesn't explicitly say the Senate "shall advise and consent" when the president makes judicial nominations. Lee was making the case that, because the Constitution doesn't use that literal phrase, the Senate isn't required to move on a president's nominees.
"Well, you know, we could be the rope-a-dope Senate and not do anything," Franken said, noting that technically, the Constitution also only requires that Congress meet once a year, on January 3, at noon.
"I could go back to Minnesota on the fourth of January and sit in Minnesota," he said. "But I don't think Minnesotans would think I was doing my job."
Franken went after the GOP talking point of "letting the American people" decide who should be the next Supreme Court nominee.
"I hear, 'OK, let the people decide, and the presidential election should decide.' But then I hear colleagues from the other side say, 'Well, you know what, if the election goes the wrong way, I'd be happy to consider this nomination in the lame duck,'" Franken said.
"How absurd is that?" he added. "So it's, 'Let the people decide, unless they decide on Hillary Clinton, in which case let us decide?'"
He got into a back-and-forth with Sen. Orrin Hatch (R-Utah) about Republicans setting a precedent by denying a hearing to a Supreme Court nominee, never mind a vote. When Hatch said Democrats did the same thing to failed Supreme Court nominee Robert Bork in the 1980s, Franken corrected him ― Bork failed to get confirmed, but he did get hearings.
"Listen, I was in the job of identifying absurdity during Judge Bork's hearings," Franken said to Hatch. "So for you to say to me that Judge Bork didn't get hearings, I don't know what I was watching."
"I didn't say that," Hatch replied.
"Yes you did, sir," Franken said.
"I meant to say that's where it all began," Hatch said.
"If I was in your shoes, I would be saying, 'Well, that's wonderful,'" said the Utah senator. "'At least you're going to vote for this nominee, one way or another.'"
"No," Franken replied. "It's double talk. Don't you see that as double talk? You cannot see that?"
"Does anyone here see that?" he asked, looking around at the committee. "I guess not. Maybe it was my training in my previous career."
Popular in the Community