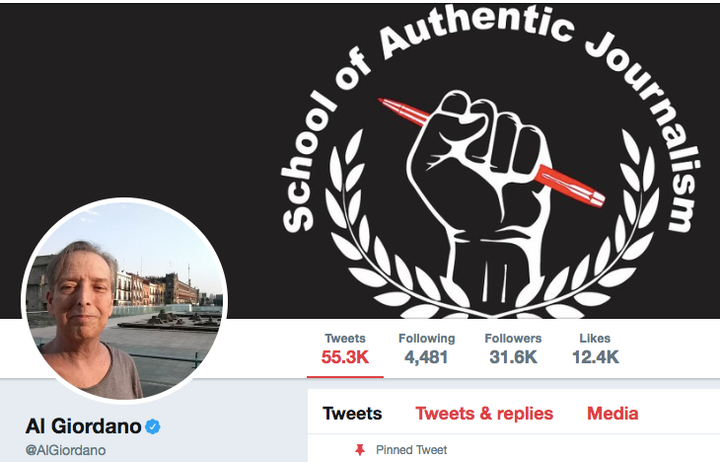 Veteran journalist and liberal activist Al Giordano sexually harassed at least three younger women who attended his School of Authentic Journalism and threatened to cut off people who crossed him from the school's community, four women and one man who attended the school told HuffPost.
In a letter from his lawyer, Giordano, 58, denied any allegations of sexual harassment.
Giordano, who attracted national attention as a critic of Democratic presidential candidate Bernie Sanders during the 2016 election, has been a journalist, activist and commentator in liberal circles for decades. He came up in the anti-nuclear movement in the 1980s, worked for various newspapers and magazines, and launched the newsletter Narco News Bulletin in 2000. An American, he has lived for years in Mexico City.
But it's his School of Authentic Journalism, which Giordano created in 2002 to teach others how to cover social movements, that lies at the heart of the misconduct allegations.
Once a year, if his fundraising efforts net sufficient money, Giordano has invited about 20 applicants to attend a journalism training course in Mexico. (The school held sessions from 2003 to 2004 and from 2010 to 2017 ― the hiatus ended when donations surged according to a 2016 interview with documentary filmmaker Gregory Berger, who helps run the program.) Attendees learn from independent journalists mainly based in the Americas and mingle with those instructors both in and out of class — the school is structured as something of a retreat. The sessions have historically run from a week to two weeks, during which time students learn about "clear writing, compelling camera and microphone work, scripting video to go 'viral,' navigating the rowdy Wild West frontier of the Internet, effective investigation, public speaking and so much more," according to a March 9, 2017, plea for funding. The majority of the alumni who spoke to HuffPost, both on and off the record, were in their early to mid-20s when they attended the school. And the professional contacts made there carry forward: Alumni describe a community that was kept active through Facebook groups that Giordano controlled.
In February, Martha Pskowski, an independent journalist based in Mexico City, began to offer a darker portrait of the school.
"It seemed that understanding what Al was doing was important to understanding what was happening at the school."
Pskowski alleged on Facebook and Twitter that after she rejected a sexual overture from Berger during the 2014 session of the School of Authentic Journalism, she "mysteriously stopped getting any updates" about a project she'd been working on with Berger and Giordano and was dropped from the list of those invited back to the school. (Berger did not respond to requests for comment.)
After sharing her own story, Pskowski wrote on Twitter that she'd heard from multiple other women who recounted similar incidents of sexual advances and intimidation with Giordano and the school.
"After my own experience, I heard more about Al than about Greg," Pskowski told HuffPost. "It seemed that understanding what Al was doing was important to understanding what was happening at the school."
Leah Hennessey, a writer and performer who attended the school in 2012 and worked there with Giordano the next year, told HuffPost that his behavior repeatedly crossed professional lines. During that period, she said, Giordano "was constantly making advances which I was constantly dodging."
Giordano asked her to come live with him and help him finish his memoirs, Hennessey said, and alluded to her taking over the school for him. The offer felt inappropriate — more like a romantic overture than a professional opportunity — and made her feel uncomfortable, she said.
Hennessey, who noted she's actually known Giordano since she was a child, said she's not a hard partier. But a culture of "hard drinking and doing drugs" was an integral aspect of the School of Authentic Journalism, she said.
"That is built into the school," said Hennessey, and it's "not like a cocktail party, sipping wine around a table."
'He Started Telling Me All These Flattering Things'
Thalía Güido, 28, remembers an encounter with Giordano that frightened her at the time and still shakes her self-confidence. Güido, who is from Mexico City, always wanted to be a journalist. She considers herself "politically involved," she told HuffPost, and focuses on human rights as well as music in her writing. These days, she lives in Hanoi, Vietnam.
But four years ago in Mexico, she was in line to take over the running of the School of Authentic Journalism — or so she thought. A few weeks after the 2014 session wrapped up in March, Giordano invited her to his apartment to pitch a class she might teach during the next year's school — although Giordano cryptically implied that he had another role in mind for her in an email sent before she arrived.
"He started telling me all these flattering things," said Güido. "That I was smart, funny, all these things you would want to hear."
HuffPost's review of Facebook messages confirmed Güido's account of these communications.
"He only asked me to be a part of it and said these things because he wanted to fuck me or have a relationship with me."
When Güido arrived at Giordano's apartment, he told her she had some flaws that she needed to work on to become director of the school, she said. She was too rebellious and undisciplined, Güido recalled Giordano telling her, and lacked focus. But these issues could be resolved if Güido and Giordano entered into a romantic relationship. She was "shocked," Güido said.
"I felt really disappointed with him and myself too," said Güido. "Finally, there was a project I believed in and wanted to be a part of, but he only asked me to be a part of it and said these things because he wanted to fuck me or have a relationship with me."
As he tried to persuade her to have sex, Giordano became aggressive, said Güido. A hug went on for too long, he begged her to kiss him, he tried to force his lips against hers. All this time, Güido recognized that she was trapped in Giordano's apartment. The door was locked from the inside, and "he didn't want to let me out and he had the keys," she said.
Realizing she had to get out, Güido excused herself to use the bathroom where she called for a car service. She remembers a tense 15 minutes waiting for the cab. When it arrived, Güido convinced Giordano to open the door and let her leave. Luckily, "he was so drunk in that specific context I could escape," she said — but not before he tried, once again, to kiss her.
Giordano's reaction to Güido's rejection was swift: Soon thereafter, he effectively ejected her from the school community, removing her from all the Facebook groups.
"He just expelled me," said Güido, "just like that."
Two friends and fellow 2014 school participants — Daniela Castillo, a fellow student, and Miguel Ángel Ángeles, one of the school's volunteer "mentors" — said that Güido told them, within hours of it happening, that Giordano had propositioned and assaulted her.
"We will not oppose you as long as you do not try to interact with the rest of the people in good standing who are part of this great project."
Güido expressed her disappointment and discomfort with the situation, Ángeles said. But Güido didn't mention the incident to anyone else until a year later, she said, when she emailed the other participants in her 2014 class to tell them what had happened.
Castillo was invited back in 2015 to teach classes at the School of Authentic Journalism. Ángeles didn't return, he said, because of other commitments. But following that year's session, Giordano sent Castillo and Ángeles emails essentially expelling them from the community for bringing two "undesirable" and "untrustworthy" people to a pre-school kickoff party. One of those undesirable guests was Güido, Ángeles and Castillo said.
"[T]his project has no room for people who do not defend it from those who want to destroy it," Giordano wrote Castillo in the email, obtained by HuffPost, in which he suggested that the other unnamed guest was a spy for the "evil" Mexican government. Giordano told Castillo that she was cut off and hinted at further consequences should she attempt to stay in contact with her friends in the program.
"We will not oppose you as long as you do not try to interact with the rest of the people in good standing who are part of this great project," Giordano wrote, adding that he was willing to give Castillo another chance. "I am willing to hear your case if you should want to make it."
Giordano's professed politics make what happened even harder to understand, Güido said. It cut deep to be reduced to a sexual object by someone whose work for social justice was a major reason why she admired him.
"It's coming from a side you wouldn't expect, a leftist side, a side that is really close to social movements and human rights," Güido said. "You wouldn't expect that because we are fighting for those issues."
'You're Just Trying To Sleep With Me'
Isadora Bonilla, 33, attended Giordano's school in 2012. That April, he approached her to offer her a job as an administrator for Narco News. Bonilla wanted to work with and learn from the veteran journalist, she said, and saw the opportunity as a professional step forward.
But the night before her first day, Giordano messaged her on Facebook to tell her he was in love with her. That made it clear, said Bonilla, that he was interested in using his position of power to get her into bed.
"I thought, OK, this is not real, you're just trying to sleep with me," Bonilla told HuffPost.
The next day, she said, a contrite Giordano attempted to make amends. He blamed alcohol and told Bonilla not to take anything he said after 6 p.m. seriously because after that hour, he would be drinking. Despite some remaining discomfort, Bonilla took the job.
She soon discovered that the position was more like being Giordano's personal assistant than serving as the administrator of a news site. One of her tasks was to recruit her friends to join Giordano for informal "strategy sessions" on journalism and activism at his home in Mexico City. Giordano "tried to sleep with all the women," she said.
"We were silent and didn't say anything — and this helped the situation continue."
It was a different Giordano command, however, that set Bonilla on the path to quitting. When he got sick with gout and couldn't move from his bed, he told Bonilla to take the jars he filled with urine and empty and wash them, she said. This came on the heels of a number of other chores that she said Giordano demanded of her after she began a relationship with her then-boyfriend.
"The humiliating tasks Al started asking me [to] do," Bonilla said in an email, included "his shopping at the groceries store, going late at night to empty his bin, clean the floor after he peed (at least twice), I had to see him half naked on his bed while sick … go to the pharmacy, buying cheese and beer, like a housekeeper or a nurse."
Bonilla was also subject to Giordano's locked-door tactic, she said, after he tried to argue that her boyfriend was not "trustworthy." She remembers being locked in Giordano's home while he went out for lunch, taking the key to the door with him.
"I tried to get out, and I was not able to do it," she said.
Yet at the time, Bonilla still didn't believe the stories she heard about Giordano's harassing women from both the school and the strategy sessions. It was after Pskowski's social media posts this year that she began to reassess the situation, she said. She also took a hard look at her own level of responsibility for helping Giordano by suggesting to her friends that they join the strategy sessions.
"This has been hard for me," Bonilla said. "I know I'm not 100 percent responsible. But I did help, and I know this is wrong. ... We have to be honest about the complexity of the situation. It's the responsibility of the people performing the abuse and those who are silent. We were silent and didn't say anything — and this helped the situation continue."
Related
Popular in the Community