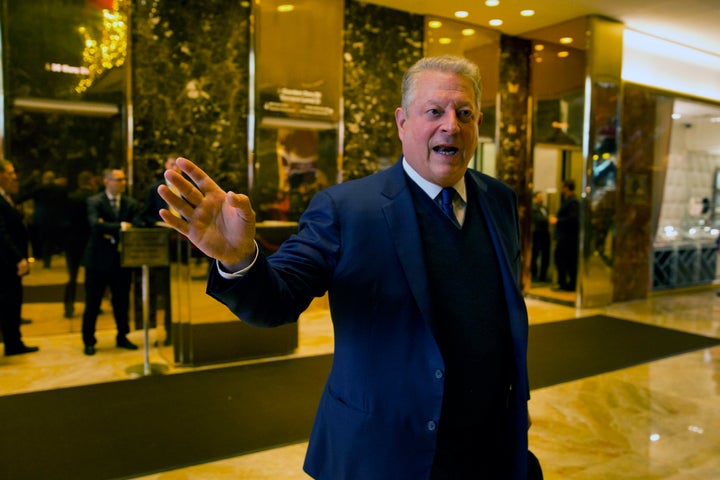 Trump, a champion of fossil fuels who has called climate change a hoax, has vowed to backpedal on many of his predecessor's environmental wins. He even wants to "cancel" the Paris Climate Agreement, which President Barack Obama helped broker, because he thinks it's bad for business.
But fretting about the outcome of the November presidential election isn't doing the planet any favors, cautions former vice-president Al Gore.
Gore said Monday "there is no time to despair," given we're inching closer to the global temperature increase of 2 degrees Celsius ― which scientists warn the world must avoid to stave off the worst effects of climate change.
"We don't have time to lick our wounds, to hope for a different election outcome," he told the Guardian.
Gore, who was awarded the Nobel Peace Prize in 2007 for his environmental work, said climate activism has never been "more important."  
"I'm encouraged that there are groups that are digging in to work even harder. Those groups working in the courts are even more important now; those organizing on campuses are even more important now," he said. 
"We have to win this struggle and we will win it; the only question is how fast we win. But more damage is baked into the climate system every day, so it's a race against time." 
Earlier on Monday, Gore met with the president-elect and his daughter Ivanka Trump to discuss "climate issues" at Trump Tower in New York City. 
"I had a lengthy and very productive session with the president-elect," Gore told reporters following the meeting. "It was a sincere search for areas of common ground. I found it an extremely interesting conversation, and to be continued."
Calling all HuffPost superfans!
Sign up for membership to become a founding member and help shape HuffPost's next chapter
BEFORE YOU GO