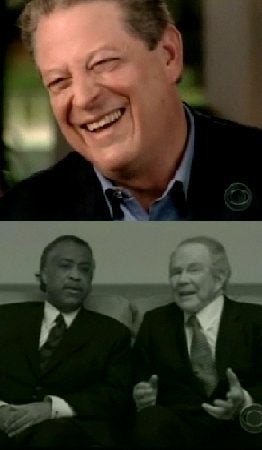 Tonight on "60 Minutes," Lesley Stahl interviewed Al Gore, along with his wife, Tipper , and discussed the environmental crusader's new $300 million ad campaign for global warming awareness, funded in part by proceeds from the book and movie of "An
Inconvenient Truth" plus prize money from Gore's 2007 Nobel Peace Prize. Gore and his Alliance for Climate Protection have hired crackerjack ad shop the Martin Agency — which created the Geico Gecko and Caveman ad campaigns and includes Wal-Mart amongst its clients — to create anti-global warming commercials that will launch in what Stahl called "a blitz as sweeping and expensive as a big corporation's rollout of a new product."
The campaign will also include a series of bi-partisan ads featuring strange political bedfellows united by a common purpose: Saving the planet. Such pairings will include Nancy Pelosi and Newt Gingrich, and Al Sharpton and Pat Robertson, who http://tvdecoder.blogs.nytimes.com/2008/03/30/global-warming-creates-odd-couples/?hphref="http://hamptonroads.com/2008/03/gore-robertson-and-sharpton-hit-beach-commercial">filmed their spot last week in Virginia Beach, Florida. See a clip from that pairing below in an excerpt from the "60 Minutes" interview:
Calling all HuffPost superfans!
Sign up for membership to become a founding member and help shape HuffPost's next chapter