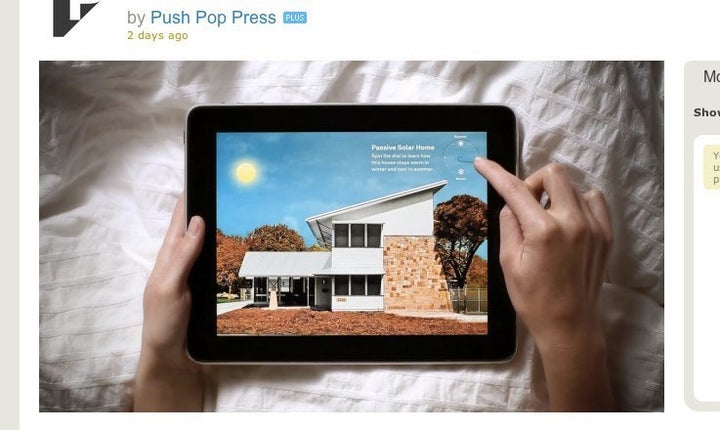 For Al Gore's book Our Choice, the startup has created an ebook that talks, spins, moves, and folds, featuring video, interactive infographics, maps, and more, all seamlessly interwoven with the text in a way that helps bring the concepts to life.
Even if you've already read Our Choice, a follow-up to the urgent environmental call-to-action of An Inconvenient Truth, the app offers something completely different. While this digital version has the same rich photo content and clear writing as the book, it transforms the act of reading into something totally new.
The Our Choice app is a digital reading experience that matches a book for ease and outdoes it in ways that Gutenberg surely never imagined. With just your fingers, and the screen, the 400-page book becomes a portal to video, photo, and infographic content that demonstrates just how powerful an aid technology can be to the cause of knowledge.
Photos can be enlarged with just a pinch or folded out into twice their size, while some include audio of Gore explaining what you see. One photo, showing lumps of ice floating in a sea reflecting the red sky, lets you hear Gore recite his own poem. All of them have a small icon of the globe that shows you exactly where they were taken.
Gore's team worked with Push Pop Press to create the book, which will debut its e-reading technology with Our Choice.
"It's over 400 pages--if you want to make an app, the approach is to hire a team of engineers to handcode each page," said Mike Matas, co-founder of Push Pop Press. "But to build a nice book you need the creative loop of being able to try things. We ended up building a platform, a tool that the publisher could use independent of a programmer to lay out the entire book."
What resulted combines the expressiveness of the traditional form with the educational simplicity of a documentary, all tied together with an utterly smooth, remarkably beautiful interface that does justice to the material it presents, and the format it's presented within. On the iPad, iPhone or iPod Touch, the app is able to display photos are crisp and gorgeous and videos that play without a single skip, which range from scientific explanations of how something like a nuclear generator operates, to historical clips of Jimmy Carter speaking, to short documentaries about regional problems.
"It's the first thing I've seen on a touchscreen like this that has no computer navigation, just the content and your fingers," said Matas. "For a book its so important to get it out of the way and allow the content to fill the frame. It's the closest we've come to replicating the experience of a paper book where it's just you and the content."
But perhaps most impressive are the charts and data, which can be played with in ways that make the info vastly more approachable than it might be in static form. One lets you slide your finger along the screen to see the huge jump in the world population since the beginning of humanity, as well as the concurrent rise in carbon emissions. Another, making use of the accelerometer in the iPad, lets you blow into the microphone to see the blades of a wind turbine turn, and beads of electricity flow into a house. The potential for this technology to help teach students (or really, anyone) is enormous, though Push Pop Press certainly doesn't see itself as limited to textbooks.
"It was about re-imagining the book," said Matas. "Without any limitations of paper, how would we completely redesign the book and make it something that feels completely natural?"
Watch Al Gore's guided tour of the app, which is available for $4.99 via iTunes, below:
REAL LIFE. REAL NEWS. REAL VOICES.
Help us tell more of the stories that matter from voices that too often remain unheard.