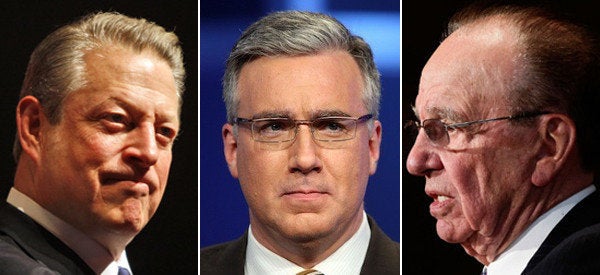 NEW YORK – Current TV executives went on the offensive Thursday, claiming that Rupert Murdoch's News Corporation is pushing Current Italia off the air in Italy because its U.S. counterpart hired Keith Olbermann.
Former Vice President Al Gore, who co-founded Current with Joel Hyatt in 2005, told The Guardian that News Corp. wields the "power to shut down voices that disagree with the agenda of Rupert Murdoch." Gore claimed that Current TV executives were told privately the decision to drop the Italian network from News Corp's Sky Italia satellite platform was tied to its launching a new show with the liberal cable host and Fox News critic in the U.S.
News Corp. however, says the decision to drop Current Italia had to do with business, not politics.
"The non-renewal of Current TV's carriage agreement with Sky Italia is purely commercial," a News Corp. spokesperson told The Huffington Post. "Current TV asked Sky Italia for double the carriage fee when primetime viewing had fallen by 40 percent in the past year. Sky Italia's offer was in line with the market and reflected the performance of the channel. It had nothing to do with politics."
Hyatt, who serves as Current's executive vice chairman, disagrees. In an interview with The Huffington Post, he provided a different account of recent discussions with Sky Italia management about continuing to offer Current Italia to its 4.5 million subscribers. The two companies' three-year agreement was set to expire on May 7.
Hyatt said he met with Sky Italia CEO Tom Mockridge in April in Milan. During a four-hour lunch, Hyatt said Mockridge repeatedly told him that Sky Italia wanted to continue carrying the network. Hyatt said there was no discussion at the lunch about increasing carriage costs, the fees cable and satellite providers pay networks to include them in their programming roster.
But about 10 days later, Hyatt said Mockridge told him by phone that Sky Italia decided to no longer carry Current because of financial concerns. Subsequently, Hyatt said he heard on good authority that the order came directly from top management at News Corp., which owns 100 percent of the Italian satellite company.
Hyatt said it was only after Mockridge told him about the decision that the two sides ever discussed carriage costs and at no time did Current ask for double its previous fee. Hyatt said he brought up fees at that time to let Sky Italia know that the network was only planning to seek two additional Euro cents per subscriber, per month, in an attempt to see if that would change his mind. Current had been paid six Euro cents per subscriber under the original three-year deal. (Hyatt claimed that Sky Italia pays some lower-rated networks as much as 26 Euro cents per subscriber)
The Current co-founder also contradicted News Corp.'s claim of low ratings, arguing that Current's prime-time ratings increased 550% from 2009 to 2010. "We have been a ratings success," he said. A Current spokesperson provided numbers from Auditel -– a top Italian ratings agency, similar to Nielsen in the U.S. -– that showed only a slight dip in ratings when comparing the period between May 1 and May 17 in each of the past two years. During that specific time, several networks carried by Sky Italia -- including the News Corp.-owned FX -- had lower ratings, yet they remain on the service.
Sky Italia, in its own statement, claimed that Current asked to double carriage costs and argued that network's ratings had significantly decreased. While Hyatt touted Current Italia's rise in prime-time ratings from 2009 to 2010, Sky Italia claimed that, according to its analysis, the network's ratings dropped by 40 percent when looking at all of 2011 versus the previous year.
While both sides offered different breakdowns of ratings, they seem to agree on the quality of Current's programming. Sky Italia said the initial decision to carry Current in 2008 stemmed from its "belief that the channel would enrich the platform's news and current affairs" programming already offered.
And Hyatt lauded Current Italia as "the only independent news channel in Italy." He pointed out that Current ran a critical PBS documentary of Italian prime minister (and media mogul) Silvio Berlusconi that other Italian networks wouldn't air and is now broadcasting a five-part series on The Vatican. The majority of Current Italia's programming is produced in Italy and the network had no plans to air Olbermann's new version of "Countdown."
"This is about politics," Hyatt said. "This about the fact that we hired Keith Olbermann, plain and simple."
Olbermann, never shy to sound off on the Fox News owner, blasted Murdoch's "Evil Empire" on Twitter for trying to "silence" him. "It's ON," he wrote. Then, in a series of tweets, Olbermann continued his criticism, referencing Winston Churchill:
"We shall go on to the end; we shall fight in (Italy); we shall fight on the seas and oceans; we shall fight with growing confidence and growing strength (on) the air; we shall defend our (network) whatever the cost may be; we shall fight on the beaches; we shall fight on the landing grounds; we shall fight in the fields and in the streets; we shall fight in the hills; we shall never surrender! - Rupert, you have been warned."
Gore travelled to Rome on Thursday to speak with reporters and make the network's case on Italian TV in an effort to keep Current Italia on the air. Through a government extension, the network has until July 31 to cut a new deal with Sky Italia before getting pulled.
"We're hoping the public in Italy and our loyal viewers are going to let Sky know that if they cancel Current, our viewers are going to cancel Sky," Hyatt said.
Related
Popular in the Community