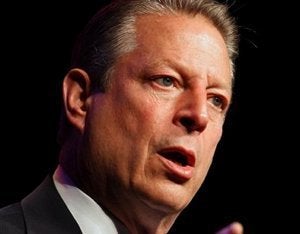 Portland authorities signaled on Friday that they will no longer continue to investigate charges made against former Vice President Al Gore stemming from allegations he groped a licensed massage therapist in 2006.
Local television station KOIN reports:
The complaining witness, Molly Hagerty, stated that she was sexually abused during a massage session at the Hotel Lucia when Gore was in Portland.

Hagerty failed a polygraph test during the course of the investigation, and there was no DNA evidence on the pants she claimed she wore during the alleged incident, according to investigators.
Gore has vehemently denied the charges of sexual misconduct that recently came to light when the Portland Police Bureau signaled it was opening an investigation into the case.
After news broke that the probe would be dropped, Gore spokesman Kalee Kreider said in a statement:
"Mr. Gore unequivocally and emphatically denied this accusation when he first learned of its existence three years ago. He respects and appreciates the thorough and professional work of the Portland authorities and is pleased that this matter has now been put to rest."
The National Enquirer first broke news of controversy last month.
Multnomah County District Attorney Michael D. Schrunk issued a statement summarizing the deficiencies in the case:

1. Ms. Hagerty, who has red hair, states she called Mr. Gore immediately following the alleged incident and told him to "dream of redheaded women" seemingly in contradiction to her assertions that she was terrified of Mr. Gore. Two days after the alleged incident Ms. Hagerty also sent an email to the Hotel Lucia stating that she appreciated the business referrals she received from the hotel. She did not mention any problem with Mr. Gore;

2. Witnesses at the hotel where the alleged incident occurred state they do not remember seeing or hearing anything unusual---directly contradicting Ms. Hagerty's published claim in the July 12, 2010 of the National Enquirer that she was "shaking and in shock" and "rushed down the hall and to the lobby where the front desk clerk noticed she was upset was asked if she was OK";

3. Forensic testing of pants retained by Ms. Hagerty as possible evidence are negative for the presence of seminal fluid;

4. Ms. Hagerty has not provided as repeatedly requested medical records she claims are related to the case;

5. Ms. Hagerty has also failed to provide other records related to the case;

6. Ms. Hagerty failed a polygraph examination;

7. It appears Ms. Hagerty was paid by the National Enquirer for her story; and

8. Mr. Gore voluntarily met with detectives and denied all of the allegations.
Popular in the Community