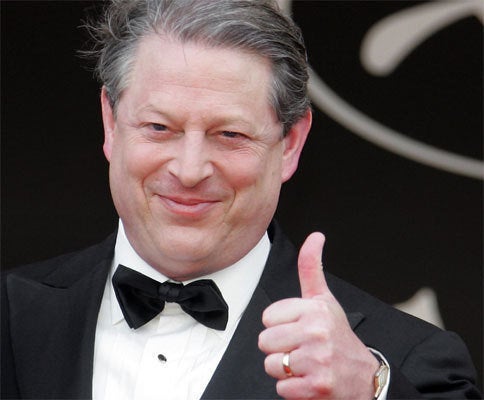 Al Gore surprised — and delighted — the crowd at the Netroots Nation conference in Austin, Texas today, appearing on the heels of a speech by Speaker of the House Nancy Pelosi. (Update: Video here.)
According to the various Twitter feeds from the event — it's being attended by approximately 2,000 progressive/liberal bloggers and reporters, all armed with laptops, blackberries and cellphones — the crowd went wild at Gore's unannounced appearance, with an "extended ovation" for him as he took the stage. "Nancy, we ought to take this show on the road," said Gore, according to the Twitter feed of the Washingtonian's Garrett Graff, who has been extensively Twittering the conference. Responded Pelosi: "We are on the road."
The road is one that led to Netroots Nation this year from two such conferences in the past, though then they were called "Yearly Kos," so named for Daily Kos, founded by Markos Moulitsas. Moulitsas and Kos (as both he and the site are now known) have become standard-bearers for the activist left and the progressive online movement, so much so that this year's conference was renamed to reflect the fact that the progressive left was no longer just a niche movement. That has been made abundantly clear by the presence of people like Gore, Pelosi, Harold Ford, Howard Dean, and other significant figures in politics and media.
Gore demurred on whether he'd join an Obama administration, saying he was "honored by [the] suggestion," according to Graff, but that it would not optimize what he could contribute. The Nation's Ari Melber, also reporting from the event, reported that Gore said he felt "the highest and best use of whatever talents and experiences I've gained in my life" would be best applied to "trying to enlarge the political space within which elected officials and cabinet members address this climate crisis."
Here are some Tweets (as individual Twitter entries are called) from the event (note that there is a 140-character word limit on such entries):
"Essential we have safeguards, checks and balances. More important we have an informed citizenry. Netroots is key to future." (Graff)
Compares offshore drilling to "hair of the dog": "When you're in a hole, stop digging." Applause. (Graff)
"Gore: When you begin looking at environmental crisis, you see it connected to economic and national security problems too." (Graff)
"Gore says NN08 is the "beginning of a movement to take back our democracy." Making it the 4,578th such beginning." (Jason Linkins via HuffPo Twitter)
"Gore would rather be an organizer than a bureaucrat on climate change. No thanks (for now) to joining an Obama administration. (Leighton Woodhouse via HuffPo Twitter)
"Gore, unlike Pelosi, throwing red meat into hungry #NN08 crowd. Big Texas-sized chunks of red meat. Feeding frenzy follows." (Graff)
"Pelosi speaking as if she can't do anything about any problems she's citing. Isn't she Speaker of the House?" (Graff)
And, in what seems to be a new media metaphor:
"ThinkProgress scooped Pelosi on Gore's surprise appearance." (Ari Melber via HuffPo Twitter)
Pelosi's earlier speech had addressed the FISA bill, saying she had "serious sadness" about the bill sent from the Senate, and, per Graff, said that 17 Senate Democrats had kept Congress from "the good bill." (Pelosi was playing to her crowd here; according to Adam Green, who said she was "pro-actively stating her support for Net Neutrality and calling out the telecoms for blocking innovators." Pelosi also addressed the wars in Iraq and Afghanistan, saying that people were "tired" of war, and that not enough was being done to care for those serving in them. She also contrasted the vast sums of American money spent on rebuuilding Iraq with the unmet needs of U.S. infrastructure, saying there was a need to re-examine priorities. And here's a great quote from Pelosi: "If you don't like abortion, you should love contraception."
Pelosi's speech was briefly disrupted by protesters from Code Pink, but according to Graff the crowd was mostly "respectful" and "anti-protests" (the HuffPo Twitter feed backs that up).
Calling all HuffPost superfans!
Sign up for membership to become a founding member and help shape HuffPost's next chapter