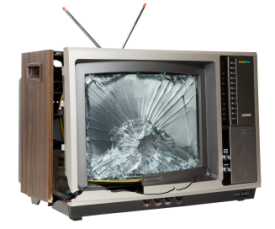 In a major restructuring, cable channel Current TV -- co-founded by former Vice President Al Gore -- has laid off 80 staff members, about 25% of its staff.
Most of the axed were based in the Los Angeles office, affecting in-house production and striking a yet another blow to the city's already suffering entertainment industry. The original programs Current Tonight, Current Takeover and Current Exposed have been canceled and David Neumann, the head of programming was fired. About 300 employees total remain in San Francisco, New York, the now much smaller LA office and the international offices in London and Milan.
The pioneering, Emmy-Award winning channel was originally conceived by Gore and businessman Joe Hyatt as a peer-to-peer news and information network with one-third of the on-air broadcast featuring viewer created content (VC2) and geared to 18-34-years-olds. During the 2004 campaign, Gore envisioned a news network with no political leanings
that would help change the tide of "consolidation and conglomeratization" of the media by leading the change to "democratization."

Now that videophones and Flip cameras are in almost everyone's pocket, most local news channels-as well as the cable news networks-allow viewers to email or upload raw footage and short reports. The tide of consolidation hasn't turned, but with YouTube and Vimeo, democratization has happened. If it exists, if it happened, or if you think it's a conspiracy, it's been videotaped.
Current TV's new CEO Mark Rosenthal, who replaced Hyatt, is now revamping Current to a more traditional model of 30-minute and hour-long programs, much of it to be acquired, reports Variety.
Current said it will now move money into creating departments focused on program development, licensing and acquisitions, talent management, research, marketing, affiliate relations and advertising sales. In other words, start operating like a more traditional network.

Short-form videos will continue to be a part of the network's lineup, but now as part of regularly scheduled programs.
Rosenthal, the man behind the upheaval, is the former COO and president of MTV, which made the same sort of changes in the mid-1990s, shifting from music videos to longer-form programming. The logic is that original, longer form programming attracts more advertising dollars. Current TV is available in over 59 million homes in the US, UK, Ireland and Italy thanks to cable and satellite.
No word yet on the changes from Current Media chairman Al Gore, but Current.com, the channel's internt portal reports that Current Media's COO, Joanna Drake Earl said that this year is set to be Current's most profitable year since its launch.
No wonder: A year ago to the day, Current fired 60 employees as a cost cutting measure.
Calling all HuffPost superfans!
Sign up for membership to become a founding member and help shape HuffPost's next chapter