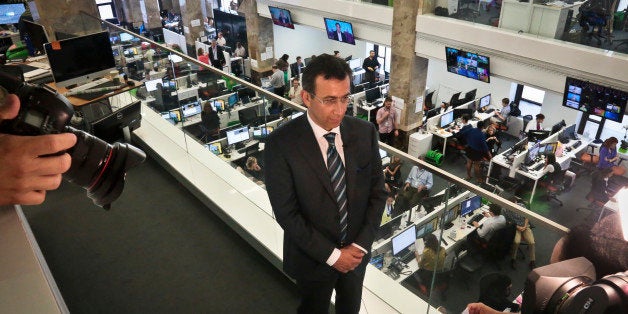 NEW YORK -- Shannon High-Bassalik, a former senior vice president at Al Jazeera America, filed a lawsuit Thursday against the network and a top executive charging "unlawful and discriminatory" treatment of employees.
In her federal lawsuit, filed in California, High-Bassalik alleged that the network "favored its Arabic and male employees, treating its non-Arabic female employees as second class citizens." Women employees, she claimed, were excluded from meetings they should have attended and replaced on assignments with male staffers. Those who objected to such behavior, as she did, "were marginalized, belittled, and ultimately terminated," she alleged. High-Bassalik left the network in February.
The lawsuit follows just six weeks after another former employee, Matthew Luke, charged the network with sexism and anti-Semitic behavior. Luke's lawsuit came amid several high-profile departures and talk of a "culture of fear" under the leadership of Al Jazeera America CEO Ehab Al Shihabi, who is named as a defendant in this latest suit. Al Shihabi left the company last month.
Douglas Wigdor, a lawyer for High-Bassalik, told The Huffington Post that it's up to a jury to determine compensation for his client, but he believes the claims "are worth well into the millions of dollars."
The network pushed back Thursday against High-Bassalik's allegations, calling them "unfounded."

"The allegations made against Al Jazeera America are by a former employee whose conduct and performance went through a full process of investigation led by an external law firm before her employment ended, during which Ms. High-Bassalik made none of the allegations she makes in her complaint," a network spokeswoman said. "We regret that Ms. High-Bassalik has now decided to make unfounded allegations against Al Jazeera and its employees. Al Jazeera values and respects all of its employees, and has zero tolerance of any form of discrimination."
High-Bassalik, who joined Al Jazeera America from CNN in July 2013 as senior vice president for documentaries and programs, also charged the Qatar-backed news organization with not living up to its pledges of unbiased journalism at its U.S-based network. Instead, she alleged, "truth and objectivity are set aside to cater to the Company's pro-Arabic prejudices."
She claimed that one employee described Israelis as behaving like Adolf Hitler and that another said "anyone who supports Israel should die a fiery death." She also alleged that Al Jazeera's corporate management in Qatar stated in a meeting that many in the Arab world believe the CIA was behind the Sept. 11, 2001, terrorist attacks. "Incredibly," she alleged, "this was held out as the type of editorial viewpoint the Company should take guidance from."
High-Bassalik said she complained about interference with the U.S. operation from Al Jazeera's top management in Qatar and was told by Al Shihabi that the network was not Al Jazeera America but "Al Jazeera in America."
Read High-Bassalik's suit, filed in the U.S. District Court for the Central District of California:
Related
Popular in the Community