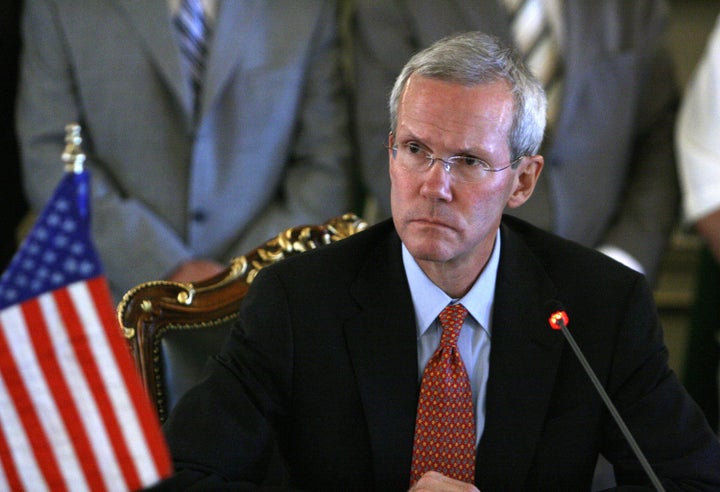 As the dust settled in the Libyan capital of Tripoli, Al Jazeera producer Jamal Elshayyai filed a shocking report from Gaddafi's former intelligence headquarters. Inside the now deserted compound, Elshayyai found documents that seem to indicate that influential American citizens maintained relations with the Gaddafi regime until only a few weeks ago.
Documents in the office of Abdullah Al Sinnousi, head of Libya's intelligence service, provide minutes of what appears to have been a meeting between senior Libyan officials and former U.S. assistant secretary of state David Welch. According to Al Jazeera, the document states in Arabic that Welch met with Libyan officials on August 2, 2011, and advised the Gaddafi loyalists on how to wage a propaganda war and how to exploit the volatile situation in Syria.
In another office, Elshayyai found a document that allegedly records an exchange between Gaddafi regime officials and Rep. Dennis Kucinich (D-Ohio).
In a statement to the Atlantic Wire, Congressman Kucinich denied Al Jazeera's findings. The congressman's office wrote that "Al Jazeera found a document written by a Libyan bureaucrat to other Libyan bureaucrats. All it proves is that the Libyans were reading the Washington Post, and read there about my efforts to stop the war."
The Guardian reported last week that Kucinich was invited by the Gaddafi regime on an all-expenses-paid "peace mission" to Libya in June 2011. The congressman declined the invitation due to security concerns.
"Because of the efforts I had made early on to bring an end to the war, I started to get calls from Libya, including from the prime minister," the congressman told the Guardian. "He had taken note of the fact I was making an effort to put forward a peace proposal. I had several requests to go to Libya. I made it clear I could not negotiate on behalf of the administration. I said I was speaking as a member of Congress involved in the issue and willing to listen to what they had to say.
Read Jamal Elshayyai's full report and the documents the found in the compound on the Al Jazeera website.
Watch the report here:
REAL LIFE. REAL NEWS. REAL VOICES.
Help us tell more of the stories that matter from voices that too often remain unheard.