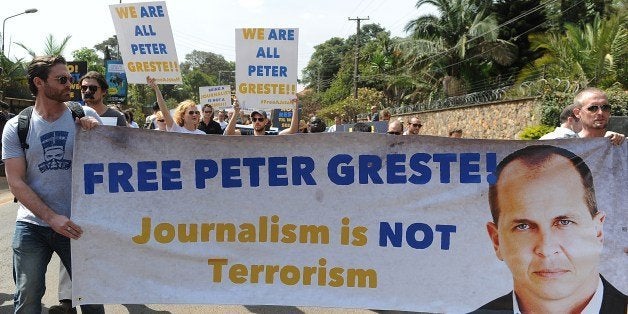 Egyptian authorities formally unveiled terrorism-related charges against 20 journalists on Wednesday. It was the latest development in an ongoing press freedom saga that has drawn international outrage.
Among the journalists were reporter Peter Greste, producer Baher Mohamed and Mohamed Fahmy, who were arrested at the end of December on orders of Egypt's Ministry of the Interior on suspicion of "broadcasting false news" and conspiring with the Muslim Brotherhood. The three, who deny the allegations, have been detained in Cairo's Tora prison for over a month, and no formal charges have been made until now.
Journalist Rena Netjes was also on the list of those charged by Egyptian authorities, despite never having worked for Al Jazeera. She fled Egypt Monday, and later said that Egyptian authorities may have targeted her for speaking to Fahmy in a hotel lobby once.
Al Jazeera protested the charges against its journalists in a statement released Wednesday. "The allegations and actions of the Egyptian authorities are extraordinary, unjust, and unacceptable," said Al Anstey, managing director of Al Jazeera English.
"The charges should be dropped, and all of our journalists who are in prison in Cairo should be freed immediately."
Other Al Jazeera employees named on the charge sheet include British journalists Sue Turton and Dominic Kane, who had already left Egypt before the charges were formally made, and Egyptian producers and engineers at the network. All nine Al Jazeera employees deny the charges.
In letters smuggled from prison, Greste spoke out against his detention and that of his colleagues. He wrote that he had been aware of the danger of speaking to opposition voices like members of the Muslim Brotherhood — which has been declared a terrorist organization by Egypt's current government — but believed the risk was necessary in order to provide balanced reporting.
Al Jazeera, along with 52 journalists from other news organizations, condemned the accusations against Greste, Mohamed and Fahmy before the formal charges were made. Other journalists around the world protested the detention of their colleagues in Egypt this week, speaking out online and tweeting photos of themselves with tape over their mouths and the hashtag #freeAJstaff.
Support HuffPost
The Stakes Have Never Been Higher
Related
Popular in the Community