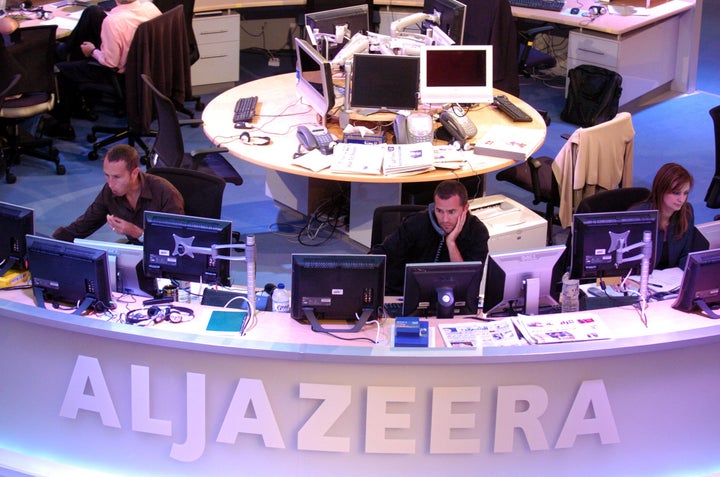 NEW YORK -- Six months after New York City news junkies flocked to Al Jazeera English's website for up-to-the-second coverage of the Egyptian uprising, they'll now have a chance to watch the 24-hour news network on its original platform: television.
At midnight, Al Jazeera English launched in New York City on Time Warner Cable, a major step in the network's goal of expanding further into the U.S. cable market and a chance to reach two million households in a world capital of culture and commerce. The network will also launch on Verizon FiOS in the coming days.
Al Anstey, managing director of Al Jazeera English, told The Huffington Post that AJE's website receives more online traffic from New York City than from any other city around the globe –- evidence of high demand in the Big Apple. Now that the network will be reaching cable viewers, too, Anstey hopes to make further inroads into the media capital.
"New York is a very important city," Anstey said. "It's looking at all directions on the globe and all directions are looking back at New York City. So it's a truly global city. It's got a very outward looking, diverse, intelligent audience -- obviously an influential audience in some quarters as well. So it's a key part of our strategy."
Since launching in Nov. 2006, AJE has been dogged by lingering fears about its mission, stemming from the Bush administration's condemnation of its sister network, Al Jazeera Arabic. In addition to verbally criticizing the Arabic network -- which had been airing Osama bin Laden's video communiqués -- the U.S. military fired missiles at Al Jazeera's office in Kabul in 2001 and later dropped bombs on its Baghdad newsroom during the Iraq invasion.
But lately, U.S. political leaders have had far more praise for the network's on-the-ground reporting around the globe. In March, Secretary of State Hillary Clinton called AJE "real news" for its coverage of the Arab Spring protests. Two months later, both House Minority Leader Nancy Pelosi (D-Calif.) and Sen. John McCain (R-Ariz.) attended a dinner for the network and spoke glowingly about its impact on the revolutions sweeping the Middle East and North Africa.
"What Al Jazeera has done is achieved something that all of us I think want to achieve, particularly as we grow older, and that is to make a contribution that will last and will be brought to future generations that lie ahead of us," McCain said. "I want to assure you that these young people who were able to watch Al Jazeera and be inspired by the example of others is a remarkable achievement."
"Let's be frank about it," Anstey said. "In the United States of America, there were myths and misconceptions that needed to be tackled about what Al Jazeera stood for and what Al Jazeera English stood for and stands for."
These days, Anstey said, "that myths and misconceptions element is now, in a way, consigned to history when you're talking to operators." The network has been able to make such progress, he said, by "getting known, building the reputation, establishing ourselves for the unique content that we put out there ... by doing that, we obviously addressed many of those misconceptions that existed in the past."
While AJE is available on television in over 100 countries, until earlier this year, the 24-hour-a-day network could only be watched in three U.S. cities: Washington D.C., Burlington, Vt., and Toledo, Ohio. Since the Arab Spring protests began to occur, cable channels in other U.S. cities have begun airing the network at various times daily, but not always in its full format. That's left potential U.S. viewers to turn to AJE's site, where they can watch a 24-hour livestream of the network's broadcast.
In New York City, Time Warner customers will be able to watch AJE on one of the Regional News Network's two channels (RISE Ch. 92) for 23 hours out of the day. While that RNN channel switches to an hour of local programming in the afternoon, AJE will shift to its other channel (Ch. 91).
AJE executives will continue pitching other U.S. cable operators, Anstey said, while also expanding coverage within the country. He noted that AJE -- which already has operations in Washington D.C., New York City, and Los Angeles -- will open bureaus in Chicago and Miami later this year.
"Obviously, the United States is a hugely important country," Anstey said. "What happens here -- not just in the corridors of the White House or in the financial district of New York City -- what happens across this country so often ripples out worldwide. What happens in America is relevant worldwide and what happens worldwide is relevant to America."
Popular in the Community