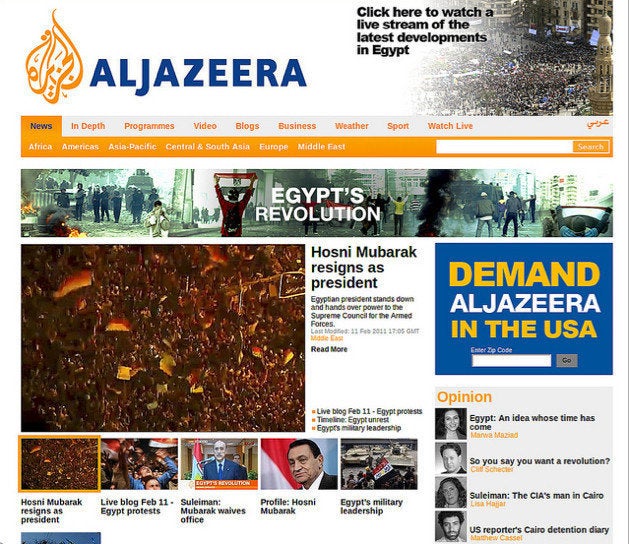 NEW YORK -- Derrick Ashong is no stranger to multitasking across media platforms. It's not unusual for the globe-trotting artist to be talking about the Arab Spring on the phone while juggling various international issues on his blog, satellite radio show, Facebook, Twitter, Skype, and YouTube -- where a 2008 clip of him went viral during the presidential campaign.
Now Ashong's daily routine of media creation, consumption, and conversation is a television show. Or a social media show. Or actually, both!
Ashong, the host of Al Jazeera English's "The Stream," a new interactive social media-TV hybrid broadcast four days a week from the Newseum in Washington, D.C., says he and his laptop-wielding guest co-hosts are "curating the kind of conversation that lots of us are having all the time" while getting to "leverage the resources of a global network."
Al Jazeera English received widespread praise for its extensive coverage of the Egyptian revolution and subsequent on-the-ground reporting from revolts across the Middle East and North Africa. But despite such plaudits, complete with media chatter about an "Al Jazeera moment," the five-year-old, English-language sibling of the ground-breaking (and controversial) Arabic network still needs to overcome a major obstacle in breaking through the U.S. market -- getting on the cable dial in more than three U.S. cities.
While AJE's still pitching cable providers like Time Warner and Comcast, the network's simultaneously ramping up its online and social media presence to help promote its international news brand to an audience of digital natives--some who may be too young to remember when Al Jazeera was the media bogeyman of the Bush years.
In an interview with The Huffington Post at Monday's Washington D.C. launch party, Ashong said he hopes that any negative preconceptions that remain will be overcome when people watch the network online. "The proof is in the pudding," he said, seated amid a roomful of partygoers drinking, mingling and grabbing Al Jazeera t-shirts and hats. "And when they see that it's intelligent, it's informed, it's global, it's connected, that starts to be exciting to people."
When you sit down with an AJE host, reporter, producer or executive, they respond to questions about post-9/11 perceptions -- when the Arabic network became known best in the U.S. for airing Osama bin Laden's video communiqués -- with a challenge: watch us. And if potential U.S. viewers can't yet do so on cable, AJE is betting on new programs like "The Stream" to serve as an introduction to the network and perhaps help along its ongoing cable campaign.
"Most people who know us in the U.S. know us online through our website because they can't access it anywhere else," said James Wright, executive producer for "The Stream." "For them, this is just a new show online."
These days, plenty of cable news shows tack on a social media component. An anchor, perhaps, will read a few tweets before heading to commercial. But AJE is turning that model on its head. Wright, who was formerly a producer at CNN, described "The Stream" as "social media show that just so happens to be on the television as well."
Well, almost. For two weeks, "The Stream"'s 30-minute program -- which curates the discussions going 24/7 online -- will be broadcast from a studio in the Newseum and onto an Al Jazeera-linked "microsite." "The Stream" is still a work in progress, Wright says, and will be tweaked according to feedback from the online community and will begin airing May 2 on the cable network. "This is not like a traditional TV show where you keep it hidden and you suddenly launch on television," he said.
Despite digital-first pronouncements, Al Jazeera English executives still remain committed to making the network available on more television sets across the country. Al Anstey, managing director of Al Jazeera English, said by phone from Doha, Qatar that it's still "very important" to reach U.S. cable viewers because television remains "one of the main methods for people taking in information."
Less than two weeks after Egyptian strongman Hosni Mubarak resigned, Anstey was in Comcast's Philadelphia headquarters delivering 13,000 hard copies of emails from fans of the network urging cable providers to start carrying it. He's also talked to representatives from Time Warner, Cablevision, Dish Network and DirecTV. And Anstey said the network's making "some good headway" but so far hasn't cracked any new cable line-ups.
"I think the international recognition is helping the [cable] operators to understand the journalistic caliber and the need for Al Jazeera English to be distributed in North America," Anstey said. "It is unique and of real value."
Since January, the network has received more than 60,000 emails from viewers as part of its Demand Al Jazeera online campaign, according to a spokeswoman. In the U.S., Anstey said, "there is an ever rising call: Why is Al Jazeera English not available?"
Some high-profile media figures have joined the chorus. NBC's Andrea Mitchell, after describing Al Jazeera as "indispensible" in a Tuesday interview with The Atlantic Wire, said "the channel ought to be available more widely in the U.S. given the work they've been doing in Tunisia, Libya and certainly Egypt."
But it's not only fellow journalists cheering on the network. Secretary of State Hillary Clinton said last month in Congressional testimony that Al Jazeera's gaining viewers in the U.S. because it offers "real news." President Obama recently praised the emir of Qatar -- Al Jazeera's financial backer -- along with the network itself during a chat with donors. And State Dept. official Dana Shell Smith told Politico this past weekend that Al Jazeera is "a really important media entity, and we have a really great relationship with them."
Things have certainly changed for Al Jazeera in the nation's capital, where the network opened its U.S. headquarters in fall 2006. Just a couple years before its launch, Donald Rumsfeld blasted the Arabic network's Iraq coverage as "vicious, inaccurate and inexcusable."
While AJE continues pushing against such criticism, the network is also taking steps to move further into the mainstream U.S. journalistic establishment. The network has plans to open two new domestic bureaus this year -- in Chicago and Miami -- and last week announced a journalism fellowship with Columbia University that will send two graduate students to Doha each year.
Ernest Sotomayor, assistant dean for career services for Columbia's journalism school, told The Huffington Post that "Al Jazeera English has been of significant interest to our students since it launched" and that his department first proposed a fellowship program a year ago. It'll now be in place for the class of 2011.
"The three-month fellowship provides two graduates every year with the opportunity to work overseas, reporting on breaking news at an organization that covers a vitally important region of the world," Sotomayor said. "In recent years a number of our graduates have landed rewarding jobs with Al Jazeera English in Doha, New York, Washington and other bureaus around the world. This fellowship formalizes the opportunity to continue this pipeline."
Al Jazeera English doesn't just want to partner with journalism schools, where a new generation of reporters are honing their craft. It also hopes to become increasingly a part of conversations stateside about the future of the media -- whether online, on cable, or on social media platforms. Next month, Al Jazeera English is holding its first U.S. forum, a two-day event at the Newseum. Its topic: "The new age of journalism."
Popular in the Community