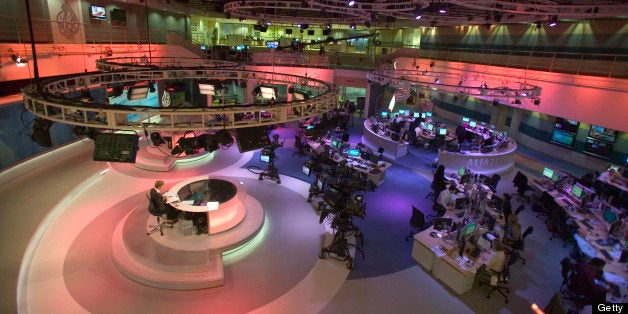 "The Al Jazeera English stream will no longer be available in the U.S. as soon as Al Jazeera America goes live," an Al Jazeera America spokeswoman told HuffPost on Friday, confirming news first reported Thursday night by Max Blumenthal on the website Mondoweiss.
Cable distributors frown upon networks livestreaming their broadcasts and it was reported when Al Jazeera purchased Current TV in January that the forthcoming, U.S.-based network Al Jazeera America would not be available for free online. The Wall Street Journal reported on plans to stop streaming Al Jazeera English online in the U.S. as well when Al Jazeera America launched in April. But when that launch was delayed until Aug. 20, it was no longer clear whether executives still planned to cut the livestream for the Doha-based Al Jazeera English, a go-to destination for U.S. viewers craving international news.
While it had initially been reported that roughly 40 percent of Al Jazeera America's programming would originate from Al Jazeera English, that's no longer the case as the Aug. 20 launch approaches. Each network will have its own programs, hosts and White House correspondents, and they have different focuses as well. The American network, which has a number of former CNN stars and executives on staff, will cater to an American audience, while the English-language network should remain geared toward an international, English-speaking viewership.
"Does the fear of contractual obligations with carriers etc. mean it's necessary for some to do whatever they want with Aljazeera, including banning AJE altogether from America and web livestream," Bishara asked executives in the email obtained by The Guardian.
When HuffPost recently asked interim Al Jazeera America chief executive Ehab Al Shihabi about the Al Jazeera English livestream, he signaled it might be cut off because of deals with cable providers. He said that if viewers "want Al Jazeera English, they can contact the cable operators to demand Al Jazeera English."
That's easier said than done. Despite winning over many U.S. viewers during the Arab Spring, Al Jazeera English executives had trouble convincing cable operators to carry the network due to negative connotations and lingering perceptions of anti-American bias left over from the Bush years. Indeed, that's why the Al Jazeera Media Network spent $500 million on Current TV in order to quickly gain access into tens of millions of homes.
This article was updated with confirmation that Al Jazeera English will no longer be available in the U.S. on cable.
Popular in the Community