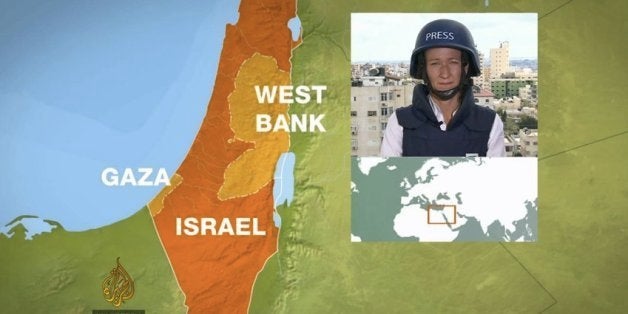 Al Jazeera reporter Stefanie Dekker described to her network what it felt like when two shots were suddenly fired into the Gaza office where she was working on Tuesday.
Al Jazeera said it is holding Israel responsible for the incident, which forced the network's journalists to flee the building housing their Gaza operations. The shots came a day after Israel's foreign minister said that he was exploring ways to ban Al Jazeera from operating in the country. In a statement to HuffPost's Michael Calderone, the Israel Defense Forces said that it had not targeted the building, though some journalists tweeted that they had received confirmation that the IDF had in fact fired "warning shots" at Al Jazeera.
After the evacuation, Tamer El-Ghobashy, a correspondent for the Wall Street Journal, tweeted these photos of the scene:
Dekker spoke on the phone to an Al Jazeera English anchor on Tuesday. She said that she and her colleagues had been working in their office on the 11th floor of a large building in Gaza when there was a loud explosion in the room.
"We were all startled and were trying to figure out what it was, maybe someone thought it was an electricity explosion or something like that, and then straight after, another shot came in," she said. "So it was very clear — two very precise shots fired straight into our building, so of course everyone evacuated."
Dekker noted that there are other media outlets, such as the Associated Press, who use the building, along with many ordinary apartments. She speculated that the Israeli army possibly wanted to "move us out of our position" because Al Jazeera's offices have a very good view of the scene on the ground, though she stressed that she had no evidence of this.
Journalist Sharif Abdel Kouddous, who has been in Gaza reporting on the violence there for The Nation and "Democracy Now," was in the AP offices when the building was struck. He described the scene to "Democracy Now" on Tuesday:
These were two apparently 50-caliber or heavy-caliber shots that came into the window at 9:00 in the morning, or 9:30 in the morning, pierced the window and hit the wall. These are not, you know, regular bullets. These are kind of very loud bullets that make this huge booming sound. One of the Al Jazeera people that I spoke to said that they thought it was what the Israelis call a knock on the roof, a warning shot with a rocket, that it was going to be destroyed. So we had people here, both in AP and Al Jazeera, in a lot of panic and evacuating the premises.