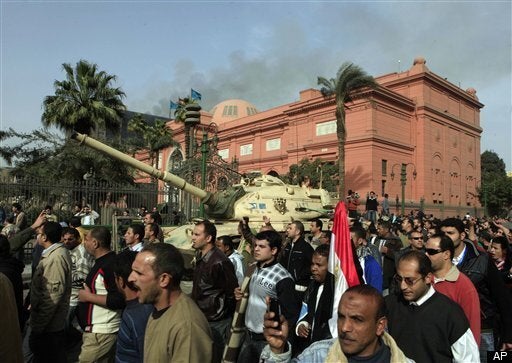 Egyptian state TV reported Sunday morning that the Al Jazeera office in Cairo is being shut down and Al Jazeera reporters are losing their press credentials in Egypt.
Al Jazeera correspondent Dan Nolan tweeted the news at about 11 a.m. local time, adding that Al Jazeera's licenses were revoked, per state media.
Nolan quickly added, "Don't worry we'll still report what's happening in #Egypt no matter what new restrictions they put on us."
Another Al Jazeera employee Evan Hill put the news this way: "State TV announces Al Jazeera's broadcasting license and press cards are being revoked. Our bureau is packing up."
Al Jazeera released a statement on Sunday that it "strongly denounces and condemns the closure of its bureau in Cairo by the Egyptian government." The network says it received notification from authorities on Sunday morning that information minister [Anas al-Fikki] had ordered the suspension of Al Jazeera. It also vowed to "continue its strong coverage regardless."
Follow the latest developments in Egypt by watching the Al Jazeera English livestream here and following our live blog here.
Have a tip you want to share? You can leave a message for HuffPost at 00-1-315-636-0962. If you know someone there and have email access, send us an email at egypt@huffingtonpost.com. Our Skype account is HuffPostReports.
Popular in the Community