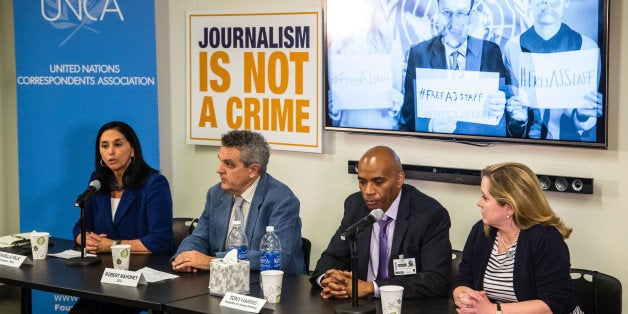 NEW YORK -- Al Jazeera executives and correspondents pledged Wednesday to keep pressure on the Egyptian government following this week's widely condemned convictions of three network journalists on spurious terrorism charges.
Kate O'Brian, president of Al Jazeera America, said at a United Nations event that Monday's verdict "ignited in all of us a deep and focused determination" to continue fighting for the release of colleagues detained since December.
An Egyptian court convicted three Al Jazeera English journalists -- Australian Peter Greste, Canadian-Egyptian Mohammed Fahmy, and Egyptian Baher Mohammed -- of supporting the banned Muslim Brotherhood and producing "false news" against the regime. Greste and Fahmy received seven-year sentences, while Mohammed was given 10 years.
The Egyptian government, which came to power following last year's military-backed coup, has cracked down hard on the ousted Muslim Brotherhood and media outlets offering a platform for the party's views, such as the Qatar-backed Al Jazeera. During a sham trial, prosecutors offered no evidence to support the charges.
"The whole world is saying, 'These are journalists,'" Al Jazeera America CEO Ehab Al Shihabi told HuffPost after the emergency town hall meeting of the United Nations Correspondents Association.
"Just hear them. It's as simple as that," Shahabi continued. "I don't know what is the complication, why they are not listening. The whole world is saying that. It's not one country. It's not two countries. Many countries. Many organizations saying that."
Al Jazeera America anchor Tony Harris called the verdict "so disappointing, so disheartening." Still, Harris said he was optimistic that "cooler heads will prevail" and the journalists would eventually be freed.
Hopes for a quick resolution were dashed Tuesday when Egyptian President Abdel Fatah al-Sisi said he would not intervene in the case, which is expected to be appealed.
At Wednesday's U.N. town hall meeting of journalists, press advocates, and diplomats from nearly 20 countries, attendees vowed to keep a spotlight on the three jailed journalists' plight.
Robert Mahoney, deputy director of the Committee to Protect Journalists, said it is "imperative to the success of this campaign that we do not let it drop."
"There is a place for quiet diplomacy. Maybe that time has passed," Mahoney said. "There is a place for back channels. But we are not diplomats. We are journalists. The only tools that we have at our disposal are our channels, our papers, our blogs, our radio stations."
Pamela Falk, president of the United Nations Correspondents Association, said the group's executive leadership "stands united with one voice" against the imprisonment of the three journalists, and others, in Egypt.
There was one dissenting voice in the audience.
Osama Abdel-Khalek, deputy permanent representative for Egypt at the United Nations, insisted that his government respects journalists and said he trusted the country's "totally independent" judicial system. The claims, unsurprisingly, didn't go over well. James Bays, the diplomatic editor for Al Jazeera America and facilitator of event, responded that Egypt may have "an independent justice system," but "not one that seems to have a lot of justice in it."
While journalists pledged to keep the spotlight on colleagues in Egypt, some U.S. lawmakers in Washington this week called for withholding or modifying aid to Egypt in response to human rights violations there, including recent mass death sentences and Monday's conviction of journalists. Secretary of State John Kerry signaled that the U.S. would restore $650 million in aid during a visit to Egypt on Sunday, just a day before a verdict he called "chilling" and "draconian."
So far, the Egyptian government hasn't budged in the face of criticism from foreign governments and journalists, but perhaps reallocating aid could shift its stance on human rights.
Rep. Adam Schiff (D-Calif.), offered an amendment Tuesday to restructure aid to Egypt by cutting $390 million from military assistance to support for democratic and civic institutions, along with an independent media. The House Appropriations Committee voted the amendment down 35-11, though Reuters reported the congressman plans to reintroduce it later in the legislative process.
In a Wednesday statement to The Huffington Post, Schiff said the amendment "aligns our ideals, our national security interests and our foreign assistance efforts -– by shrinking Egypt's aid package and directing a meaningful portion of the military aid to civilian areas where it is needed, giving opportunity and assistance directly to the Egyptian people.
"If we continue to do nothing but write a blank check to the generals," Schiff continued, "we will earn little but the enmity of the Egyptian people, just as we did during the Mubarak regime."
Calling all HuffPost superfans!
Sign up for membership to become a founding member and help shape HuffPost's next chapter
BEFORE YOU GO
PHOTO GALLERY
Egypt Votes In Presidential Elections