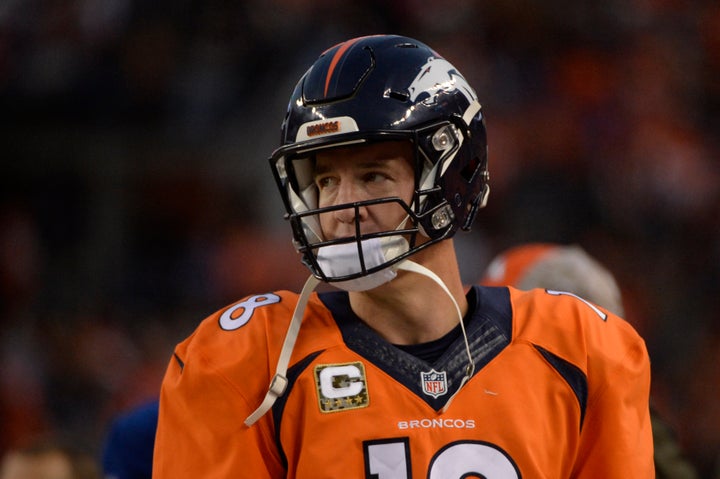 The veracity of the report hinges on the credibility of Charlie Sly, who made the assertions on undercover video. Sly, in the report, says that he worked at the Guyer Institute, the Indianapolis clinic in question, in 2011. Then a member of the Indianapolis Colts, Manning missed the 2011 season while recovering from multiple neck surgeries, and visited the clinic as part of his recovery.
Al Jazeera, however, said in the report that it confirmed Sly's employment dates, and is standing behind the timelines in its news special that Sly worked at the clinic during the time that Manning was being treated there. The network provided The Huffington Post with transcripts of its call to the clinic about Sly in response to questions about how they confirmed his employment.
In the transcripts, an employee of the Guyer Institute tells Al Jazeera reporter Deborah Davies that Sly worked at the clinic in the "fall of 2011." The employee confirmed his start date as Oct. 17 of that year.
Here is the full transcript, according to Al Jazeera:
(Phone rings)

Recorded Message "Thank you for calling the Guyer Institute of Molecular Medicine, if this is a true medical emergency please hang up and dial 911…"

Heather: This is Heather can I help you?

Deborah: Hello Heather, I wonder if you can. I need to do an employment verification on a gentleman called Charles Sly.

Heather: Yes

Deborah: He is a pharmacist and I believe he did a rotation with you is that right? Do you know him?

Heather: Yes. Uh-huh.

Deborah: Can you possibly give me the precise dates?

Heather: I can. It will be just a minute.

(Hold music)

Heather: Sorry to keep you waiting.

Deborah: No that's fine thank you.

Heather: It looks like he was here in the fall of 2011. The start date we have, where we signed for him, was 10-17 of '11.


Deborah: 10-17-11. OK. Do you know how long he stayed with you?

Heather: I think it's for a couple of months. Like 3 months maybe.

Deborah: Great. Can I just check one other thing? Was he in house in your pharmacy or was he also out and about on rounds?

Heather: Oh. He was in our pharmacy.

Deborah: OK. That's great. It sounds like you know him then?

Heather: Yes. I knew him when he was here.

Deborah: Thank you so much.
Reached by phone, an employee of the Guyer Institute directed inquiries to Guyer's legal counsel, who has yet to respond to HuffPost.
The start date of Sly's internship in Al Jazeera's transcript conflicts with the account that Guyer provided in his official statement and to other reporters.
"I would emphasize that Mr. Sly was never an employee of the Guyer Institute and his brief three-month internship occurred in 2013 during which time Peyton was not even being treated or present in the office," Guyer told MMQB's Peter King on Sunday.
"Mr. Sly began his unpaid student internship with us on February 18th, 2013," he continued.
When ESPN asked whether his wife, Ashley, received HGH or other drugs from the Guyer Institute, Manning said: "Any medical treatments that my wife received, that's her business. That has nothing to do with me. Nothing that's been sent to her or [that] my wife has used have I ever taken. Absolutely not. I have my treatments that I do, she may have hers and that is her business. There's no connection between the two."
Popular in the Community