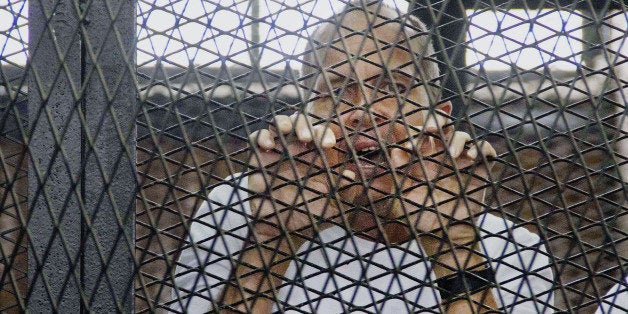 Peter Greste -- the Al Jazeera journalist who, along with Mohamed Fahmy and Baher Mohamed, is imprisoned in Egypt for allegedly airing false news and aiding the Muslim Brotherhood -- has not lost hope. Instead, Greste says he feels both "proud" and "strengthened" by what he and his colleagues have achieved so far.
In anticipation of the one-year anniversary of his arrest -- Dec. 29 -- Greste penned a powerful letter from inside Cairo's Mazraa prison, detailing the attention his situation has brought to press freedom around the globe, as well as the "vital role that unfettered journalism plays" in any truly democratic society.
"The philosopher and writer Albert Camus was absolutely right when he said the press can, of course, be both good and bad, but without freedom it can never be anything but bad," Greste wrote. "That is why our cause, as opposed to simply our case, is so important, and not just for Egypt. The noise you all have been making sends a clear and unequivocal message to politicians around the world: a free press is an indivisible part of a free society."
Greste noted that while it appears as if little has been accomplished on his behalf, the jailing of Al Jazeera's journalists has galvanized support from leaders like President Barack Obama, Australian Prime Minister Tony Abbott and United Nations Secretary-General Ban Ki-moon. He also took special care to thank the "vast army of social media supporters" who are helping "fight for that most basic of rights: the right to know."
"We have changed something fundamental," he wrote. "We -- and by that I mean all involved in this fight for justice, including us three, our families, and you, our supporters -- have created a huge global awareness of not just our cause, but the far wider and more vital issues of press freedom, the persecution of journalists, and of justice in Egypt."
Greste concluded by expressing sentiments of optimism despite the ongoing fight for freedom and justice.
"We haven't won this fight yet -- we are still behind bars after all -- but we have made our cause abundantly and unequivocally clear," he wrote. "And for that reason, it really is a very good Christmas."
Popular in the Community