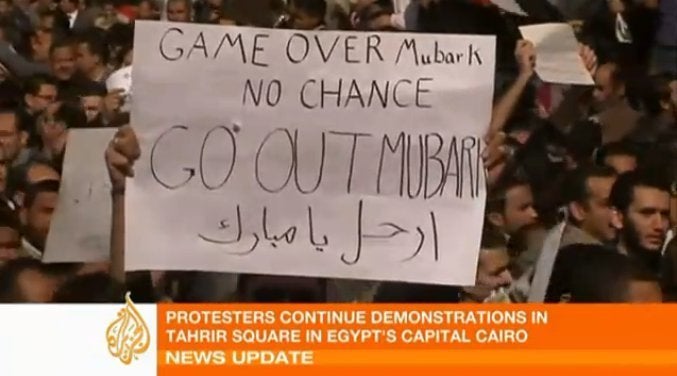 Al Jazeera's signal across the Middle East is being disrupted in "on a scale it has not experienced before" as it covers the Egyptian revolution, the channel said on Tuesday.
Al Jazeera said that its signals on Egypt's Nilesat platform were blocked, and that its frequencies on other platforms from around the Arab region were "disrupted continually."
"We have been working round the clock to make sure we are broadcasting on alternative frequencies," an Al Jazeera spokesman said in a statement. "Clearly there are powers that do not want our important images pushing for democracy and reform to be seen by the public."
It was not immediately clear exactly how the signal is being disrupted, or if the Egyptian government was behind the disruptions. The government has cracked down intensely on Al Jazeera since the uprising began. The channel's bureau in Ciaro has already been shut down, and the government detained six Al Jazeera English journalists on Monday, confiscating their equipment.
Ten different channels in the Middle East have moved to support Al Jazeera by simulcasting its broadcasts on their own frequencies.

Popular in the Community