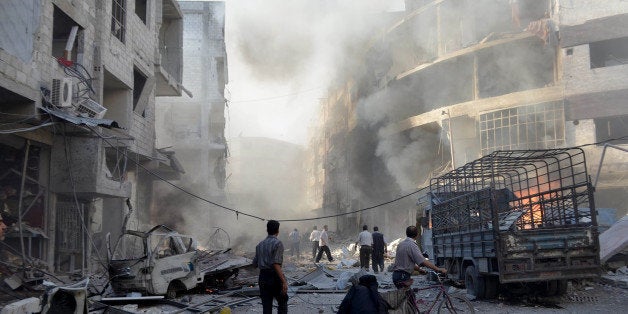 The atrocities have captured the attention of the foreign media only sporadically. The interest was perhaps at its most fervent when President Barack Obama -- faced with images of children suffering excruciating deaths from sarin gas -- had mulled missile strikes against Syrian President Bashar al-Assad in the summer of 2013, only to chose a chemical weapons disarmament plan over military intervention. But as the war continues to rage on, having begun its fifth year on March 15, the passion for the plight of Syria seems to have waned considerably.
For the anniversary, Al Jazeera, a news organization headquartered in Qatar that specializes in coverage of the Middle East, put together a wealth of articles, infographics, videos and photographs in an attempt to commemorate the lives touched by the conflict. The level of interest from Al Jazeera's readership, however, was not what the site had been hoping for, with traffic numbers registering far lower than expected.
"We have seen a stagnation in traffic to our Syria conflict stories since 2012 with intermittent peaks when it makes headlines -- Assad says something unusual, the possibility of Western missiles," Barry Malone, an online editor at Al Jazeera, wrote in a piece on Tuesday. "We find that stories about the suffocating grind and everyday hardship of war don't do as well. Stories about the almost four million Syrians who have been forced to flee their country, the same."
Malone conceded that a number of variables could have contributed to the poor performance of the content. Anniversaries tend not to scintillate, and perhaps readers simply chose to go to competing outlets for their news. But over the last several years -- with war ravaging not only Syria, but various regions stretching across the world -- both readers and journalists have become fatigued, if not desensitized, by non-stop coverage of death and destruction.
"I have never heard so many journalists say that the job is grinding them down nor so many people who watch the news say that they cannot stand to do so anymore," Malone wrote. "Bearing witness is grueling."
When Al Jazeera charged its readers with indifference via Twitter, many people retweeted the post in apparent agreement, but few actually clicked on the link to view the content -- an act Malone called "a shame." Perhaps there is still hope, however, as Malone's article, titled "You probably won't read this piece about Syria," was ultimately the week's most widely viewed post on Al Jazeera English.
"Our indifference is something we need to think about and talk about." he wrote. "As journalists, we should question our performance. As people, our humanity. Because we can do better."