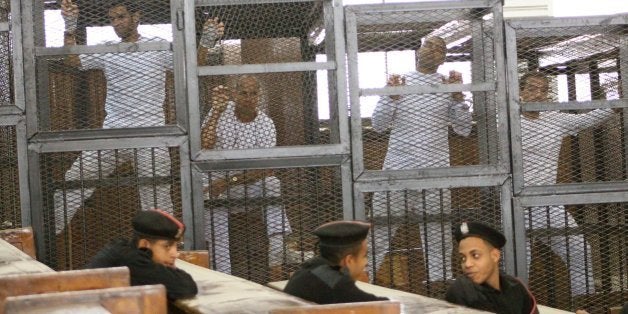 The trial of three Al Jazeera journalists in Egypt resumed on Tuesday, as their supporters grew more frustrated over the journalists' continued detention.
Peter Greste, Mohammed Fahmy and Baher Mohamed appeared in court for the sixth time since they were arrested in December. They are facing charges of conspiring with the Muslim Brotherhood, which they and Al Jazeera have denied. They were denied bail again on Tuesday.
Earlier, the court watched Al Jazeera clips that prosecutors claimed supported the charges against the journalists. Observers tweeted their frustration over the latest evidence from inside the courtroom.
During their last court appearance on April 10, prosecutors had presented other Al Jazeera news clips about an animal hospital and Christian life in Egypt. The judge and the defendants' lawyers found the segments to be of no relevance to the case. The judge had adjourned the hearing to April 22.
Popular in the Community