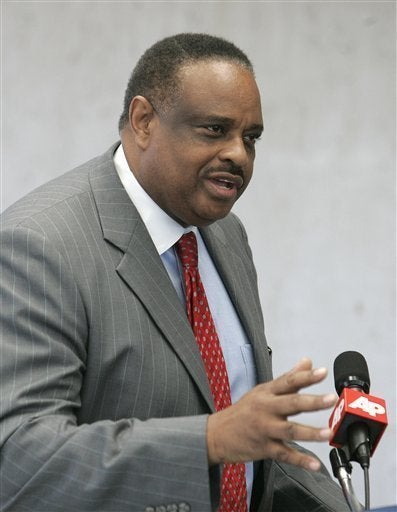 Rep. Kendrick Meek, Florida's Democratic candidate for U.S. Senate, received some discouraging news Thursday when a top Democrat in the Florida State Senate chose to endorse independent Charlie Crist over him.
Al Lawson, the Florida State Senate's Democratic minority leader, said that Crist has "always been there for us" and had supported state employees, rural counties and universities as Governor.
"Florida desperately needs an independent senator in Washington who will fight for good jobs and economic opportunity, a quality education for every child, and Social Security for all of our seniors regardless of what the political party bosses want," Lawson said in a statement, according to CNN. "Charlie Crist will be exactly that Senator, and I am proud to endorse his candidacy."
But Lawson's decision to endorse Crist instead of Meek may not be so straightforward.
Lawson, the only black state Senator representing Northern Florida, suffered a defeat in a Democratic primary last month in Florida's 2nd Congressional District, thanks in part to a heavy effort by both the Florida Democratic Party and Obama's Organizing for America for his opponent, Rep. Allen Boyd.
And Lawson wasn't hesitant to admit his new found exasperation with Democrats.
"After they supported Allen Boyd, I have serious doubts about my relationship with this party anyway because of what they did to me in my election," said Lawson, according to Florida Capital News. "They were not fair."
The Meek campaign responded to Lawson's endorsement of his opponent, saying that his decision seemed rather personal:
"This is all about Al Lawson," the campaign statement said. "We stand firm with our Big Bend supporters who need a strong Democrat like Kendrick Meek to fight for the middle class in the U.S. Senate."
The Crist campaign released their own statement Thursday, regarding Lawson's endorsement:
"I am honored by the support of Senate Democratic Leader Al Lawson," said Gov. Crist. "Sen. Lawson has been a champion for working families for his entire career, whether it be fighting for jobs, the environment, or good schools. I look forward to working with him when I'm elected to the United States Senate."
According to the Florida Capital News, Crist also gave another interpretation of Lawson's selection:
"What's really important is, friendship matters and it shows that in Charlie Crist, I'm the kind of guy who's willing to work with Democrats, independents and Republicans," Crist said.
The latest polls show Republican Marco Rubio leading Charlie Crist slightly, with both having a significant lead over Kendrick Meek.
Popular in the Community