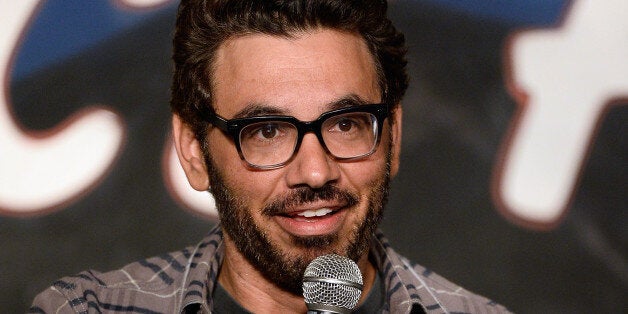 As a correspondent for "The Daily Show" who tackles sensitive issues and a stand-up comedian who dares to make fun of Los Angeles gang members, Al Madrigal knows a thing or two about dangerous comedy.
After the tragedy at French satirical newspaper Charlie Hebdo last week, we spoke to Madrigal about the show's reaction and some of the more frightening encounters he's had as a comic. We also spoke about his latest stand-up endeavors and the changing late night landscape as John Oliver gains popularity, "The Nightly Show" premieres and Stephen Colbert steps into David Letterman's shoes.
Last week was a rough one for comedy considering the tragedy in Paris. What was your initial reaction? I was getting "Daily Show" emails where they were offering us counseling. It's just insane. I can't believe such a thing is happening. And, you heard Jon saying, "Team Civilization." Let's get together and make sure stuff like this doesn't happen again."
I'm sure it's been pretty scary for "The Daily Show" in particular. You know, as stand-up comedians we've all had people wig out, but just for little things. We're accustomed to people without any sense of humor stumbling upon a comedy show, or people who have just had too much to drink. One lady, when I first started, tried to choke me after a set. I've even been chased. One of my first big gigs was this outdoor festival in Stockton, California. This one guy was leading everybody in boos against me, so, I told everybody to fuck off. And they came to get me! I had to jump a fence! So, just to imagine, having worked on 'The Daily Show,' we have amazing security but, people storming into that office or writers' room during a morning meeting? You can't help but empathize considering how close we are to this. It's insane.
Speaking of making people mad, the titular bit from your last album, "Why Is The Rabbit Crying?" was about an LA "Cholo" soccer coach. Have you ever received any flak for those jokes? No, no, that's the beauty of that material! A cholo is a type of guy that is not a sensitive person. There's no one taking themselves too seriously that falls into the cholo category. So, no, they have not come after me, which is good. I just didn't want the actual [Soccer] coach to find out. Most of my material is based in reality and in the special I changed his name, but during the year or so working up to that joke, I said the actual guy's name. I think there was a recording or two that slipped onto the internet that had me saying it, and that I was sort of worried about. There was also a joke about a guy who used to live across the street from me who was a Mongol. Do you know what that is?
Like, a person from Mongolia? Oh, no. It's a Latino biker gang. The Hell's Angels are mostly white -- I don't know if they've opened up membership recently -- but they were pretty racist towards Latinos. So, they started their own badass, biker gang called the Mongols and I lived across the street from one of the chapter presidents. In my act I would talk about my neighbors and this weird, little, eclectic neighborhood that I lived in and one night I had a comic talk say to me after as show, "You know they chop people up and put them in the desert, right? Like, that's what they do. That's their move. I really think you should stop talking about them." And I said, okay, yeah, I'm going cut that bit. It's not working that well anyway. If it was killing, then I may have taken the risk for the sake of the bit.
Larry Wilmore's "The Nightly Show" is premiering soon. Will there be any crossover with "The Daily Show" correspondents appearing on the show? I know we talked about it and I think they're really open to it. The former EP of "The Daily Show" Rory Albanese is running it so I think, yeah, there's going to be some crossover. There wasn't before, just Jon making appearances on Stephen's show and Stephen coming over to ours. You never saw any of the correspondents. I would love to hop in with Mandvi or Asan and see what's going on over there.
What do you think about Stephen Colbert going "straight" as host of "The Late Show"? I think it's awesome! I love that guy so much, I really do. I think he's the best person for it and one of the best people I've ever met. In comedy, when I was first starting at "The Daily Show," he came unannounced and plopped himself down in my office and talked to me for 20 minutes. Just stuff like, 'How's it going? How's everyone treating you here? Any questions?' It was incredible and he made such an impression on me. I was also passed down his notes, his handwritten notes, that he gave to Rob Riggle when he first started, on how to conduct a proper interview and field piece. I would go back and refer to them on a regular basis to really keep everything in mind. There's so much pressure when you're in the hot seat doing those interviews that you have to remind yourself of the general principles as you go forward.
Wow, so he was really supportive to you guys, even after leaving the show. You almost feel like you're in this fraternity of "Daily Show" correspondents, especially when somebody like John Oliver or Carell moves on. I got to sit at Carell's old desk. I opened up my desk drawer, and it said, "Steve Carell was here." So, any movie that Carell is in or anything he's producing, I'm just so excited for him because you feel like you're part of that fraternity. When Jessica Williams is on "Girls," when Jason Jones got a TBS pilot with Samantha Bee, you feel like part of the team. So with Stephen getting this opportunity to be himself and probably fulfill a lifelong dream of being able to host a late night show -- not as that character but as Stephen, who is incredibly funny -- I think it's fantastic. I can't wait.
With so many people having left "The Daily Show" to have meteoric rises on their own, does Jon Stewart see people like John Oliver as a competitor? I don't think so. From what I've seen and what he did with me, Jon Stewart knows that the show will continually lose good people. They bring good people in and those people graduate. When I told Jon that I had this opportunity to work on "About a Boy," at the time I was commuting back and forth, living part time in New York and with my family in Los Angeles, and it was sort of killing me to do both. Then I get this opportunity to be on a network sitcom and he couldn't have been cooler. Look what happened with Michael Che! He was on our show for four months. After Colbert was so cool to me, I wanted to tell Michael everything I knew. But the next thing you know, he's out! He got an undeniable gig.
Jon Stewart is a stand-up comic. He's a regular comedian who understands these opportunities and I don't think he's ever going to hold anyone on the on-camera side to a "deal." I remember the quote from Jon, when I told him [I got "About a Boy"], he responded, "They're going to pay you money to be on television? You've gotta do this!" That was the reply that I got back, right away. And he lets me do it part time so I still get to go back to the show. Mandvi is doing that right now, too.
Are you planning on recording another album soon? Yeah, I was talking to Tom Papa about this the other day: the year-and-half album/hour special track that we're all on, that we don't know if we want to be on. It's not the pace of it, or that it's not too much, but it just feel like back when everyone was releasing half-hour specials, like Nick Swardson, Dane Cook, Gabriel Iglesias, around that time. I feel like that's where we're at with hour specials now. So [Papa] and I were just talking about doing something different, like maybe we start releasing singles! Or fucking around in a completely different way.
And what can we expect from your Riot show in Los Angeles? I'm more excited about this new material than I ever have been. I've got a couple stories that could even rival cholo soccer dads.
This interview has been edited and condensed.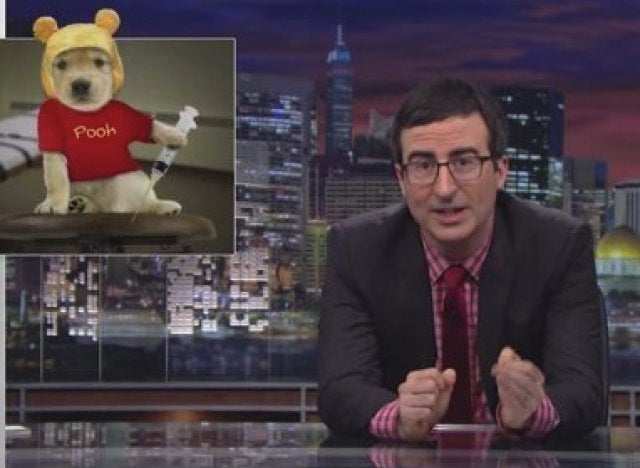 John Oliver's Greatest Takedowns
Popular in the Community